Celtics
5 takeaways as Celtics follow a familiar script in loss to Luka Doncic, Mavericks
The struggling Celtics now sit two games below .500.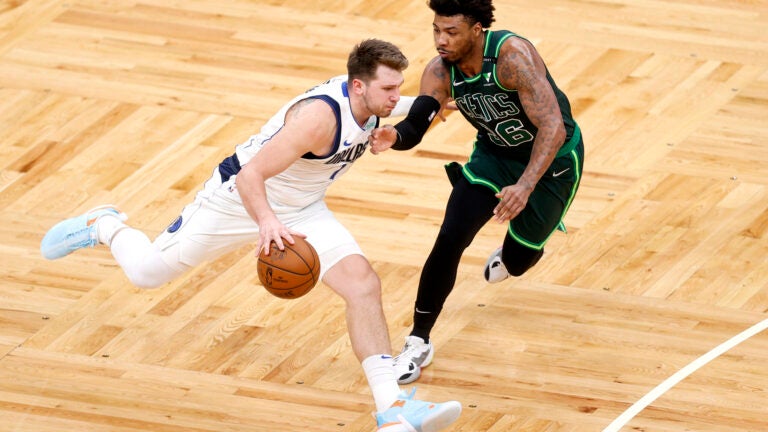 The Boston Celtics fell to the Dallas Mavericks on Wednesday as Luka Doncic's big performance dropped them back to two games below .500.
Here's what happened.
The big picture
Doncic punished the Celtics in the first half with a monstrous flurry of 3-pointers, and the Celtics struggled to make up the difference, especially given their own struggles from deep. In the fourth quarter, the Celtics gashed the Mavericks' lead and got the deficit down to two, but they couldn't finish the comeback as Dallas made the necessary free throws to close the game out.
Star of the game
Luka Doncic — 36 points, 11-for-15 shooting, 7-for-11 from three, 8 rebounds, 5 assists
Doncic hit a ton of difficult shots and was the driving force for the Mavericks' offense. When they needed baskets down the stretch, he delivered some truly absurd offense, including this well-contested 3-pointer that took the air out of the Celtics briefly.
This is ridiculous. Boston did nothing wrong here, it was just damn Luka pic.twitter.com/nW9HJHh3sp

— Mo Dakhil (@MoDakhil_NBA) April 1, 2021
That's simply a Tip Your Cap 3-pointer. Doncic poured in 24 first-half points to build the Mavericks' lead. He is a superstar.
What it means
How many times can this story be written? The Celtics fell behind by a lot with lackluster defense and ugly offense, while the opposing superstar went crazy. They made up the difference when they showed something close to the type of urgency and cohesiveness that made them good in previous seasons. They ultimately lost because overcoming a 20-point deficit requires an extended stretch of near-perfect basketball, and near-perfect basketball is difficult for any team to maintain.
Takeaways
1. Brad Stevens was less than impressed with the Celtics' late comeback, calling it the "same old script," adding that teams might know at this point that the Celtics lose their resolve for 10-12 minutes per game.
"That's probably our reputation at this point," Stevens said.
If that's the case, the Celtics are in trouble.
2. The Celtics tried a lineup with their best five players down the stretch: Kemba Walker, Jayson Tatum, Jaylen Brown, Marcus Smart and Evan Fournier. That group is fast, skilled and aggressive, and against a Mavericks team that played Maxi Kleiber at center, it made a lot of sense. There will be matchups in which that lineup can't work, and it was partly born out of necessity — both Rob Williams and Tristan Thompson were out on Wednesday.
Still, the early returns offered a few encouraging signs.
3. Fournier, it turns out, can score and won't miss every shot he takes in Boston. He finished with six points on 3-for-6 shooting — a muted performance, but certainly better than his 0-for-10 debut. His role in the closing lineup was largely gravity for the Celtics' best players, but that's a useful role to play.
4. The Celtics rely heavily on jump-shooting. Jayson Tatum (25 points, 10-for-24 shooting) creates a lot of his offense behind the 3-point line. Jaylen Brown does as well. Kemba Walker has increasingly relied on his 3-point shot as his athleticism appears to have ticked back a bit this year.
So it should come as little surprise that the Celtics trailed by 23 in a game where their opponent shot 19-for-39 (48.7 percent) from 3-point range, while the Celtics managed just 11-for-47 (23.4 percent). Creating anything close to consistent offense remains a major struggle.
5. The Celtics are now 23-25. They will finish the night half a game behind the Atlanta Hawks for the 8th seed in the Eastern Conference, and significantly closer to Washington (five games ahead) than Brooklyn (nine games behind) in the standings.
This stretch was expected to be grueling, and plenty of observers expected the Celtics to struggle. The Celtics, presumably, hoped that they would come together, especially after a pair of nice wins following the All-Star break. There is still time for the acquisition of Evan Fournier to make a big difference, but with only 50 days remaining in the regular season, that time is slipping away quickly.
Get Boston.com's browser alerts:
Enable breaking news notifications straight to your internet browser.