Celtics
Romeo Langford got hit 'pretty hard' by COVID-19, still feels effects in his lungs
"It was pretty bad for when I had the symptoms."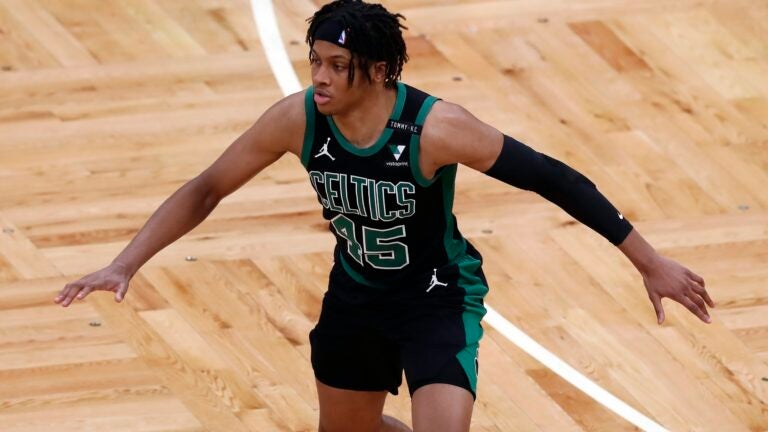 Romeo Langford was slated to return to the Celtics' lineup on March 10, his season debut after a torn ligament in his thumb held him out since September.
Instead, Brad Stevens announced to the media that Langford had entered health and safety protocols, the NBA's designation for COVID-19.
On Sunday, nearly a month after he was initially ruled out, Langford returned for the Celtics' 116-86 victory over the Charlotte Hornets and played his first minutes this season. He made a 3-pointer, swatted away a layup, and played solid defense in a short stint.
After the game, he was asked by reporters how bad his bout with COVID-19 had been.
"It was pretty bad when I had the symptoms," Langford said. "I had the symptoms for about four or five days and it hit me pretty hard. I felt like I had a really bad flu and then I ended up losing my taste and smell. I really still can't smell that much. So I wasn't really allowed to do anything for two and a half weeks. So my main thing coming back was just getting my wind and getting my feel for the game and feeling the ball and stuff like that."
Like Jayson Tatum, Langford has not yet shaken all of the aftereffects of the virus — a somewhat common complaint among people who have gone through it.
"I'm still feeling those things," Langford said. "It hits me every once in a while with my breathing, but it's not too bad anymore since my first couple of workouts."
Langford added that he expects to be nearly 100 percent in the next couple of days.
"Today was good," Langford said. "I had pretty good workouts the last couple of days. I feel like I'm just about there. I'm mainly now just getting my legs back under me. I've got the feel for the game. I ain't lost that. But just my legs and my conditioning, that's the only main thing."
Earlier this season, Marcus Smart expressed sympathy for Langford, who has been through a trying stretch since joining the Celtics. Langford was still rehabbing from a thumb injury that ended his first year at Indiana University when the season started last year, and he suffered multiple ankle injuries after his return. When he gained some momentum and even broke into the Celtics' rotation, Langford was forced to bow out of the bubble and undergo a procedure on his wrist.
Kemba Walker said it was "great" to have the young wing back in the lineup.
"Romeo is a really important piece of what we want to do," Walker said. "He worked super, super hard to get back to where he is now. I'm excited for him, excited for his opportunity because he's gotten so much better. It's been a rough year for him to try to get back on the court. I'm really excited he's back and tonight he was great. He didn't skip a beat at all. Defensively, he was great. I believe he only took maybe two shots or so. It will come. He's going to be key to what we are trying to do."
Get Boston.com's browser alerts:
Enable breaking news notifications straight to your internet browser.