Celtics
5 takeaways as Joel Embiid and the Sixers dominate against the Celtics
Embiid shot 20 free throws as Philly pulled away and never looked back.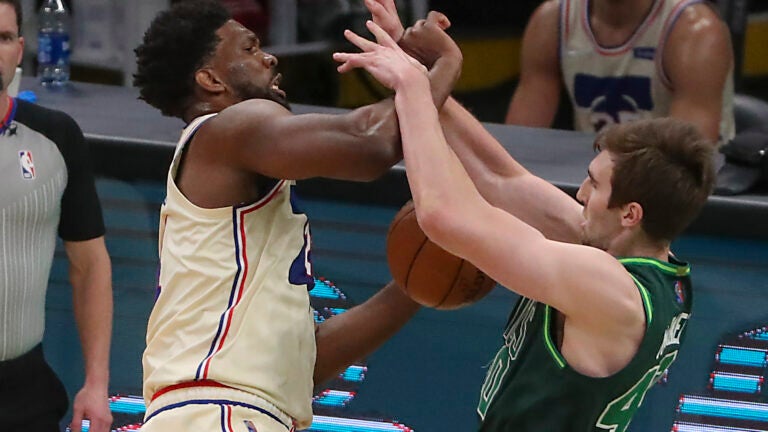 COMMENTARY
The Celtics were never competitive against the 76ers on Tuesday, falling 106-96 against Philadelphia as Joel Embiid dominated once again.
Here's what happened.
The big picture
The Celtics hung tough in the first quarter but lost their hold on the rope in the second. The Sixers' lead ballooned as high as 15 on a 22-3 run in the second, and they extended it as high as 21 in the third quarter. The Celtics never closed the gap closer than 12 and never really threatened again, as the Sixers snapped a two-game winning streak.
Star of the game
Joel Embiid – 35 points, 9-for-19 shooting, 16-for-20 on FTs
The Celtics spent the entire game trying to figure out a way to stop Embiid. Rob Williams fouled out. Luke Kornet was promising but ultimately unsuccessful. Brad Stevens' final solution was Tacko Fall (which we will get to), but the Celtics just have nothing for an MVP candidate in their division, which is difficult going forward.
What it means
Frankly, we already knew most of what we saw on Tuesday. The Celtics can't do anything about Embiid. That fact, combined with the Sixers' defense, makes Philly a nightmare matchup especially for a Celtics team prone to lengthy bad stretches where they stagnate on both ends. The Sixers are contenders in the Eastern Conference. The Celtics don't really look like one.
Having Fournier might have made the game more interesting, since he complicates what the Sixers are trying to do defensively, but until the Celtics can solve Philly's defense and at least make Embiid work for his points, they aren't likely to be competitive.
Takeaways
1. The most interesting part of the night was when Tacko Fall entered the game to take on Joel Embiid in the second quarter. Embiid had spent the previous 15 minutes abusing whichever big man the Celtics threw at him, but he seemed less enthusiastic about posting up Fall — the rare player who is actually taller than him. The Celtics might want to consider what Fall can do if they meet Philly in a playoff matchup, which would require some roster shuffling.
2. Rob Williams has been spectacular in the Celtics' starting lineup, but Tuesday's game was always going to be an enormous challenge. Sure enough: Embiid and the Sixers drew three fouls on Williams in the first quarter, and he was quickly replaced by Kornet. Williams fouled out in just under 14 minutes with six points and nine rebounds.
Williams deserves to start a lot of games — maybe all of them at this point — but Embiid is a system-breaking superstar, and Brad Stevens admitted after the game that he expected Williams to pick up a significant number of fouls.
3. Jayson Tatum, Jaylen Brown, and Kemba Walker combined for just 41 points. Tatum led all scorers with 20, which just isn't enough production on a top-heavy team that was without the scoring punch it added at the deadline. Philadelphia's defense is willing to concede pick-and-roll jumpers, which aren't a particularly efficient brand of offense.
The Celtics desperately need Kemba Walker to be a star against the Sixers. His style of play, at its best, is tailor-made to beat Philly (he scored 60 against the Sixers in 2018-19), but his lack of production has been painful.
4. The Celtics finished with 20 total turnovers, including three each from Williams, Tatum, and Jaylen Brown, as well as a staggering six from Marcus Smart.
Brad Stevens believed the turnovers were a combination of great defense and mental mistakes.
"I thought we were loose with the ball on some of them, and on some of them they were great rotations by them," Stevens said. "We'll go back through and you'll be able to discern which ones I'm talking about. We were loose with passes, we took too much of a gamble, too much of a risk and it backfired."
5. The Sixers went to the free-throw line 39 times to the Celtics' 18. Stevens noted how physical Embiid (20 attempts) and Ben Simmons (eight) are, but he said Tatum and Brown do what they can. Embiid is just a different type of player.
"I don't think we'll ever get to the point where we match those guys' free-throw attempts," Stevens said.
Get Boston.com's browser alerts:
Enable breaking news notifications straight to your internet browser.