Celtics
Brad Stevens 'wouldn't expect to see' Evan Fournier play for Celtics this week
Fournier is averaging 11.5 points per game for the Celtics so far.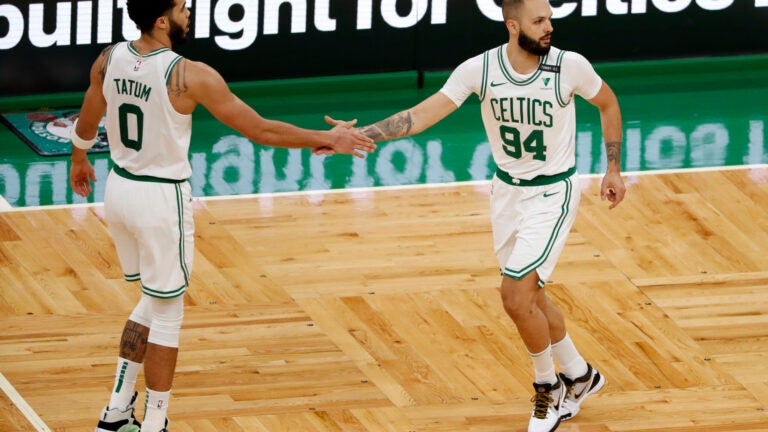 The Boston Celtics have been hit harder by COVID-19 than any other NBA team, and on Tuesday, they took on yet more water: Evan Fournier was placed in health and safety protocols, which is the NBA's COVID-19 designation.
Fournier joined the team at the trade deadline when the Celtics acquired him for two second-round picks. Initially, he was placed in health and safety protocols due to what was determined to be a false positive test after Fournier tested negative multiple times and showed no symptoms.
"I'm not going to get into specifics, but the thing I'd say is I wouldn't expect to see him this week," Brad Stevens said before Tuesday's game against the Philadelphia 76ers.
In an appearance on 98.5's Zolak and Bertrand on Tuesday, Stevens was asked if he is aware of a stat illustrating that the Celtics have been hit harder by COVID than any other team in the NBA. Per NBC Sports Boston's Chris Forsberg, the Celtics were at 131 player-days lost through Sunday — 20 more than the next closest team.
"I'm well aware of it. I'm living it," Stevens quipped. "I said at the beginning of the year to our team, we all have to be on our toes, we all have to be ready to take curveballs. I think I should have said take gut punches, because it's been like one after another from the health and safety protocols for our team, and I do think we've all had our moments, I've certainly had mine, but that's one of the reasons I've tried to maintain perspective through our struggles. Because we have been hit pretty hard. …
"Certainly the news today — we hope that it's as little time as possible but still just part of what you have to get used to this year. But we certainly have gotten more used to it than every other team in the league."
The Celtics have struggled to find any consistency this season, but on Sunday, they blew out the Charlotte Hornets for their second win in a row — an eye-opening victory during a difficult season.
Fournier was a key part of both wins. He made a combined 11 3-pointers and scored 23 and 17 points against the Rockets and Hornets respectively, which opened up the game for the rest of the team.
"He's a guy who can put the ball in the basket, and the other team knows that," Stevens said on Sunday. "So they have to put one of their better defenders on him. It all has a trickle-down effect, and I just think that's why we need as many guys that can do that as possible and still be able to play together and be able to play with the right flow, the right pace, and everything else."
Now the Celtics will need to find a way to adjust without a key player yet again.
"If I wouldn't have known the stat exactly, I think would have been willing to guess that we were leading the league in that unfortunate category," Stevens said on 98.5.
Get Boston.com's browser alerts:
Enable breaking news notifications straight to your internet browser.