Celtics
5 takeaways as Jaylen Brown's 32 points lead Celtics over Knicks in one of 'better wins of the year'
Brown and Tatum combined for 57 points.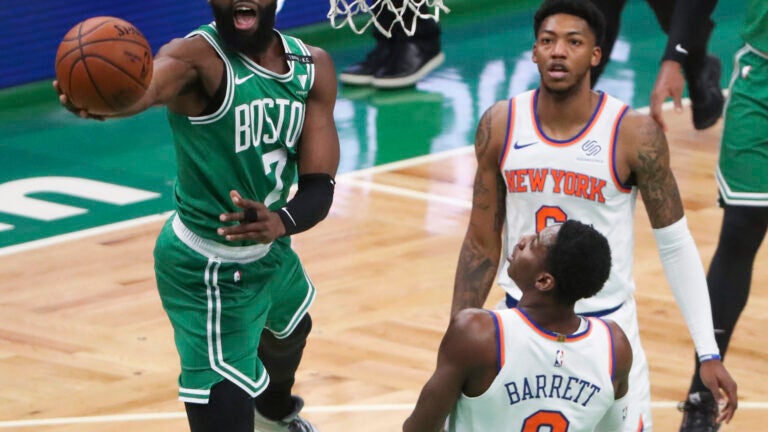 The Boston Celtics claimed their third win in four attempts on Wednesday, holding off the New York Knicks for a 101-99 victory that boosted them back to the .500 mark.
Here's what happened.
The big picture
The Celtics had to earn the victory, which Brad Stevens called one of their most physical games of the year. They never led or trailed by more than seven, and as the fourth quarter wound down, they leaned on their best players to bring it home. Marcus Smart's 3-pointer in the final minute put the Celtics up three, and their defense forced tough shots as they locked up the victory from the free-throw line.
Star of the game
Jaylen Brown — 32 points, 12-for-26 shooting, 5-for-13 from three, 10 rebounds.
Brown's shooting line doesn't look efficient at first glance, but 5-for-13 from deep works out to 38.5 percent (which is fine) and he was 7-for-13 from two. More importantly, he gave the Celtics everything they needed down the stretch. He was the best player on the offensive end, made several key baskets, and swatted away the game-clinching block.
Brown and Jayson Tatum have given the Celtics a lot this season. Wednesday was no exception.
What it means
The Celtics ground out a difficult win against a pretty good team one day after losing to a better one. As far as this year's Celtics go, that's probably about as much as you can ask. They aren't really contenders, but they are still a likely playoff team, and they have struggled quite a bit against fellow playoff teams. What's more, Wednesday's win boosted them back to .500 and propelled them a full game above the Knicks in the standings. All of that is important, even if it doesn't mean the Celtics are suddenly fixed and contenders again.
Takeaways
1. Jaylen Brown said he initiated a conversation with Jayson Tatum after Tuesday's loss to Philadelphia — a chance for the two young stars to regroup after a difficult loss. Tatum was sloppy against New York's physical defense (eight turnovers) but the Celtics have struggled when they don't get big performances from Tatum and Brown. On Wednesday, they combined for 57 points. With Kemba Walker sitting out, the Celtics needed all of them.
2. Romeo Langford got the start in place of Walker, who sat on the second night of a back to back. Langford had some solid moments, including a pair of 3-pointers. He buried the first on a nice step-back while Taj Gibson flew by, and the Celtics bench erupted.
Langford also had several less impressive moments, especially on the offensive end. Understandably, Langford looked uncomfortable and uncertain where to be. That's natural for a player who joined a team mid-season for the first time, but the Celtics really need him to be a two-way contributor to get real minutes. Expect Evan Fournier to get starting minutes in those situations when he returns from COVID-19 protocols.
3. Tristan Thompson looked excellent in his return from COVID-19 protocols and was +24 for the game. He was part of the Celtics' closing lineup and helped steady the ship when the team scuffled. Thompson hasn't always been a consistent option, but it will be interesting to watch whether Thompson or Robert Williams gets the starting nod going forward. Williams has made a strong case for himself, but Stevens always seems to prefer veterans, and Williams struggled for a second night in a row on Wednesday.
4. The Celtics out-rebounded the Knicks 53-39 overall and 16-5 on the offensive glass. Williams and Langford combined for nine of the offensive rebounds, and three Celtics — Tatum, Brown and Williams — pulled down 10 overall. This year's Celtics team has its issues, but they can certainly hit the glass.
5. Jaylen Brown and Jayson Tatum had a few really impressive finishes.
COUNT IT pic.twitter.com/xspb3bUsjp

— Boston Celtics (@celtics) April 7, 2021
LOOK OUT 🔨 pic.twitter.com/T8atNarTUK

— Boston Celtics (@celtics) April 8, 2021
But how? 🤔 pic.twitter.com/ZfRIG39WZL

— Boston Celtics (@celtics) April 8, 2021
Tatum finds Brown for the baseline jam in tonight's @JetBlue Play of the Game! pic.twitter.com/2fVuqgUcBz

— Boston Celtics (@celtics) April 8, 2021
The Celtics' All-Stars played like All-Stars, which made for an entertaining game to watch.
Get Boston.com's browser alerts:
Enable breaking news notifications straight to your internet browser.