Celtics
Tristan Thompson calls out reporter who said Celtics teammates don't like him
"I've got a pretty good rapport in this league."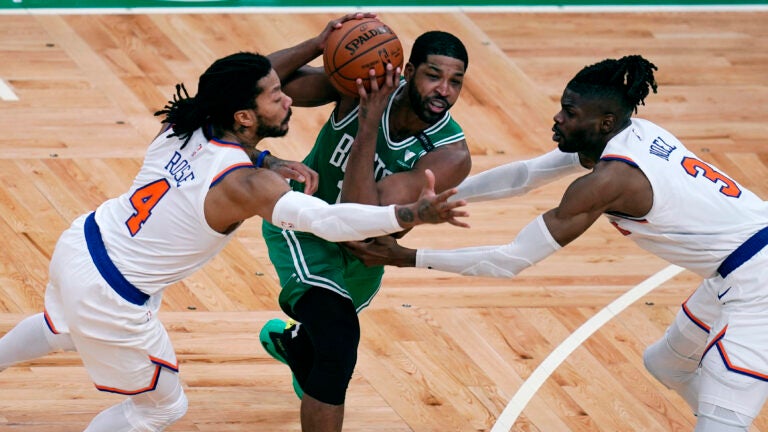 Boston Celtics big man Tristan Thompson made his return to the court on Wednesday, as the Celtics gritted out a tough 101-99 victory over the New York Knicks.
Afterward, Thompson — who had been sidelined due to COVID-19 since March 16 — talked about a report that circulated regarding his standing among his Celtics teammates.
"That guy, Kevin O'Connor — I don't know if I should mention his name or not, because he doesn't deserve my two cents, but I remember every name because I am like an elephant," Thompson said. "So, with him saying I'm not liked in the locker room, that was funny, because that's not the case."
Thompson was referencing the Ringer's Kevin O'Connor, who said that "Thompson is not loved in that locker room" on his podcast, The Mismatch, in March before the trade deadline. The original report, however, came from O'Connor's co-host Chris Vernon, who noted that Thompson was in health and safety protocols for the second time this season.
"The level of … out-ness on Tristan Thompon is unbelievable," Vernon said. "They've got to get rid of him.
"What made you feel that?" O'Connor asked.
"I feel that has been a disaster," Vernon said. "… From what I was told, he won't stop going out. He just goes out, and of course he's breaking the protocols. He's not testing positive for this stuff, right? You're not getting the contact tracing and all the stuff that goes along with this. … He doesn't want to play."
Contrary to Vernon's report, however, Thompson did test positive for COVID-19.
"I had a bit of all the symptoms," Thompson said. "At least I kept my taste and smell so I can enjoy my food but, yeah, that s— was no joke. So, definitely going to get the vaccine when I'm eligible to get it. That s—'s no joke for me, so I wasn't one of the lucky ones to have no symptoms. I was in a 12-round battle with that joker, but I won. I'm here now."
Although Vernon initiated the conversation on the podcast, Thompson called out O'Connor for the report, which circulated Twitter with O'Connor's name attached.
"I'm used to it," Thompson said. "Why not mention my name? Especially with our team going through and up-and-down season like everyone is trying to say. So it makes sense to point out one of the better guys. But [Jaylen Brown] and Kemba [Walker] came in and had their tweet. Kemba doesn't ever tweet and he tweeted that, and JB came and did the same thing. That guy just wanted clickbaits. You're welcome, Kevin O'Connor, for using my name. Got you some more hits and some retweets."
Thompson noted that teammates, coaches and ballboys have liked him from the time he was a rookie until now.
"I've got a pretty good rapport in this league," Thompson said. "So I'm not going to let some guy with Twitter fingers try to bring down what I've built. Good attempt, Mr. O'Connor. But I'm Teflon steel. You can't bring me down like that. I'm too blessed."
Get Boston.com's browser alerts:
Enable breaking news notifications straight to your internet browser.