Celtics
5 takeaways as Jayson Tatum's 53-point game leads Celtics over Timberwolves in OT
The Celtics claimed an overtime win over Minnesota on Friday.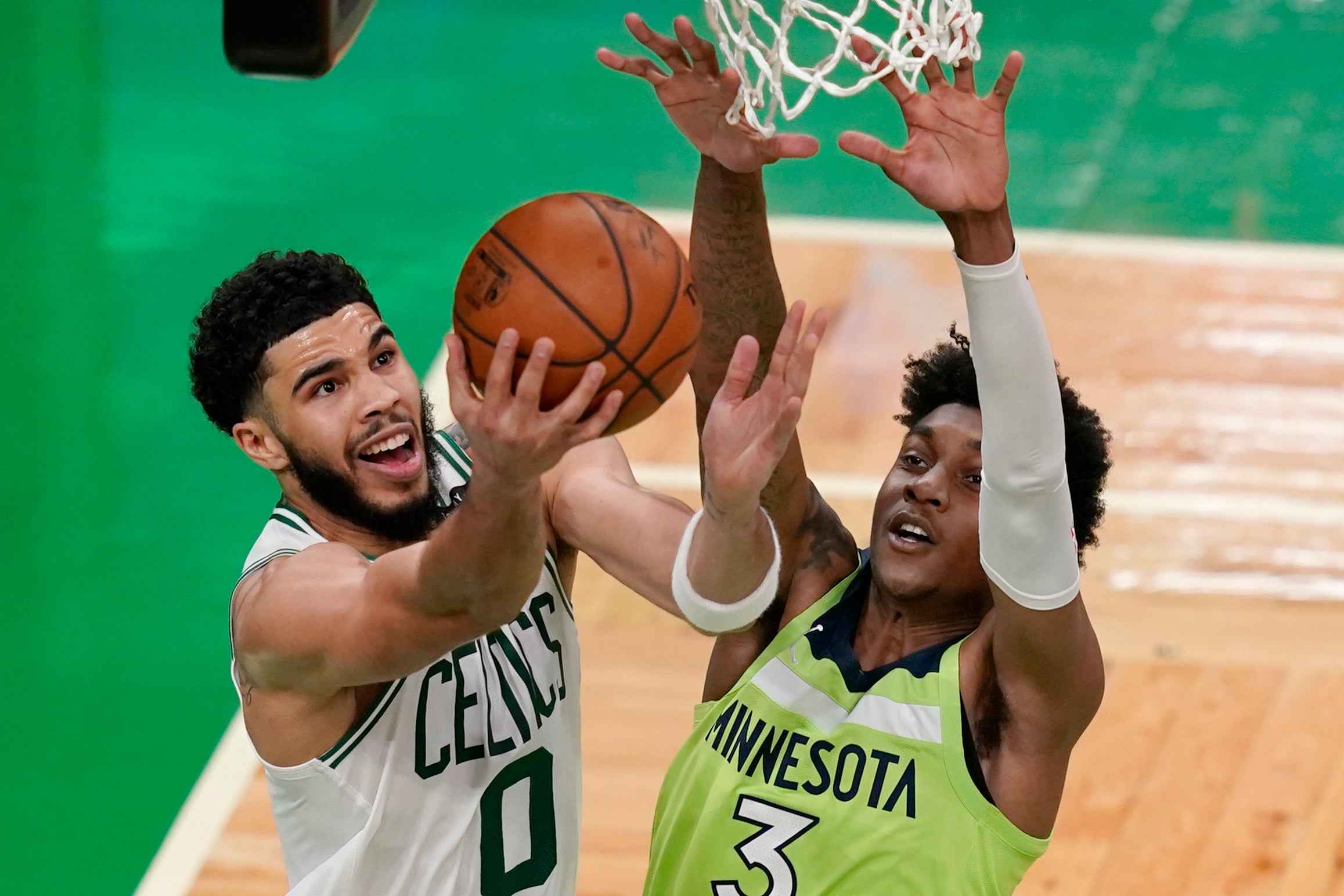 The Boston Celtics rallied, then held off the Minnesota Timberwolves on Friday, claiming a 145-136 victory to end their seven-game stretch at home.
Here's what transpired.
The big picture
The Celtics appeared on pace for one of their worst losses of the year early as the Timberwolves rolled through the first two quarters. Later, the Celtics nearly gave Minnesota a chance to steal back its victory after D'Angelo Russell banked in a last-second three that sent the game to an overtime period.
But the Celtics pulled away and claimed as comfortable a victory as is possible when a game goes to an extra frame. They are a game above .500 again with three difficult road contests looming.
Star of the game
Jayson Tatum — 53 points, 16-for-25, 6-for-10 from 3, 15-for-16 from the FT line, 10 rebounds, 4 assists.
A no-brainer. Tatum played one of the best games of his career — the type of performance that reminds you how lofty his potential is, even in a season heavily affected by COVID-19. The only flaws were his turnovers — miscues he made early and later rectified.
What it means
Similar to the Celtics' win over the Knicks on Wednesday, Friday's victory doesn't mean the Celtics are fixed or that they are suddenly contenders — they needed a rally and a huge night from Tatum to beat the Timberwolves.
It is a nice sign, however, that they can overcome a deficit and work their way back, especially given Stevens' insistence that what this team really lacks is resolve. The Celtics head out on their road trip clearly a little better than they were when they started their homestand.
Takeaways
1. The Celtics' success late was due in part to Tatum, but they also moved the ball well. Both Jaylen Brown and Kemba Walker hit big 3-pointers, as the ball zipped around the perimeter.
Tatum moved the ball well out of double-teams when he was trapped, and his teammates moved better without it. When Tatum went off the ball, his teammates still looked for him, and he got an easy basket as a result.
2. Maybe most important to Tatum's big night: He took 16 trips to the free-throw line and made 15. Tatum frequently scores 25-plus without free throws, so when he gets to the free-throw line consistently, he tends to have a big night.
"Tatum was super special tonight," Brad Stevens said. "That's coming off a heavy minute night the night before. Don't mistake his quiet demeanor for not being a competitor. He is a competitor."
3. The Celtics have now had three games in a row with 17 turnovers or more. On Friday, Tatum, Brown, and Walker all finished with four turnovers or more, accounting for most of the Celtics' miscues (which makes sense, since those three account for much of the team's usage).
The Celtics got away with it, since Tatum was otherworldly and the Timberwolves collapsed in the second half, but they need to cut down their turnovers badly.
4. Brad Stevens noted that Tristan Thompson gave the Celtics good minutes off the bench, then later pointed out how his physicality helped. Given the trust Stevens exhibited in Thompson earlier this season, it will be interesting to see if he goes back to Thompson in the starting lineup or if he continues to favor Williams' offense.
5. Tatum's brilliance and the Celtics' rally hid the damage, but the Celtics really struggled to open the game. Minnesota's bench shelled the Celtics, who handed the ball over repeatedly and gave up a ton of easy points in transition.
The Timberwolves are a mediocre team this year. The Nuggets, Blazers, and Lakers are less likely to allow the Celtics to rally back.
Get Boston.com's browser alerts:
Enable breaking news notifications straight to your internet browser.