Celtics
Morning sports update: Why Brad Stevens instructed Marcus Smart to miss a free throw against the Blazers
The Celtics were up by one when Stevens made the call.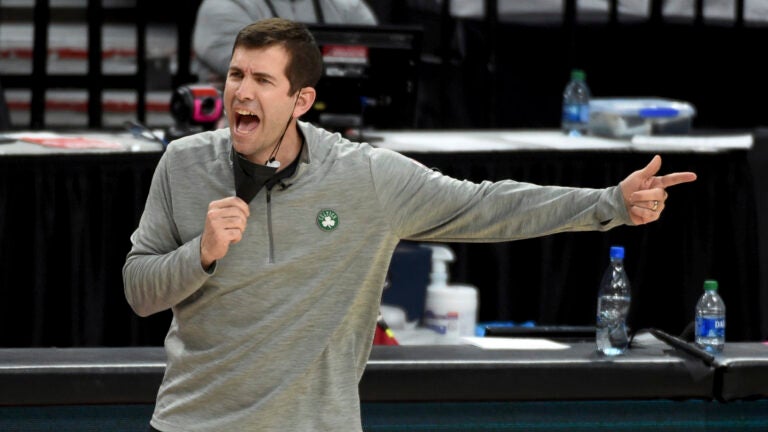 The Celtics squeaked by the Trail Blazers late Tuesday night, winning 116-115.  Jayson Tatum's 32 points — including his 3-pointer with 7.9 seconds left — sparked the Celtics to victory, giving them a four-game winning streak. They conclude their West Coast trip Thursday night with a battle against the Lakers.
Taylor Hall didn't score in his Bruins debut, but he got an assist in the Bruins' 3-2 shootout win over the Sabres. Hall's new linemates, David Krejci and Craig Smith, gave the Bruins their two goals in regulation, while Charlie Coyle and Jake DeBrusk scored in the shootout. The Bruins return to action Thursday night when they host the Islanders.
The Red Sox began Tuesday's winning wave, beating the Twins 4-2 to win their seventh straight game. They will play a doubleheader today, with Nathan Eovaldi starting the first game and Eduardo Rodriguez taking the mound for the second.
Brad Stevens shared why Marcus Smart missed a free throw in Tuesday's win: It's not often you're instructed to miss a shot, but that's what Marcus Smart was told to do in the final moments of the Celtics' win over the Trail Blazers Tuesday night.
With the Celtics up 116-115 and 3.5 seconds remaining, Smart was intentionally fouled by the Blazers and was sent to the free-throw line for two shots. Smart, a 78.6 percent free-throw shooter this season, missed the first one. After missing the first free throw, Smart looked toward the Celtics bench and was instructed by Brad Stevens to intentionally miss the second free throw instead of making it to go up by two.
"It's obvious. They're going to get a 3-point shot up in 3.5 seconds with no timeouts, most likely," Stevens told reporters following the game. "So, we want to make it as hard as possible so it wouldn't matter if we were up one or two at that moment. It would be different if he made the first, we probably would have tried to make the second. You have such a better chance of taking time away with them catching the ball and going towards their basket."
Smart executed Stevens's idea to perfection. He missed the second free throw and while Blazers star Damian Lillard got the rebound, Smart and Jayson Tatum quickly trapped Lillard along the baseline. With no room to dribble, Lillard was forced to heave the ball nearly over the entire court and missed, giving the Celtics the win.
In addition to the key missed free throw, Smart made some key plays defensively in the win. Smart guarded Lillard for a good amount of Tuesday's game and had success in limiting him. The Blazers star went 1-5 shooting, scoring just three points, and had two turnovers when he was guarded by Smart, via NBC Sports Boston's Chris Forsberg.
"I'm just getting started on getting back to where I was and letting people not to forget who I am on the defensive end and what I do," Smart said of his defense in Tuesday's game. "I've heard the talks (of not being as good of a defender). The injury probably affected me. I probably lost a step. All kinds of things."
Trivia: In his tenure with the Patriots, Bill Belichick has selected 11 quarterbacks in the NFL Draft. The first quarterback he selected was Tom Brady. Who was the second?
(Answer at the bottom).
Hint: He backed up Brady for a pair of Super Bowl-winning teams.
Read more on Boston.com:
Bruins coach Bruce Cassidy shared what the newcomers brought in Tuesday's win over the Sabres:
🎥 Coach Cassidy on the debuts of Taylor Hall, Curtis Lazar, and Mike Reilly: "Three guys that helped us win a hockey game. That's their job and we'll build them in as we go and see how they best fit. But first impressions were good." pic.twitter.com/W5JPVVnZOW

— Boston Bruins (@NHLBruins) April 14, 2021
Mel Kiper Jr. explains why he likes Justin Fields's fit in New England:
On this day:
Two years ago today, Tiger Woods became a major tournament winner again, winning the 2019 Masters. Woods's win at the Masters that year was his first major tournament win since 2008 and his fifth win at The Masters. The win came 17 years to the day after he claimed back-to-back Masters victories.
Daily highlight:
The hustle Marcus Smart is known for was on display Tuesday night. In the second quarter, Smart dove for a loose ball in the backcourt but failed to get the ball. Hustling back to get on defense, Smart stole a pass that would've led to an easy layup for CJ McCollum, tossing the ball to Tristan Thompson as he was falling out of bounds.
No one knew at the time, but that play could've been the difference between a win and a loss for the Celtics on Tuesday.
Marcus Smart all hustle and heart pic.twitter.com/mc3foAhosx

— CJ Fogler #BlackLivesMatter (@cjzero) April 14, 2021
Trivia answer: Rohan Davey
Get Boston.com's browser alerts:
Enable breaking news notifications straight to your internet browser.