Celtics
Brad Stevens acknowledges the media 'has a role to play' in success of the NBA
"Part of the reason salaries are what they are is because there's so much interest in this game."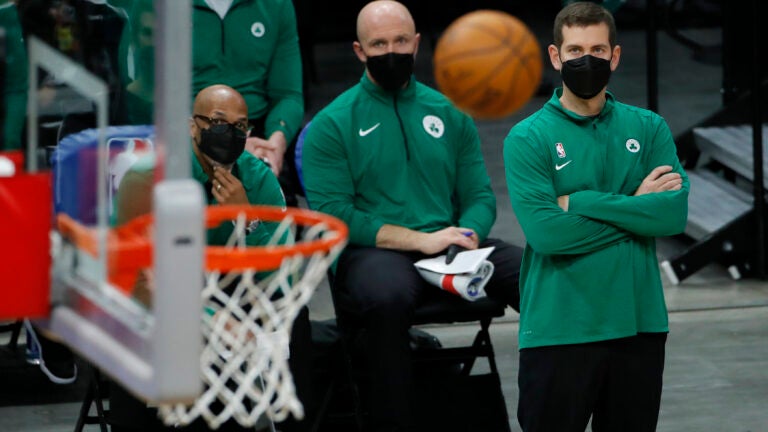 When the Celtics were at their worst this season, the coverage of the team was deafening.
Some members of the media called for Brad Stevens's job, while reporters in other locales speculated that he might be on the move. Others argued Danny Ainge was at fault for the Celtics's odd assembly of talent. Others opined that Jayson Tatum and Jaylen Brown weren't doing enough, or that Kemba Walker was done for, or that Marcus Smart was taking too many shots, or that the Celtics couldn't overcome their second-unit issues. Many of the opinions contradicted one another, but as the losing continued, the noise grew louder.
Such is the nature of "the media" — an inadequate generalization for the modern landscape.
"The media" consists of hundreds of different jobs. Some media members are paid to report the news exclusively — nothing more, nothing less. Others are paid to analyze. Still, others are paid to stir up a fanbase and drive interest, clicks, views and listens. Some write, some make TV appearances, some talk on the radio, some podcast.
The rise of social media further complicates matters. The first thing a player might see after a game is a high-profile Twitter or Instagram account posting opinions, or aggregating information gathered from other sources. Sometimes, that aggregation is like a game of telephone: The actual information or opinion goes through a layer of social-media engagement farming and comes out looking noisier than intended. An out-of-context quote can put a player at odds with a beat reporter, which in turn puts the beat reporter at odds with the aggregators or social media.
Further complicating matters: In the modern media landscape, all of these jobs — news writers, opinion columnists, provocateurs, social media engagers, TV personalities — often bleed into one another as reporters are expected to diversify.
So if the Celtics preferred to use a blanket term like "the media" when discussing their frustrations this season, even if it wasn't all-encompassing, they could perhaps have been forgiven for doing so.
According to Stevens, however, the Celtics' organization does discuss the various roles that media members play with its players, highlighting how different those roles can be.
"We try to help talk to the team about the different layers of media, and what the job looks like — whether you're a writer or talk on the radio for a living or you're on the opinion shows or whatever the case may be, all the way to social media," Stevens said on Thursday, prior to the Celtics's game against the Lakers. "And we talk about that you have to understand when you're in it and dealing with the nuances and details of a team and what your job is on every possession, it's so much deeper than the analysis in a lot of cases."
Stevens is certainly correct that the nuances and details of a team are, at times, impossible to capture from a media perspective. Many fans aren't looking for molecular details, and while there's a market for discussion of things like drop pick-and-roll defensive coverage, few (if any) reporters are truly equipped to discuss Xs and Os with NBA coaches beyond a basic level.
Still, Stevens noted that media is a necessary part of the NBA, assuming players enjoy their lifestyle.
"Everybody has a role to play," Stevens said. "Part of the reason salaries are what they are is because there's so much interest in this game, and that's because of the overreaction, good or bad, every single night."
That's a nice sentiment, of course, but one that can be easily lost when a team has lost four out of five games and players are bombarded with critical postgame questions and negative feedback online.
Characteristically, Stevens said the solution is for a team to avoid the highs and lows as much as possible. A piping hot take from a radio host doesn't mean the entire media believes a player should be traded. Similarly, a cold start to the season doesn't necessarily mean a team is doomed to the play-in tournament or the lottery, and a hot stretch in the middle doesn't necessarily make them contenders.
On both ends, the nuances are important.
"Most of the time, the negative is far over-exaggerated, and most of the time the praise and scrutiny is far over-exaggerated," Stevens said. "We're just trying to play well. And there are enough challenges that come with that."
Get Boston.com's browser alerts:
Enable breaking news notifications straight to your internet browser.