Celtics
Danny Ainge loves that Jayson Tatum called Kendrick Perkins after criticism
Perkins criticized Tatum for bad body language during a loss earlier in April.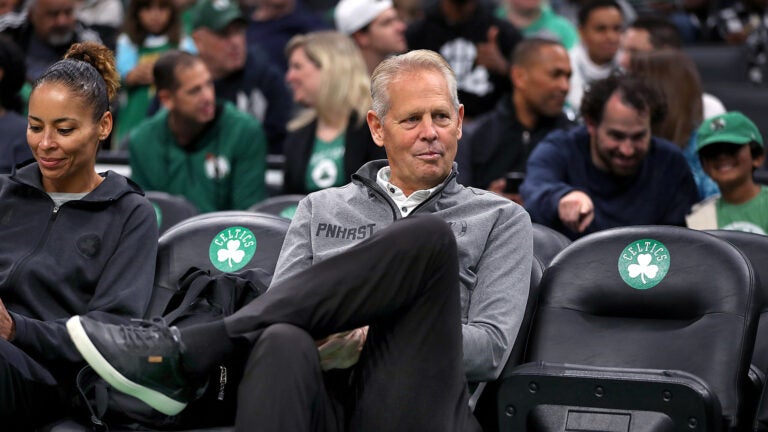 When former Celtics center Kendrick Perkins criticized Celtics star Jayson Tatum for his body language during a loss to the 76ers earlier in April, it may have been a turning point for the Celtics.
The Celtics won their fourth straight game since Perkins's criticism on Tuesday, and the player-turned-analyst shared that Tatum reached out to him to discuss the criticism. Celtics president of basketball operations Danny Ainge appreciated that Tatum did that.
"I love the fact that Jayson Tatum picked up the phone and called Perk. That's good that they have that connection," Ainge said in an interview on 98.5 The Sports Hub's "Toucher and Rich" Thursday. "I know that Perk only cares for Jayson's success. I think that there's players available (to talk), and I also know that players in our league now, they're listening to other players."
Ainge also said that he loved that Perkins was willing to talk, too, saying, "you want anybody that's a positive influence" to talk to any players on this current Celtics team.
Perkins said of the conversation that Tatum "just wanted to understand where I was coming from and I got an understanding of how he felt about my comments." Ainge said he likes that Tatum took that approach to criticism.
"(Tatum) will seek out those who can help him," Ainge said. "Sounds like he was seeking out Perk and wanted genuine feedback from what Perk was saying about him that he didn't like."
The Celtics, especially Tatum, have played really well since that moment. They've won all four games since then and Tatum's been the biggest reason for that. He's averaging 34.5 points per game in that stretch. His most notable moment in that stretch was when he scored a career-high 53 points in an overtime win over the Timberwolves last Friday.
The team's also stepped up in crunch time in its last two games. Against the Nuggets on Sunday, they came back from a 14-point deficit in the third quarter, outscoring the Nuggets 31-8 in the fourth quarter to win 105-87.
They followed that up on Tuesday with a 116-115 win over the Trail Blazers, in which Tatum knocked a 3-pointer with eight seconds remaining to put the Celtics up by four. Tatum scored a game-high 32 points in the win.
Ainge made sure to point out that Perkins isn't solely responsible for Tatum's play as of late, saying, "Jayson Tatum for the last 12 games, not since the Sixers game, has been on a tear. He's been playing unbelievable basketball."
"I think Jayson is wise and so is Jaylen (Brown). They're wise beyond their years in my opinion," Ainge later said. "Both those guys know who's blowing smoke and who is honest and good feedback. So, I'm certainly not dismissing the feedback that players receive, but I'm also not giving them all the credit for the players' play because Jayson Tatum has been on a roll for four years and he's had some downtimes."
Tatum and the Celtics close their three-game West Coast trip against the Lakers on Thursday night. Los Angeles will be without LeBron James and Anthony Davis as they continue to rehab from injuries.
Get Boston.com's browser alerts:
Enable breaking news notifications straight to your internet browser.