Celtics
Indiana reportedly prepared $70 million offer for Brad Stevens, who didn't consider coaching job
Stevens shot down rumors of leaving the Celtics multiple times in March.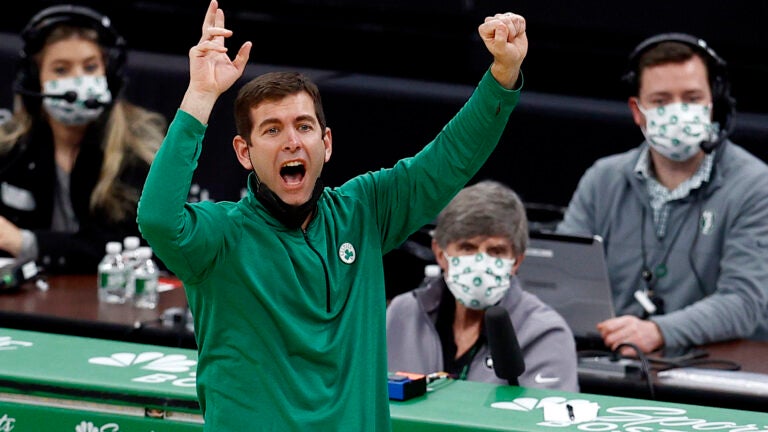 In March, Brad Stevens had the opportunity to not only return home, but also make a lot of money, too.
Indiana University prepared a seven-year, $70 million offer for Stevens to coach its men's basketball team, but Stevens didn't even consider the job, ESPN's Adrian Wojnarowski reported Saturday.
Stevens, an Indiana native, showed an affinity for the school and his home state when his name was brought up in rumors for the job in March, but shot down any possibility of him leaving the Celtics.
"It means a lot," Stevens told reporters then. "It means a lot. I know that…listen, I've got a lot of friends back there. I've got a lot of people that are really important to me there. My dad's still there. That does mean a lot. I won't act like that doesn't. Like I said earlier today, it's flattering."
However, Stevens has grown comfortable in the place he's called home for the last eight years.
"I love coming to work every day. I love this area," Stevens said. "People have been great to us. My family is so happy. And, at the same time, home is home. And that's why I wanted to make sure everybody understood that means a lot."
"I'm not a kid anymore," Stevens added. "I'm a 44-year-old Masshole. I swerve around others when I'm driving, I eat Dunkin Donuts and I root for the Patriots. I'm, unfortunately, skewed in a lot of ways, I guess.
Stevens left Butler University for the Celtics in 2013, signing a six-year, $22 million contract at the time. He's since signed multiple extensions, with his most recent extension coming in August 2020. The exact terms of the contract aren't disclosed, but Wojnarowski reported that Stevens' yearly salary is in the high-six million to low-seven million range.
As for Indiana, it ultimately hired longtime NBA coach and school alum Mike Woodson for its job.
Get Boston.com's browser alerts:
Enable breaking news notifications straight to your internet browser.