Celtics
Jabari Parker 'pretty good' in unexpected role in first game with the Celtics
Parker scored 11 points in the Celtics win.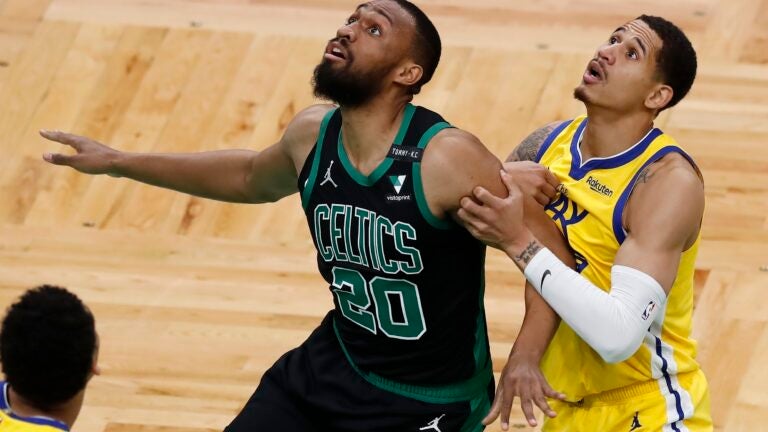 Jabari Parker signed with the Celtics Friday night. Roughly 24 hours later, Parker was thrown right into game action, as the Celtics need their new forward to play with Jaylen Brown and Evan Fournier out for Saturday's game.
With very little expectations out of the gate, Parker impressed in the Celtics' 119-114 win over the Warriors. He ended up playing 16 minutes, scoring 11 points on 5-of-6 shooting, and had a plus/minus of +7.
The thing that Parker did the most to stand out to Celtics coach Brad Stevens was his play along the baseline on the offensive end. Parker hauled down four offensive rebounds, all of which led to putbacks by him, highlighting a performance Stevens called "pretty good."
"Well, we went through the stretch at the start of the fourth quarter (where) we needed to score. He gave us some opportunities there," Stevens said of Parker's six points at the end of the third quarter and the start of the fourth. "Both in the first half and in the second when he played on the baseline, he played to his strengths."
Parker didn't have much time to prepare for his first game, having just the pregame shootaround and warmups to acclimate himself with the Celtics. Stevens believes that as Parker gets settled in, he'll show more on the defensive end.
Parker also impressed Marcus Smart, too. The pair were top picks in the 2014 NBA Draft, with Parker being the No. 2 overall pick and Smart being the No. 6 overall pick.
"We just told him to go out there and play as hard as he can everything else will fall in," Smart said. "He did very well. We were definitely ecstatic with the way that he came out, not really knowing the system and just playing basketball, being a basketball player. So, once he gets more involved into the plays and learning everything else will kind of mesh in well. But for his first time out there, he played very well, and we're proud of him."
For Parker, the 11 points he scored on Saturday were more than he scored all season with his last team, the Sacramento Kings. While Parker joined the Celtics for the home stretch of the season, he signed a two-year deal, placing him under contract for next season, too.
Get Boston.com's browser alerts:
Enable breaking news notifications straight to your internet browser.