Celtics
Jayson Tatum gives heartfelt answer on why he enjoys having his son Deuce attend games
Tatum called his son a motivation to him.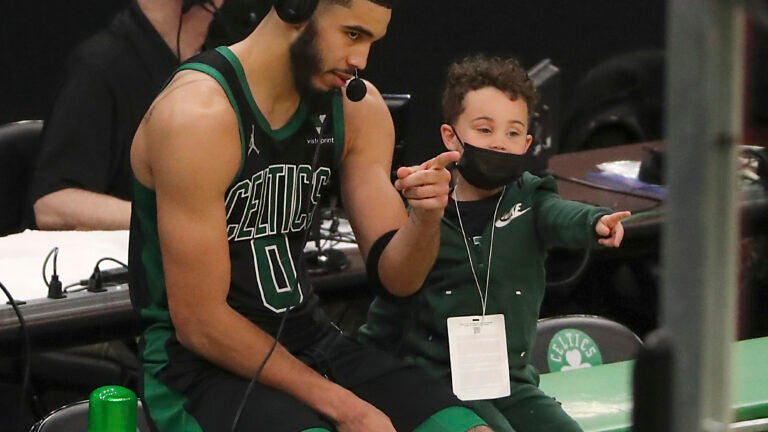 After scoring 44 points in a win over the Warriors and sharing a postgame moment with Steph Curry, Celtics star Jayson Tatum had one person he wanted to see: his son, Deuce.
Tatum's 3-year-old son walked up to his father following the game, joining him for his postgame interview with ESPN's Rachel Nichols. Deuce didn't speak during the interview, but Tatum spoke of how special his son is to him during his postgame press conference.
"Just to earn the respect from somebody like [Steph], and get a win, is everything."

—Tatum to @Rachel__Nichols pic.twitter.com/WMomIiqkqG

— SportsCenter (@SportsCenter) April 18, 2021
"I always love when he's at the game," Tatum told reporters of having Deuce attend games. "He's kind of a visual representation of what I do it for. Having him watching, knowing that he's looking up to me, it's all the motivation in the world right there."
With fans not being allowed in TD Garden this season until late March, Deuce hasn't been able to catch many of his father's games this season. Saturday's game also marked the Celtics' first game home since their recent West Coast trip.
"[Deuce is] a visual representation of what I do it for"

Jayson on his son being at the game pic.twitter.com/KFQA5re3cd

— Celtics on NBC Sports Boston (@NBCSCeltics) April 18, 2021
In the Celtics' previous home game, Tatum scored a career-high 53 points in a win over the Timberwolves. While fans were in attendance for that game, Tatum's son wasn't.
"He called me after the game and told me congrats," Tatum told reporters following that game. "Just means I'll have to do it again someday and he'll be there next time."