Celtics
Jayson Tatum and Steph Curry share 'mutual respect' following high-scoring performances
Tatum put up 44 points in the win while Curry scored 47 points himself.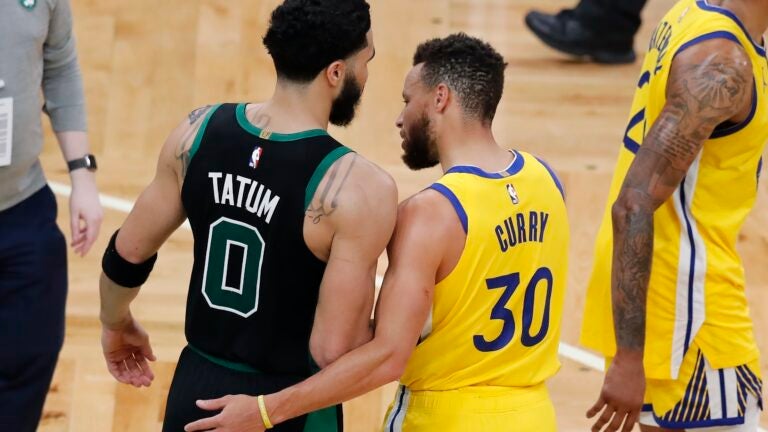 Jayson Tatum and Steph Curry put on a duel for the ages Saturday night.
The two stars traded buckets for much of the evening, with Tatum scoring 44 points and Curry finishing with 47 of his own. While Curry had the higher point total, it wasn't enough for his Warriors, as they fell to the Celtics 119-114.
Once the final buzzer sounded after the 48-minute duel that needed every second to decide Saturday's game, both stars shared an embrace.
"Just mutual respect," Tatum said of the moment he had with Curry after the game. "Obviously two big performances. I was glad that we got the win, but obviously, he's one of the all-time greats. Just to earn his respect and get a win on the same night … it was a good night."
Tatum received some defensive assignments on Curry Saturday, but realized the Warriors' sharpshooter wasn't going to be stopped. Curry shot 15-of-27 from the field and 11-0f-19 from 3-point territory.
"My competitive side just trying to do everything in my power to help my team win the game, clearly he was doing the same," Tatum said. "He was hitting some incredible shots that, in the moment, you got to tip your cap."
On the other side, Curry practically felt the same way about Tatum, who went 16-0f-25 from the field and 5-of-9 from 3-point range in the win.
"I just told him he's super tough, man," Curry said. "You can tell the game has slowed down for him, just in the way he picks and chooses his spots and how he kind of manages the game. He's shooting the ball a lot better from the perimeter, but when that game slows down, I don't know if it's four or five years in, whatever he is, that's when you become lethal. With your skill set, his size, their system features him, so he's a supreme talent. Supreme talent."
Tatum's most important points arguably didn't come in the fourth quarter. With the team trailing by 16 late in the first half, Tatum scored eight points as part of a Celtics 10-0 run, including making a deep mid-range shot in which he was double-teamed at the buzzer.
"He was amazing again," Celtics head coach Brad Stevens said of Tatum's run before the half. "We weren't perfect early on, we looked like we were moving in mud a little, but then he went to a different level. He was unbelievable."
While praising his own star, Stevens also had to show some respect for the night's other star.
"The smallest part of me enjoys it," Stevens said of coaching against Curry. "I just hate competing against him. But man, do I love watching him. He is as fun to watch as any player because of his creativity, his mastery of shooting and you just never feel good when you're an opponent."
Stevens's counterpart, Steve Kerr, felt the same way watching both players.
"First of all, I'm in awe of what I watched tonight," Kerr said. "From a skill level and level of competition, it felt like a playoff game out there. Both teams were just gassed and competed like crazy, and just incredible shot-making, particularly from Steph and Jayson. So what a basketball game. It hurts to lose, but I told the team I feel like they got better tonight."
Saturday's game is just the most recent performance in which Tatum's shown his potential as an elite scorer. In nine games in April, Tatum's averaging 29.3 points per game, shooting 52.3 percent from the field and 42.9 percent from deep. He also scored a career-high earlier in the month, putting up 53 points in a win against the Timberwolves
The Celtics have been better as a result of Tatum's play, holding an 8-1 record in April.
Celtics guard Marcus Smart has enjoyed playing with Tatum over this stretch.
"It's incredible," Smart said. "It's a good feeling to see. It's a good feeling to be a part of. Just to see his development and see him continue to ascend into a great player, it's definitely been a pleasure to be a part of."
Tatum, Smart, and the Celtics look to extend their winning streak to seven when they host the Bulls on Monday.