Celtics
5 takeaways as Celtics' six-game winning streak is snapped by Bulls
Jaylen Brown scored 23 efficient points, but the short-handed Celtics fell to Chicago.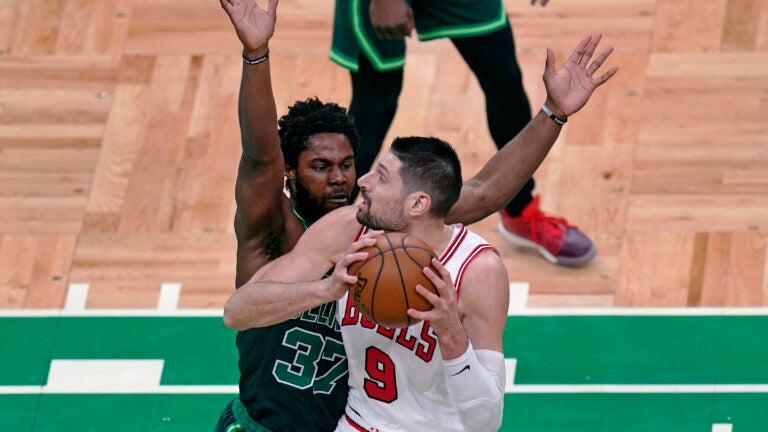 COMMENTARY
The short-handed Celtics saw their six-game winning streak snapped by the Chicago Bulls on Monday in a 102-96 loss.
Here's what happened.
The big picture
Even without Kemba Walker, Marcus Smart, and Rob Williams, the Celtics looked like they might roll in the first half, building a double-digit lead before the Bulls trimmed it back to six at halftime.
In the third quarter, however, the wheels came off: Chicago outscored the Celtics 32-18, building an eight-point advantage. That lead held throughout the fourth — after the Celtics tied the game at 90, they started turning the ball over, and the Bulls went on a 6-0 run from which the Celtics never recovered.
Star of the game
Nikola Vucevic — 29 points, 13-for-23, 3-for-6 from three, nine rebounds
Orlando, Chicago, it doesn't really matter: The Celtics have fits with Nikola Vucevic. On Monday, Vucevic punished the Celtics in the post and in pick-and-pop sets from behind the 3-point line. If that sentence sounds familiar, it's probably because Vucevic always punishes the Celtics in the post and in pick-and-pop sets from behind the 3-point line.
What it means
This one will sting a bit for the Celtics, both because the Bulls without Zach LaVine were very beatable and because it sends the Celtics into their toughest back-to-back of the season — Phoenix and Brooklyn — with a little extra pressure to get a win and keep pace with only 14 games remaining.
Still, the Celtics were bound to lose a game sooner or later. Getting back on track is encouraging. Getting a win against Phoenix or Brooklyn would cleanse the bad taste of Monday's loss quickly.
Takeaways
1. The Celtics might not like their next film session. The Bulls pulled down nine offensive rebounds and outscored the Celtics 18-4 on second-chance points.
Meanwhile, after cleaning up their sloppy play during their winning streak, the Celtics finished with 16 costly turnovers. Those turnovers don't even count the times Jaylen Brown and Jayson Tatum were stripped after the Celtics tied the game late in the fourth quarter. Monday's game was as sloppy as Saturday's game was dramatic.
2. Tatum recorded his first career triple double with 14 points, 13 rebounds and 10 assists, but he finished 3-for-17 from the floor and never seemed to find his footing from the field. On an off night, Tatum found ways to contribute by moving the ball (and he drew plenty of praise for his passing from Danny Ainge on the broadcast), but the Celtics could have used some heroics down the stretch.
3. With Smart and Walker out, the Celtics tried some unique looks at lead guard. Tremont Waters impressed with his two-way play, getting to the rim and creating havoc defensively.
In the first half, the Celtics gave Romeo Langford some looks at point guard. Brad Stevens has repeatedly praised Langford's feel in the pick-and-roll, and Langford showed why he has earned Stevens' praise at times with a pair of nice, simple pick-and-roll assists.
Langford should be a pick-and-roll threat as he develops — a talented slasher who can finish around the rim, handle and pass in traffic. Still, as Brad Stevens noted after the game, he isn't ready for those responsibilities yet.
4. Jabari Parker impressed for the second game in a row, posting eight points on 4-for-7 shooting in 16 minutes. Parker looks like a very intriguing fit as an opportunistic small-ball big who can do a lot of different things.
"He's a guy that can score, he's a guy that's got shiftiness in one-on-one matchups in the post and mid-post," Stevens said before the game. "He's great on the baseline, and there's ways he has to improve to play in the most meaningful games and the most meaningful times. But he's a good guy, good worker, he's excited to be here, and we're excited that he chose to come here."
5. Danny Ainge was relatively muted in his appearance on the NBC Sports Boston broadcast, but he seems to be a big fan of Romeo Langford's defense. Brian Scalabrine also offered a funny note: Apparently, Celtics assistant GM Mike Zarren told him not to engage if Ainge started complaining about the officials.
Fortunately for all parties involved, Ainge seemed to be on his best behavior, and the league will have little reason to levy a fine.
Get Boston.com's browser alerts:
Enable breaking news notifications straight to your internet browser.