Celtics
Here's why Jabari Parker has 'been a fan' of the Celtics since before joining the team
"They just do things the right way."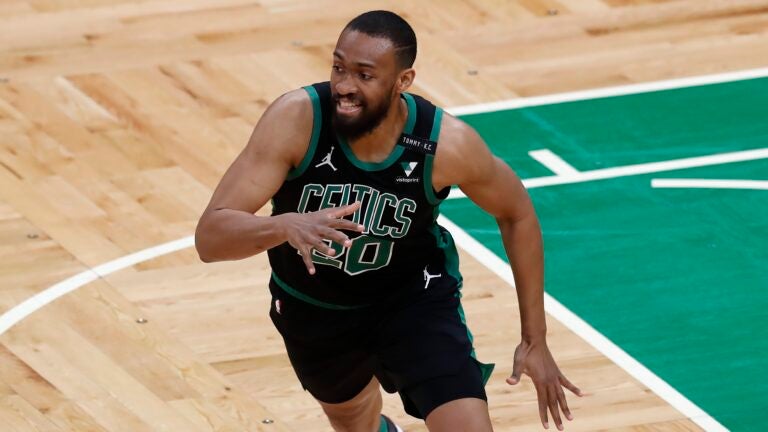 In his first game with the Celtics, Jabari Parker shot 5-for-6 from the floor and played just under 16 minutes. In Monday's loss to the Chicago Bulls, Parker finished with just under 16 minutes again and shot 4-for-7 from the field.
With the Sacramento Kings, Parker played 27 total minutes and was 4-for-7 from the field.
For the season.
Asked about Parker before Monday's game, Stevens reiterated that the Celtics see this as a potential multi-year partnership, not just an experiment for the rest of the season.
"We saw it as an opportunity to not only sign a guy for the rest of the season but also next year," Stevens said. "We want to do our part to certainly make our team better and in certain situations and certain matchups, especially as the season wanes here. But also to help him get his groove back."
The former No. 2 pick — who tore his ACL twice since leaving Duke — exercised his player option in Sacramento last offseason, locking in $6.5 million. But Kings coach Luke Walton never used him, even in garbage-time minutes. When the Kings waived Parker in March, ESPN's Dave McMenamin wrote that the 26-year-old's career was "in peril."
According to Parker however, the Celtics got to work immediately — his agent and Danny Ainge spoke within a week to begin hammering out the deal. Parker said he was excited to join the organization.
"Most importantly, I've just been a fan of the Boston Celtics," Parker said prior to Monday's game. "They just do things the right way, as far as like the teamwork, the hard work, and preparation. And hopefully I can be integrated and rub off on those guys as far as their work ethic and their habits."
Parker said he had a prior relationship with both Danny Ainge — who had a shot at a high draft pick when Parker was coming out of college — and his fellow former Duke star Jayson Tatum.
"Jayson, I met him after my third season, and I came back to school, got a chance to work out with him," Parker said. "Got a chance to workout with (former Duke assistant coach) Jeff Capel who was his shooting coach. And then when Danny Ainge, we always stayed somewhat close, especially during the time where I was getting drafted, so that was a good familiarity that I have those guys here with the Celtics."
Before Parker's first game, Stevens said he planned to use Parker as a versatile small-ball big. Parker has been opportunistic around the basket, and he showed some flashes in the mid-range. He looks rusty, but that's understandable — expecting him to be in game shape after spending the first 44 games of the season on the bench would be unreasonable.
In any case, the Celtics are excited to have him.
"I certainly have always been a fan of his game — we certainly all have," Stevens said on Monday. "He's been through some tough times with regard to the injuries and with regard to him playing less, whether Chicago, Sacramento or Atlanta, not quite getting the same opportunity. …
"He's a guy that can score, he's a guy that's got shiftiness in one-on-one matchups in the post and mid-post. He's great on the baseline, and there's ways he has to improve to play in the most meaningful games and the most meaningful times. But he's a good guy, good worker, he's excited to be here, and we're excited that he chose to come here."
Get Boston.com's browser alerts:
Enable breaking news notifications straight to your internet browser.