Celtics
Morning sports update: Celtics players paid tribute to Terrence Clarke
"That's really tough news to hear."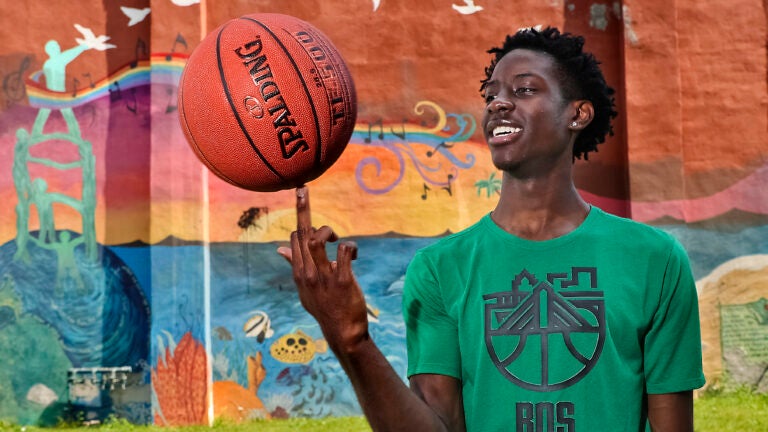 The Bruins defeated the Sabres on Thursday, 5-1. David Pastrnak, Brad Marchand, and Matt Grzelcyk each recorded a goal and an assist.
The Red Sox lost to the Blue Jays 7-3 in extra innings.
And the Celtics defeated the Suns, 99-86, behind Kemba Walker's 32 points.
This weekend, the Revolution will play D.C. United on Saturday at 8 p.m. in the club's 2021 home opener.
Celtics players mourn Terrence Clarke: The sports world learned of a shocking tragedy on Thursday when 19-year-old Boston native Terrence Clarke was killed in a car accident in Los Angeles.
Clarke played for Kentucky in the 2020-2021 NCAA season and was an NBA hopeful in the upcoming 2021 draft. He had recently signed with Klutch Sports, and was progressing toward a goal he had described in a 2019 profile for Boston.com.
"There's kids out here that play basketball [but are] never known because they never had the opportunity," Clarke said about Boston basketball. "I want to do a lot for the community, [be] the guy the younger kids to look up to and say, 'I want to be like him, or better.'"
Following the Celtics' game on Thursday, coaches and players learned of the tragedy.
"Very, very, very tough," Kemba Walker said when asked about Clarke. "Very tough news, man. He's a very, very good kid. Just always smiling, always energetic. And he was about to get his opportunity, too. My condolences to his family. It's a tough time, man. That's really tough news to hear."
Kemba Walker: "Very, very tough news. Terrence Clarke was a very good kid. Always smiling, always energetic" pic.twitter.com/DPrbFR32Eb

— Celtics on NBC Sports Boston (@NBCSCeltics) April 23, 2021
Boston coach Brad Stevens said that while he never met Clarke, "I know my son looks up to him."
Both Jayson Tatum and Jaylen Brown paid tribute to Clarke on social media.
"Tell your people you love them everyday!" Tatum wrote on his Instagram story, referencing Clarke. "Was so proud of you lil bro wish we talked more! This one hurts rest easy king never forgotten praying for the family."
Celtics president of basketball operations Danny Ainge sent prayers to Clarke's family and friends.
Such painful news. God Bless Terrence's family and friends. #RiPTerrenceClarke ☘️💚🙏🏻 https://t.co/RyoqaTrHeM

— Danny Ainge (@danielrainge) April 23, 2021
Others in the basketball world, including Kentucky coach John Calipari and Hawks guard Trae Young, shared their own messages in tribute.
More from Boston.com:
Chris Paul got a photo with Deuce Tatum after Thursday's Celtics-Suns game:
Everyone is a Deuce fan pic.twitter.com/G0s5SWXCyV

— Celtics on NBC Sports Boston (@NBCSCeltics) April 23, 2021
Giants general manager Dave Gettleman's Celtics analogy: Gettleman, who grew up in the Boston area, cited his Celtics fandom to make a point about drafting for potential vs. drafting for immediate ability.
"I'm a Celtics fan, don't be angry," Gettleman began. "A couple years ago, the Celtics drafted Robert Williams out of Kentucky, one-and-done guy, all kinds of potential. Now it's year three and he's finally starting to play to his abilities."
Of course, the problem with Gettleman's analysis is that Williams neither went to Kentucky (it was actually Texas A&M) nor was a "one-and-done" player (playing two seasons at the collegiate level).
Still, Gettleman used Williams's draft profile as an example of the difference in NFL vs. NBA.
"In the NFL, I've got to be really cognizant of the coaches," Gettleman explained. "They're under the pressure to win all the time, every Sunday is a referendum on their skills as coaches. You got to be really careful when you start taking guys that high that you love their physical skills, the potential, but how long is it going to take to show on the field? That's kind of the balance I have to get to."
On this day: In 1939, Ted Williams hit his first career Major League home run in a 12-8 loss to the Philadelphia Athletics. The 20-year-old Williams was a bright spot for Boston, going 4-5 with three RBIs, including a "towering" home run.
Depicted on the following day's front page of The Boston Globe, Williams immediately drew comparisons to the previous Boston baseball icon: Babe Ruth.
Daily highlight: Kean University catcher Josh Jackson skillfully caught a foul ball with his bare hand.
🔥Top Play Alert🔥@KeanBaseball Josh Jackson with the hustle barehanded grab #top10 @ESPNAssignDesk @SportsCenter #SCtop10 @NJACSports @d3baseball pic.twitter.com/Vrd594OBlP

— Kean Athletics (@KeanAthletics) April 22, 2021
Get Boston.com's browser alerts:
Enable breaking news notifications straight to your internet browser.