Celtics
5 takeaways as short-handed Celtics fall to short-handed Nets
Jayson Tatum scored 38 points, but the Celtics couldn't rally.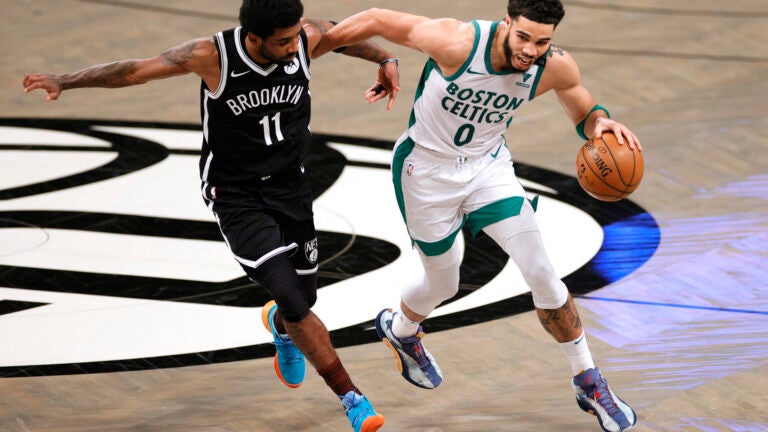 The short-handed Nets held off the short-handed Celtics 109-104 on Friday, dropping the Celtics a full game below the Atlanta Hawks and New York Knicks in the Eastern Conference standings.
Here's what happened.
The big picture
Missing Jaylen Brown, Kemba Walker, and Rob Williams and on the second night of a back-to-back, the Celtics struggled for a number of reasons. After the Nets rallied from Jayson Tatum's hot start and threatened to break the game open on multiple occasions, the Celtics trimmed the lead back down and stayed within reach. They couldn't, however, overcome a six-point deficit in the final two minutes.
Star of the game
Jayson Tatum — 38 points, 14-for-27 from the field, 6-for-12 from three, 10 rebounds, four assists
Tatum started hot and held the Celtics afloat as they tried to rally in the fourth quarter. Without his heroics, the Nets might have completed their blowout.
Since he returned from COVID, Tatum has been very durable, but Brad Stevens hinted before the game that he might need a day off over the next few weeks.
What it means
The Celtics needed a split this weekend, and they got one. They are a full game behind the Hawks and Knicks, but Celtics' remaining schedule is one of the easiest in the NBA going forward.
Takeaways
1. The differential in transition was the deciding factor: The Nets outscored the Celtics a staggering 32-0 in fast-break points in a game they won by five, according to the NBA's stats.
Brad Stevens might have some quibbles with how the NBA determines fast-break points, but he agreed with the overall principle.
"We got killed in it," Stevens said. "Turnovers are a big part of that from our defensive perspective, and we have to play with better pace up the floor, there's no question about it. But when you turn the ball over 19 times, and that's become an issue for our team regardless of who's on the floor, then it's hard to come back."
Per Cleaning the Glass, 28.4 percent of Brooklyn's offensive possessions started with a fast break — nearly double the Celtics' total. A troubling note for the Celtics: 48.8 percent of those transition possessions started with a defensive rebound. In other words, the Celtics may not have been working hard enough to get back defensively.
This, per @cleantheglass, is the easiest explanation for why the Celtics lost.

"We got killed in it," Brad Stevens said. He said turnovers have been an issue for the Celtics regardless of who's on the court. pic.twitter.com/gqdvTL0pnb

— Jay King (@ByJayKing) April 24, 2021
2. The Celtics turned the ball over 19 times again — a trend that has troubled Brad Stevens over the last few weeks.
"A lot of those were they were really physical on the ball," Stevens said. "They got their hands on balls. They stripped us. …
"But just generally we have to be tougher with the ball. That's not a couple of possessions here, a couple of possessions there thing. That's a thing, and it's got to improve."
Tatum was one of the main culprits, topping four turnovers for the third straight game. A mild increase is to be expected with his usage, which is up to 30.5 percent in the Celtics' last 10 games.
But Stevens is alarmed by the recent trend.
"Those are plays against good teams that kill you," he said. "They make you pay for them."
3. After his stats fell off briefly following his knee injury earlier this year, Payton Pritchard looks like a reliable member of the rotation again with real offensive potential. He scored 22 points on 8-for-12 shooting on Friday including 6-for-7 from deep, and all six of his triples were significantly behind the 3-point line.
Pritchard was asked about his deep range after the game.
"I think I had it before I came into the pros," he said. "I think I had that ability to shoot from deep. For me, it's just guys have to come out farther to contest, which opens up lanes, driving, if they come out that far. But it's harder to contest farther out, so that's why I usually go to that spot."
When Stevens trims the rotation down to eight or nine for the playoffs, expect Pritchard to be a part of it, which is no small achievement for a rookie.
4. "Evan [Fournier] obviously couldn't make a shot," Brad Stevens said, which was literally true: Fournier went 0-for-7 from the field and 0-for-3 from 3-point range.
Stevens, however, wasn't worried about Fournier, who played his first minutes since returning from a nasty bout with COVID-19.
Fournier said he struggled with flu-like symptoms — particularly fatigue — for five days. The hardest part, however, was returning to practice.
"The last two days of practice were really hard," Fournier said. "I had moments where I was doing good and moments where I was exhausted. That's why you have to push through it."
Fournier struggled through Friday's game as well. He noted that he has only played four games with the Celtics and needs more time on the floor to learn plays and build chemistry.
"I don't want to spend another week just ramping up my activity and doing cardio and all that," Fournier said. "I need reps with the guys."
As the Celtics rallied late, both Fournier and Jabari Parker played significant minutes.
"Not a lot of Celtics corporate knowledge, obviously five games and four games in between them," Stevens said. "But I thought they did a lot of good things."
5. The Celtics knew Terrence Clarke well.
The five-star Brewster alum and Roxbury native met Tatum during Tatum's rookie season. Clarke often attended Celtics games, and by his senior year, he was able to hang back and greet Tatum and Jaylen Brown after games. Clarke attended one of Tatum's birthday dinners and played competitive games of 1-on-1 with Brown ("Him putting his weight on me is definitely making me better, like, 'Oh, I've got to definitely get stronger,'" Clarke said in 2019).
Clarke's death in a car accident was a sledgehammer blow to the basketball community.
"I met him after my rookie year," Tatum said. "He was a great kid. Obviously, he was extremely talented, but just the kind of person he was. He was always smiling. He always had a smile on his face and was just in a good mood. …
"We talked a lot over the phone. I wish we would've talked more, but kind of like a little brother, someone that reached out for advice. He was just a good kid. He was always joking, always laughing. Obviously, you could see how many people knew him and had a relationship with him and felt that pain yesterday and it's still something that is just extremely tough. Just praying for his family at this time. That was a tough loss for everybody."
Get Boston.com's browser alerts:
Enable breaking news notifications straight to your internet browser.