Celtics
Brad Stevens thinks Robert Williams is getting better, but not ready vs. Hornets
"Just not quite ready today."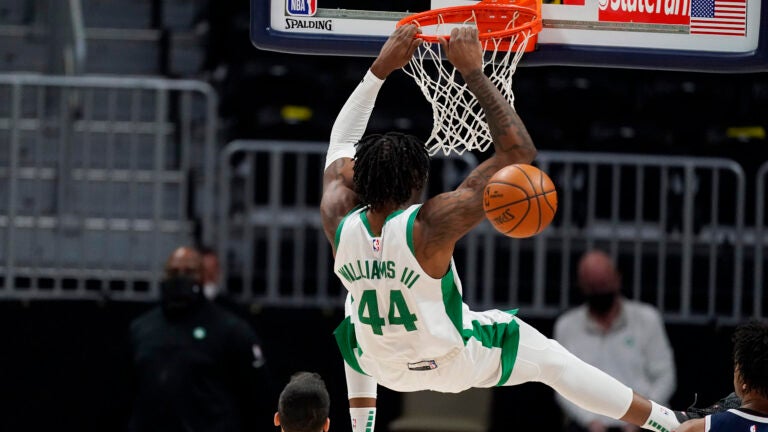 Boston Celtics center Robert Williams will once again sit on Sunday against the Charlotte Hornets, marking the young big man's sixth absence in a row.
Asked about Williams before the game, Celtics coach Brad Stevens offered few concrete updates.
"I mean, I think he's getting better," Stevens said. "So we hope that – again – he's back at some point soon, but just not quite ready today."
Williams' absences began on the Celtics' recent West Coast road trip. After scoring 16 points and pulling down seven rebounds in a win over the Portland Trail Blazers, Williams sat the next game against the Los Angeles Lakers.
Williams became the Celtics' starting center after the trade deadline, when Danny Ainge paired down the Celtics' big rotation by trading away Daniel Theis. Since he went out, Tristan Thompson has played well as the starter, but the Celtics miss everything Williams offers on the offensive end – vertical spacing, excellent passing, and a lob threat that keeps defenses nervous. Williams has one of the highest field-goal percentages in the league among rotation players at 72 percent, and he is averaging 8.2 points, 7.0 rebounds, and 1.8 assists per game despite his limited minutes.
Williams has missed significant time in all of his first three seasons in the NBA. This year has been his most consistent from a health perspective, but he still will have played in just 47 of the Celtics' 61 total games through Sunday.
In February, Stevens noted that the Celtics have been trying to ramp up Williams for the postseason throughout the year, citing a hip issue that has bothered him for multiple seasons.
"We're just trying to manage it over the course of the long season so that he's available more often than not, and then able to peak in minutes late," Stevens said. "So I guess it's more of a just be alert to it. Obviously, he had the two games that he sat out because it was bothering him, but we're just alert to it."
Get Boston.com's browser alerts:
Enable breaking news notifications straight to your internet browser.