Celtics
5 takeaways as Jayson Tatum's 60-point night leads wild rally as Celtics topple Spurs
Tatum tied the Celtics' franchise record for points in a game on Friday.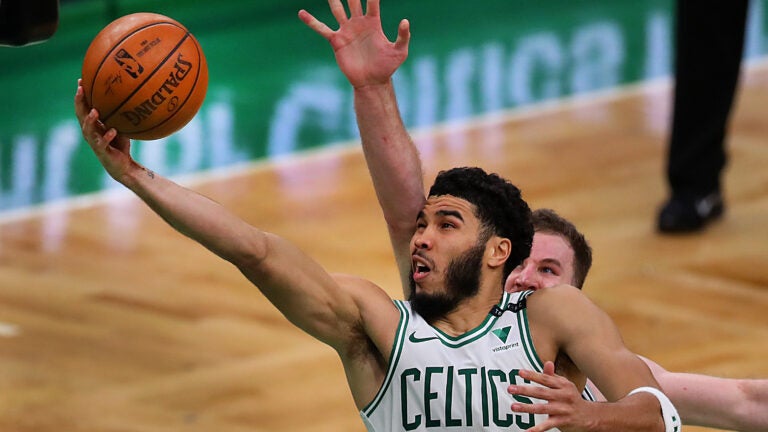 Jayson Tatum poured in 60 points to lead the Celtics on a wild rally over the San Antonio Spurs on Friday in a 143-140 overtime victory.
Here's what happened.
The big picture
The Celtics appeared on their way to an embarrassing loss in the early going, as the Spurs stretched a 20-point first-quarter lead as high as 32.
"The starts are ridiculous," Brad Stevens said after the game. "That was ridiculous, how we started the game. If we want to be any good, we've got to change that."
But the Celtics, improbably, weren't done. Jayson Tatum, with some help from Aaron Nesmith, dragged the Celtics back into the game and the Celtics tied things up in the fourth quarter. Tatum had a chance to win it in regulation with a turnaround at the buzzer, but his shot came up short. In overtime, the two teams traded blows, but big baskets by Tatum and Jaylen Brown helped the Celtics clinch the win down the stretch.
Star of the game
Jayson Tatum — 60 points, 20-for-37, 15-for-17 from the free-throw line, eight rebounds, five assists
Not much else needs to be said. The Celtics would have gotten obliterated if it wasn't for Tatum. Instead, he got a celebratory shower in the locker room.
"That boy was destined for greatness," Jaylen Brown said after the game. "I couldn't throw a rock into the ocean tonight and JT carried us to a win, man. He played hard. He led us tonight. There's other nights where it's going to be other ways, but tonight JT was outstanding."
What it means
The Celtics should take a hard look at why they fell behind by as many as 32. The defense was non-existent, and the offense — Tatum excepted — was embarrassingly anemic for lengthy stretches. They can't, of course, expect to win games like this often (or even ever again).
But Brad Stevens has talked often about resolve, and certain members of the Celtics showed a ton of it on Friday. That resolve was infectious and spread to the rest of the team as the game stretched on.
In the standings, the Celtics stayed within range of the Knicks and got even with the Hawks, who lost to the Sixers.
Takeaways
1. Jayson Tatum tied Larry Bird's Celtics' franchise record for points in a game, and he probably should have broken it — in the final seconds, he was mildly robbed of a continuation that would have given him a shot at 61.
Bird, of course, didn't need overtime. Bird also didn't lead his team back from 32 points down for a dramatic victory. Little column A, little column B.
"He was amazing," Stevens said. "We saw it all night. Thank goodness he was there in the first or else it would have been 30-something to nothing, because I think it was 31- or 33-12 and he had all 12. But yeah, we just need to play better. Jayson was amazing."
2. Aaron Nesmith has been excellent in consecutive games. On Friday, he poured in 16 points and made a pair of 3-pointers to help the Celtics rally. As his 3-point range continues to develop, he has looked like someone who can be a useful player for the Celtics in the postseason.
As Nesmith tried to adjust to the NBA game early this season, the Celtics made it clear that the way to get on the floor was to hustle like a mad man. Nesmith acquiesced.
Now, as his offense develops, he looks like a genuine contributor ready for the postseason. The Celtics needed more production at the wing and off the bench, and Brad Stevens repeatedly said he was waiting for a player to separate himself from the pack. Two games is a small sample size, but Nesmith might be in the process of separating himself.
"For me individually, every time I get to play and every time I get to run up and down and get into the flow of the game, it just starts coming more naturally," Nesmith said. "It's just becoming a lot more fun."
3. One reason the Celtics fell behind by so much in the early going: They simply couldn't defend San Antonio's mid-range attack. The Spurs created open look after open look from 13-17 feet, and they seemingly made everything. The Celtics have had issues containing opponents in the middle of the floor this season, and the Spurs spent 2.5 quarters picking those issues apart.
4. Jaylen Brown, who has been one of the better players in the league over the last two weeks, had a rough evening for most of the game. He finished with 17 points on 5-for-24 shooting and struggled for most of the overtime period.
Then the Celtics — trailing by one — found him in the corner with 16.7 seconds remaining, and Brown calmly buried a triple to put them up two which wrested control of the game away from San Antonio.
Brown will be fine.
"I knew I couldn't miss forever," he said. "I have unwavering confidence. Even though I shot a lot and I missed a lot, I knew these are shots I work on in practice every day. Regardless of what's going on right now, the next one is going in. The next one is going in. And right on time, the shot fell, so it's just a constant belief in your work ethic.
"I know today was a s—ty game. I know I needed to be a lot more poised and take care of the basketball. But that shot, that was probably a big shot, mentally, in my career."
5. Brad Stevens seemed to be of multiple minds on Friday after the game. He was pleased with the Celtics' rally, blown away by Tatum's performance, and livid at how the team started.
"I would have left at halftime," Stevens said, noting that his daughter actually did leave at halftime.
His daughter missed an incredible finish.
Get Boston.com's browser alerts:
Enable breaking news notifications straight to your internet browser.