Celtics
'It's like I have a concussion': Evan Fournier discussed playing with the lingering effects of COVID-19
Fournier described the timing of getting COVID-19 so quickly after joining the Celtics as "heartbreaking."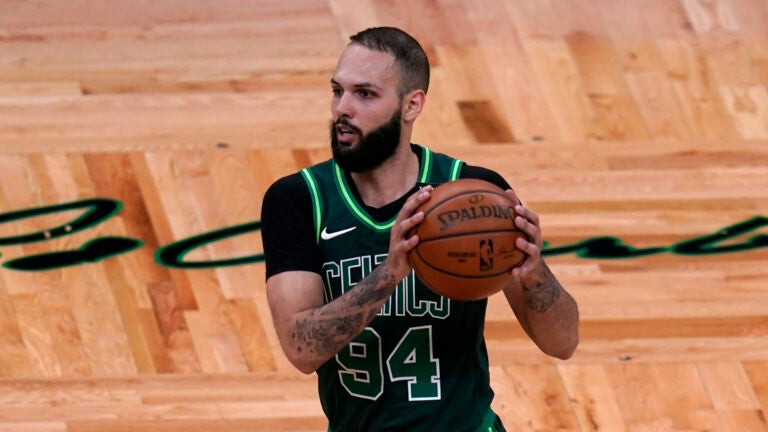 Having barely begun his Celtics career — arriving in Boston after a March trade — Evan Fournier was ruled out for more than two weeks with COVID-19. And even after returning in late April, the 28-year-old isn't completely back to normal.
Following Boston's defeat on Sunday to the Trail Blazers, Fournier opened up about the lingering effects of the virus.
"I've been feeling really weird, to be honest," Fournier admitted. "It's like I have a concussion."
"Right now, it's actually doing a little bit better," Fournier continued. "But at first it's like the bright lights, were bothering my eyes and my vision was blurry and everything was just going too fast for me. And, I mean, it's still the case. Some stuff [is] better. But at times, I'm really struggling to focus and my eyes keep struggling to focus on one thing. My depth perception is really bad right now. But I saw a specialist. She gave me some exercises. And hopefully, I'll get better."
Fournier is the latest Celtic to experience COVID-19. Marcus Smart tested positive for the virus in March, 2020, while several other Celtics (including Jayson Tatum) have had it since.
Like Fournier, Tatum has acknowledged that COVID-19 left noticeable effects behind even after he was cleared to return to basketball. Tatum told reporters in April that he now uses an inhaler before games, something he never needed beforehand.
"That's the thing with this COVID thing," Fournier added. "The truth is that doctors and everyone, they really have no idea [about COVID effects]. You know, it's so new. And the stuff that I'm feeling, apparently one third of the people after COVID got those symptoms as well. So it's not an isolated case. But like I said, with time, it's going to get better. Some people lost their taste of the food and the smell. And me, I'm guessing it's just my awareness and all that, it's part of the senses. But it's going to get better. It's already slightly better. So, like I said, I'm going to keep working. But I can't just take games off or practice off because I'm not feeling well mentally. If my body's available, I have to be available."
Asked a follow-up question about the long-term implications and his recovery timeline, Fournier was nonetheless upbeat.
"I'm not overly concerned for my health because I know in time it's going to get better, and I have no doubt that I'll be good," said Fournier. "It's just very unfortunate, the timing of things. Obviously I'm new here, so people don't really know my game and know who I am. It's just terrible timing. I get here and we have expectations, trying to make a run. For the first time in my career, to have an opportunity to make a really deep run into the playoffs with a team. So it's kind of a golden opportunity for me to finally be with a great team, and the fact that I got COVID and now I'm feeling like this, it's heartbreaking to be honest.
"So that's the hard part, but you guys don't know me yet," Fournier concluded. "I'm mentally as tough as it gets, and I'll get through that."
Evan Fournier talks about his post-covid battle and complications since coming back pic.twitter.com/Ts43CjXSeX

— Celtics on NBC Sports Boston (@NBCSCeltics) May 3, 2021
Get Boston.com's browser alerts:
Enable breaking news notifications straight to your internet browser.