Celtics
NBA free agency live updates: Victor Oladipo remains in Miami, Aron Baynes waived in latest moves
NBA free agency opened on Monday.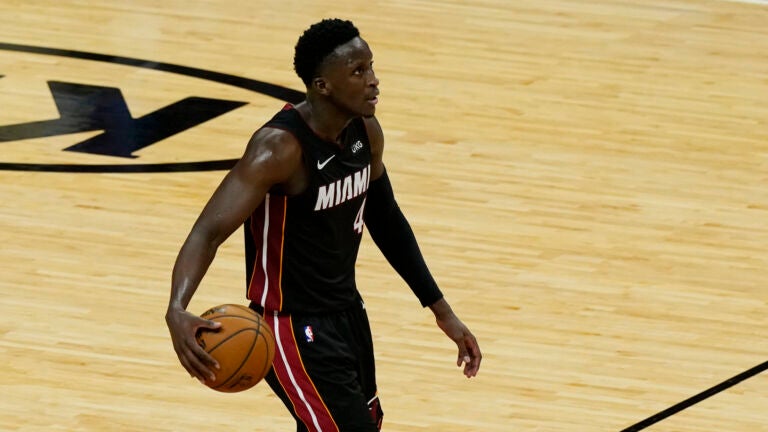 The NBA's free-agency period opened at 6 p.m. EDT on Monday.
We'll be tracking the latest moves around the league, including what the Celtics might do.
Wednesday
Aron Baynes waived by the Raptors
Another ex-Celtics player is in the news on Wednesday. Center Aron Baynes was waived by the Raptors, making him a free agent once he clears waivers.
Baynes, 34, was entering the second year of a two-year, $14.3 million deal he signed last season. If Baynes wasn't waived by 5 p.m. on Wednesday, his salary for the upcoming season would've been fully guaranteed.
Baynes struggled with the Raptors, averaging 6.1 points and 5.2 rebounds per game. Baynes was with the Celtics from 2017-19. 
Victor Oladipo opts for return to Miami
Victor Oladipo is staying with the Heat. The shooting guard agreed to a one-year deal with Miami, The Athletic's Shams Charania reported Wednesday.
Once one of the league's top shooting guards, Oladipo has failed to get back to the All-Star level he was at since he ruptured a quad tendon in his knee in 2019. Oladipo, 29, was traded from the Pacers to the Rockets and later to the Heat this past season, with his year coming to an end after needing another surgery on his right quadriceps tendon. 
Celtics bring back Enes Kanter
The Celtics made their first free-agent agreement of the offseason on Wednesday, agreeing to terms with center Enes Kanter. The deal is for one-year, $2.7 million, according to the Boston Globe's Adam Himmelsbach. 
Kanter returns to Boston after the Celtics traded him to the Trail Blazers following the 2019-20 season. Kanter averaged 11.2 points and 11 rebounds per game for the Blazers last season. 
John Collins returns to Atlanta on big money deal
Entering the offseason, John Collins was widely considered to be the top restricted free agent on the board, making it possible he'd sign an offer sheet somewhere.
The Hawks ended up avoiding that situation though, agreeing to re-sign Collins on a five-year, $125 million deal, according to ESPN's Adrian Wojnarowski. In his fourth season, Collins averaged 17.6 points and 7.4 points per game, helping the Hawks reach the Eastern Conference Finals. 
Tuesday
Kendrick Nunn joins new-look Lakers
Former Heat guard Kendrick Nunn reportedly took a significant pay cut to pursue a ring with the Lakers, according to Shams Charania. Nunn averaged 14.6 points per game on 48.5 percent shooting from the field last season.
Nunn will receive $10 million over the next two years. 
DeMar DeRozan heading to Chicago via sign-and-trade
A day after acquiring Lonzo Ball via sign-and-trade, the Bulls are adding another top free agent through a sign-and-trade.
DeRozan agreed to a three-year, $85 million contract with the Bulls, who are trading Thaddeus Young, a first-round pick, and two second-round picks to the Spurs, per multiple reports. 
After spending the first nine years of his career in Toronto, DeRozan spent the last three in San Antonio, averaging 21.6 points per game as a Spur. 
Lakers pick up Carmelo Anthony, Malik Monk in latest veteran adds
The Lakers' are continuing to add shooting around their "Big 3" of LeBron James, Anthony Davis, and Russell Westbrook. 
Carmelo Anthony is signing with the Lakers, he announced on Tuesday. The 10-time NBA All-Star has spent the last two seasons with the Trail Blazers, averaging 14.3 points per game over that span. Anthony, 37, is a longtime friend of James as the two were both a part of the 2003 NBA Draft.
The Lakers will also add shooting guard Malik Monk, ESPN's Adrian Wojnarowski reported. Monk, 23, spent the first four years of his career with the Hornets, making 40.1 percent of his 3-pointers last season and scored a career-high 11.7 points per game. 
Steph Curry agrees to massive extension with the Warriors
Steph Curry's won't be leaving the Bay Area anytime soon.
The star point guard agreed to a four-year, $215 million extension with the Warriors on Tuesday, ESPN's Adrian Wojnarowski. The extension will make Curry the first player to sign two  $200-plus million deals in NBA history.
Curry's played his 12-year career in Golden State, where he's won three NBA titles and two MVPs. He could have become a free agent in 2022 if he decided to opt out of his current contract. 
Patty Mills picks the Nets
Another point guard can be crossed off the Celtics' free agent list. 
Patty Mills will sign a two-year, $12 million deal with the Nets, ESPN's Adrian Wojnarowski reported Tuesday. The ex-Spurs guard chose the Nets over several contenders, Wojnarowski reported.
The Celtics were targeting Mills, according to the Boston Globe's Adam Himmelsbach. Mills played under new Celtics coach Ime Udoka when the latter was an assistant in San Antonio. 
76ers add Andre Drummond
The 76ers and Lakers are swapping centers via free agency.
A day after Dwight Howard ditched Philadelphia for Los Angeles, Andre Drummond agreed to a one-year deal with the 76ers, ESPN's Adrian Wojnarowski reported. The deal will be worth the veteran's minimum.
The Celtics and Drummond had mutual interest when Drummond was bought out by the Cavaliers last season. Drummond ultimately picked the Lakers, citing the opportunity to be in the starting lineup as one of his reasons for going to Los Angeles. 
Reported Celtics targets Otto Porter Jr., Rudy Gay will sign with Western Conference teams
A pair of free-agent wings the Celtics were targeting won't be coming to Boston.
Early Tuesday morning, small forward Otto Porter Jr. agreed to a one-year, veteran minimum deal with the Golden State Warriors. Porter Jr. took less money to play with Golden State, declining a mid-level exception offer from an unnamed team, Yahoo! Sports' Chris Haynes reported. 
Rudy Gay also came off the free-agent board on Tuesday, agreeing to a two-year, $12.1 million deal with the Jazz, The Athletic's Shams Charania reported. Gay played under new Celtics coach Ime Udoka when Udoka was an assistant with the Spurs. When Udoka received the Celtics' coaching job, Gay was one of the most vocal supporters of the hire, leading many to speculate if he'd join his former coach in Boston. 
Spencer Dinwiddie agrees to deal with Wizards
One of the top free agents came off the board early Tuesday morning. Former Nets guard Spencer Dinwiddie agreed to a three-year deal with the Wizards, ESPN's Adrian Wojnarowski reported. The contract will three years, $60 million, according to Bleacher Report's Jake Fischer. Because of the Wizards' cap situation, Washington will either have to agree to a sign-and-trade with Brookyln or offload salary in another trade in order to acquire Dinwiddie.
The Celtics had internal interest in Dinwiddie, according Sports Illustrated's Chris Mannix. 
Monday
Semi Ojeleye signs with Milwaukee
Late Monday night, ESPN reported former Celtics forward Semi Ojeleye had agreed to a one-year deal with the Bucks. Ojeleye, the 37th pick of the 2017 draft, averaged 3.5 points and 2.1 rebounds over four seasons with the Celtics.
Heat revamp, reload roster with busy first day
The Heat put together the pieces of a potential contender next season on Monday. First, they acquired Raptors guard Kyle Lowry in a sign-and-trade, inking the 2019 NBA champion to a three-year deal worth $90 million. Then they re-upped with Jimmy Butler on a four-year $184 million max deal that tops off at $50.3 million in the final season (Butler's age 36 year). The Heat then re-signed Duncan Robinson to a five-year $90 million contract and coaxed P.J. Tucker to pick up $15 million over two years. Add Dewayne Dedmon (one year deal) and Max Strus (two years, $3.5 million), and the Heat were as busy and aggressive as any team Monday.
Blake Griffin remains a Net
Blake Griffin will stay with the Nets on a one-year deal, according to ESPN. Griffin averaged 10 points and just under five rebounds in Brooklyn after the Pistons bought out the remainder of his contract midseason. 
Knicks keep the band together with three signings
In addition to adding Evan Fournier, the Knicks kept their surprise playoff team together on Monday — re-signing Derrick Rose, Nerlens Noel and Alec Burks, per ESPN. All three players signed for three years. Rose's deal is worth $43 million, while Noel received $32 million, and Alec Burks re-upped for $30 million.
Blazers re-sign Norman Powell to a big deal
The Trail Blazers were so impressed by Norman Powell last season after acquiring him from the Raptors, they brought him back on a lucrative five-year deal worth $90 million, according to ESPN. Powell shot 41 percent from three and averaged 17 points in Portland playing next to Damian Lillard and C.J. McCollum.
Bulls add former Lakers guard Alex Caruso
The Bulls landed Alex Caruso on Monday, inking the defensive-minded former Lakers guard to a four-year deal worth $37 million per ESPN. Caruso, whose popularity soared online during his time with the Lakers, proved himself more than just a meme during the Lakers' run to the 2019-20 championship in the Disney World bubble. The Bulls have now signed two solid defenders who can play alongside star guard Zach LaVine.
Reported Celtics target Jeff Green signs with Denver
The Celtics reportedly had interest in Jeff Green, but the former Nets forward/center agreed to a two-year deal with the Nuggets on Monday, according to ESPN. The Celtics are focused on maintaining cap space in 2022. 
Suns, Chris Paul agree to lucrative four-year deal
According to ESPN, Chris Paul has agreed to stay with the Suns on a new four-year deal that could be worth as much as $120 million. Paul helped transform the Suns from a lottery team into the Western Conference champions before Giannis Antetokounmpo and the Milwaukee Bucks bounced them in the Finals.
Miami Heat agree to terms with Duncan Robinson, Kyle Lowry
Sharpshooting wing Duncan Robinson will re-sign with the Heat on a five-year deal worth $90 million. Robinson, a New England native, has become one of the NBA's preeminent shooters. 
Meanwhile, the Heat also agreed to a sign-and-trade that landed them former Raptors guard Kyle Lowry, an integral part of Toronto's championship team in 2019. Lowry, 35, agreed to a three-year deal worth $90 million with the Heat, per ESPN. To make Lowry's money fit, the Heat sent the Raptors Goran Dragic and Precious Achiuwa. 
Bulls land Lonzo Ball
Just after the official start of free agency, the first big move was announced: Lonzo Ball is heading from New Orleans to Chicago, courtesy of a sign-and-trade agreement. Ball gets a four-year, $85 million contract with the Bulls, per ESPN. 
Former Celtics center Daniel Theis will sign multi-year deal with Rockets
According to Kelly Iko of the Athletic, former Celtics center Daniel Theis is headed to the Rockets on a multi-year deal. 
The Celtics traded Theis to the Bulls at the trade deadline as part of a three-team deal that brought Mo Wagner and Luke Kornet back to Boston. The trade helped keep the Celtics under the luxury tax.
Theis played well enough last season to price himself out of the Celtics' range, especially since Robert Williams looked like a regular contributor. A highly versatile defender at the five, Theis could space the floor offensively and set great screens in the pick-and-roll.
Celtics among group of teams showing interest in Reggie Jackson
Clippers point guard Reggie Jackson appears to have a suitor in place he once called home. The Celtics are one of at least four teams that are interested in the Boston College-product, according to The Athletic's Sam Amick.
"While the Clippers want to re-sign Reggie Jackson, source says he's expected to receive serious interest from New Orleans if – when? – the Pelicans miss out on Kyle Lowry. The Knicks, Boston and Denver also interested," Amick tweeted Monday.
Update to free agency column…

While the Clippers want to re-sign Reggie Jackson, source says he's expected to receive serious interest from New Orleans if – when? – the Pelicans miss out on Kyle Lowry. The Knicks, Boston and Denver also interested. https://t.co/5pIhbtrceJ

— Sam Amick (@sam_amick) August 2, 2021
After a relatively tame regular season in which he scored 10.7 points per game, Jackson shined for the Clippers in their playoff run. He scored 17.8 points per game over 19 playoff games and stepped up when Kawhi Leonard missed the Western Conference Finals, putting up 20.3 points per game in that series. 
Celtics could reunite with Isaiah Thomas
The Celtics' search to find a new point guard might bring them back to an old one. 
"Boston, I'm told, has interest in an Isaiah Thomas reunion, with new Celtics president of basketball operations Brad Stevens known to be one of Thomas' biggest fans," longtime NBA insider Marc Stein reported Monday. 
Thomas was a fan favorite during his three seasons in Boston, getting name an All-Star twice. The Celtics traded Thomas, along with other players and picks, to the Cavaliers for Kyrie Irving in 2017.
After suffering a hip injury in his final season with the Celtics, Thomas has failed to play at the star-level he was once at over the last four seasons. Thomas, now 32, has played for five teams since leaving Boston, with his last stint coming on a 10-day contract on the Pelicans this past season. 
Celtics have 'internal' interest in Spencer Dinwiddie
The list of point guards the Celtics are reportedly interested in is growing. Boston has interest in Nets guard Spencer Dinwiddie, according to Sports Illustrated's Chris Mannix.
"Unsurprisingly, Boston's brass isn't too comfortable opening the season with a point guard depth chart topped by Marcus Smart and Payton Pritchard," Mannix wrote. "There's internal interest in Nets point guard Spencer Dinwiddie, though acquiring Dinwiddie—who told SI's Howard Beck that he is seeking a contract in the five-year, $125 million range—gets financially complicated."
Dinwiddie, 28, played in just three games this past season after tearing his ACL. When Kyrie Irving missed much of the 2019-20 season for the Nets, Dinwiddie stepped up in the starting point guard role and averaged 20.6 points and 6.8 assists per game.
The Pelicans and Wizards are among other teams reportedly showing interest in Dinwiddie. 
Marcus Smart's time in Boston might be nearing its end
Marcus Smart isn't a free agent yet, but he could be moving on from the Celtics this summer. The Celtics' trade for Mavericks guard Josh Richardson over the weekend might make Smart expendable, according to Mannix. 
"Smart has become a fan favorite over seven years in Boston, but Brad Stevens has been frustrated by Smart's unpredictable play in recent years, per sources," Mannix wrote. "Smart, one of the NBA's better perimeter defenders, is entering the final year of his contract. Boston could extend Smart, but two people familiar with Stevens thinking tell SI it's more likely Stevens will look to trade Smart before the start of the season."
If the Celtics decide to trade Smart this offseason, they could get someone with a similar impact in return.
"Boston shopped Smart last season, seeking multiple first round picks, a team executive with knowledge of the discussions told SI," Mannix wrote. "Smart's value now? 'Probably a first round pick and a rotational player,' a high ranking Eastern Conference executive told SI. 'Might be able to swap him for similar player that fits a positional need. [Danny Ainge] valued him like an All-Star though—he is not.'"
Evan Fournier drawing interest from the Knicks.
With multiple reports suggesting that Evan Fournier and the Celtics are still far apart in contract negotiations, there's one team that's ready for Fournier to hit free agency, according to Mannix. 
"Count the Knicks among the teams interested in Evan Fournier," Mannix wrote. "The question is, how aggressive will Boston, which used a sizeable chunk of the trade exception created by the departure of Gordon Hayward, be in re-signing him? Rival executives believe Fournier will attract offers in the neighborhood of $15 million per season. That may be more than Boston is willing to spend."
Sunday
Celtics losing confidence in signing Evan Fournier
From Globe reporter Adam Himmelsbach:
"The Celtics are losing confidence in their ability to re-sign veteran wing Evan Fournier.
The Celtics acquired Fournier from the Magic in exchange for two second-round picks in March. The move was completed to bolster Boston's playoff push, and because it would give the Celtics the ability to sign Fournier to a long-term deal this summer despite being over the salary cap since they would hold his Bird Rights."
Kawhi Leonard to become unrestricted free agent
Yahoo Sports is reporting that Kawhi Leonard will turn down his player option worth $36 million and become an unrestricted free agent.
Los Angeles Clippers star Kawhi Leonard is expected to decline his $36 million player option to become an unrestricted free agent, league sources tell @YahooSports.

— Chris Haynes (@ChrisBHaynes) August 1, 2021
ESPN is reporting, however, that Leonard is expected to stay with the Los Angeles Clippers, and just plans to negotiate a new deal.
Kawhi Leonard has declined his $36M player option for next season and becomes a free agent, per source. Now, the expectation is that Leonard will negotiate a new deal to stay with Clippers. @ChrisBHaynes first on declining option.

— Adrian Wojnarowski (@wojespn) August 1, 2021
Chris Paul to become unrestricted free agent
Multiple outlets are reporting that Suns star Chris Paul will decline his player option for next season and will become a free agent.
Phoenix Suns' Chris Paul is declining his $44.2 million player option for the 2021-22 season and becoming an unrestricted free agent, sources tell @TheAthletic @Stadium.

— Shams Charania (@ShamsCharania) August 1, 2021
Heat looking to sign Kyle Lowry
ESPN is reporting that the Heat are looking to add the Raptors' Kyle Lowry in a sign-and-trade situation.
Lowry's long been intrigued with joining Heat star Jimmy Butler and the Miami organization, and now Miami's maneuvered to have two key elements of a possible sign-and-trade package – Goran Dragic and Precious Achiuwa — to offer Raptors once talks can ensue at 6 PM, per sources. https://t.co/MrpMhhB7aJ

— Adrian Wojnarowski (@wojespn) August 2, 2021
Boston has eyes on Jeff Green
The Celtics want a key bench piece, according to Adam Himmelsbach, and the way to do it will be through a mid-level exception:
"According to a league source, the Celtics prefer to pursue a player with extensive experience and are focused on adding size and shooting. Forward Jeff Green is believed to be a primary target. Green played for the Celtics from 2011-2015, including a season and a half with Brad Stevens as his head coach."