Celtics
Marcus Smart reportedly agrees to 4-year $77 million contract extension with Celtics
Smart was drafted by the Celtics in 2014.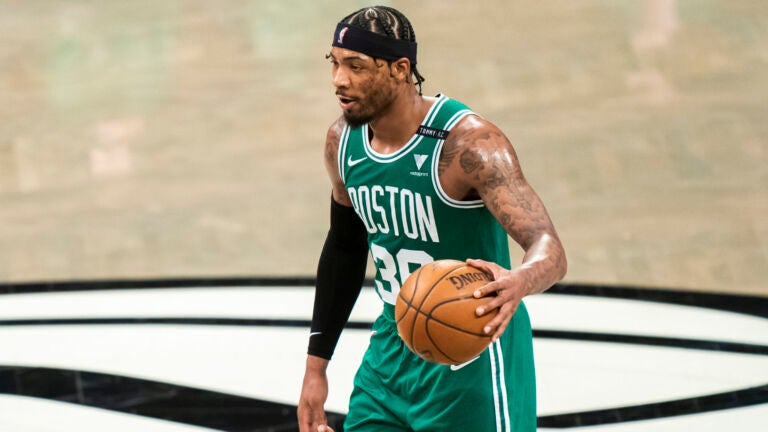 Celtics guard Marcus Smart agreed to an extension on Monday, according to multiple reports.
Per ESPN's Adrian Wojnarowski, the deal is worth $77 million over the next four years — the maximum amount Smart is allowed to earn based on his previous salary. Smart will not have a player option on the final year of his deal.
ESPN's Bobby Marks broke down the math on Smart's deal.
The signing does not take the Celtics out of the running for a max free agent next summer. They would now need a sign-and-trade to accomplish it, but if Beal is available, Smart would likely be a necessary asset to accomplish the deal anyway.
One report earlier this summer suggested the Celtics were more likely to trade Smart than sign him to an extension, but the Boston Globe's Adam Himmelsbach reported that Smart was unlikely to move on.
Smart retweeted the report that he would likely be traded after his extension was reported.
Smart was drafted by the Celtics in 2014 with the No. 6 pick after the lone lottery season of Brad Stevens' tenure as coach. A two-time All-Defense selection, Smart has averaged 13.1 points, 3.5 rebounds, and 5.7 assists.
Jayson Tatum congratulated Smart on the new deal.
Smart also posted a video with a series of photos from his time with the Celtics on Instagram.
New Celtics coach Ime Udoka called Smart foundational earlier this summer.
"He was the only guy who really wasn't scared out there," he said of Smart's time with Team USA. "We got future NBA All-Stars and All-NBA guys, and they were a little timid at times. But Marcus was a very vocal leader. He has that edge and toughness about him, so the things he brings to your team are the things you love every player to bring. You hate playing against him, but you want him on your side.
"He's another foundational piece. He's been here through thick and thin, seen the winning and seen some down times. What he does for Jayson and Jaylen is invaluable in my eyes."
Get the latest Boston sports news
Receive updates on your favorite Boston teams, straight from our newsroom to your inbox.