Celtics
7 takeaways as the Celtics rout the Rockets in Jaylen Brown's return
Jayson Tatum and Jaylen Brown helped spark the Celtics' third straight win.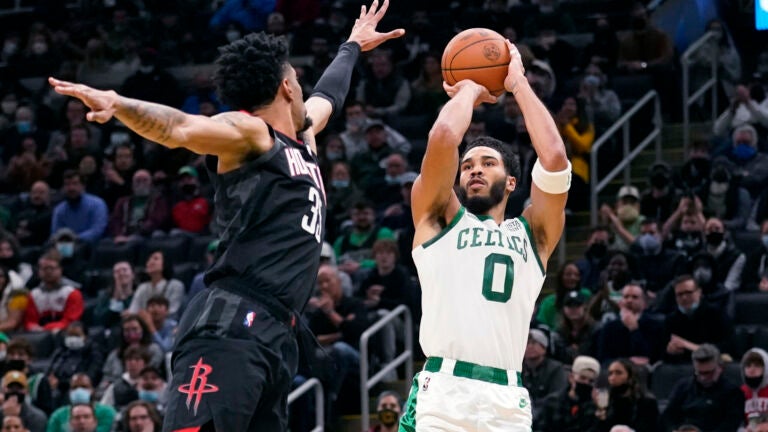 Here are the takeaways as the Celtics routed the Rockets 108-90 with both Jaylen Brown and Robert Williams back in the lineup.
1. Brown had a minutes restriction which ultimately didn't matter at all: He and the rest of the Celtics' starters sat for much of the fourth quarter after taking care of business against a Rockets team that only felt tenuously in the game for most of the first half.
Brown didn't get going right away — in the first two quarters, he missed a lot of shots and clearly needed to knock some rust off. In the third, however, he started with a pair of free throws. After a couple of misses, he scored a breakaway layup, then buried a pair of triples and two more free throws — notching 12 of his 19 points in the period.
Per Ime Udoka, Brown didn't feel "normal normal."
"I didn't feel my best out there," Brown later confirmed. "I felt good going all the way up until the game, then I had a little bit of tightness. We'll see how it feels tomorrow and keep building. I wasn't super happy with how my body felt. We're working through it."
The Celtics, to no one's surprise, look a whole lot more dangerous when their best players are available. Wednesday will be a greater test of the team's newfound chemistry, but they aced their test prep against a bad team Monday.
2. Robert Williams is a pretty unique player, which means he puts up some pretty unique stat lines.
Williams finished with 15 rebounds, one block, and two points on 1-for-1 shooting (an alley-oop from Marcus Smart in the first half).
"His energy was great," Al Horford said. "He got some tough rebounds, he was very active, it was just good to see him playing out there, and he impacted the game in a big way for us."
3. One underrated aspect of the Celtics' success this season: Both Romeo Langford (10 points, 2-for-4 from three, five rebounds) and Grant Williams (four assists, five rebounds, one incredibly impressive block) look like real contributors who can help the Celtics win games right now. Both players have improved drastically from 3-point range, both are defending hard and both seem fully ready for NBA physicality at this stage.
Depth was an issue for the Celtics last season, but Langford and Williams had a full offseason and appear to be significantly better prepared as a result. Langford and Williams look ready to fundamentally challenge the narrative that the Celtics had a bad 2019 draft.
4. Jayson Tatum notched his fourth straight game with 30 or more points, and once again, he led the way as the Celtics attacked the paint, which got the ball moving around the perimeter. Tatum was 1-for-9 from 3-point range, but because he scored efficiently inside the arc (more importantly), and took and made nine free throws, he still produced a big total.
Of course, Tatum should also continue taking nine 3-pointers per game no matter what. A shooter of his caliber needs to continue shooting.
5. The Rockets are really bad, in large part thanks to their league-worst offense which manages just 97.6 points per 100 possessions. The Thunder, who are second-worst, score 100.2 points per 100 possessions.
Even some of the early-season hope the Rockets harbored — that Jalen Green looked like a budding star — seems to have been wiped out by a 15-game losing streak that has them 1-16.
The Celtics never looked like they had any doubt they would win Monday's game, even though they exchanged leads 15 times and went to the locker room at halftime up just five. The third quarter was a beatdown: The Rockets went 5-for-20 and the Celtics won the period 34-16.
Part of being a good team is taking care of games against bad teams, and the Rockets are a particularly bad team — probably the worst in the league. Here's hoping Paolo Banchero likes Texas.
6. This kind of ball movement — in which the ball touched the paint but never touched the ground after Schröder's pass — didn't happen early in the season.
Udoka noted recently that he expected to start improving the offense after the Celtics fixed their defense. On Monday, Horford was asked about the recent offensive improvements.
"We're not getting so caught up in so much play-calling, and just running the actions," Horford said. "Everybody is starting to understand how we want to play, the places we want to be, and I think that's been the biggest difference. I think that, obviously, we still have some ways to go, but I was encouraged, especially in that third, especially how we were able to play and move the ball."
7. Of course, it also helps that the Celtics' best player is playing like a superstar again.
Tatum was a Lakers fan growing up, but getting a shout-out from Bill Russell had to be a cool moment.
The Celtics take on the Nets at 7:30 p.m. on Wednesday at the TD Garden.
Get the latest Boston sports news
Receive updates on your favorite Boston teams, straight from our newsroom to your inbox.