Celtics
Jaylen Brown is 'all for' Joe Johnson in locker room: 7 takeaways as Celtics beat Cavaliers
"Definitely a childhood icon, and having him here in the locker room is great."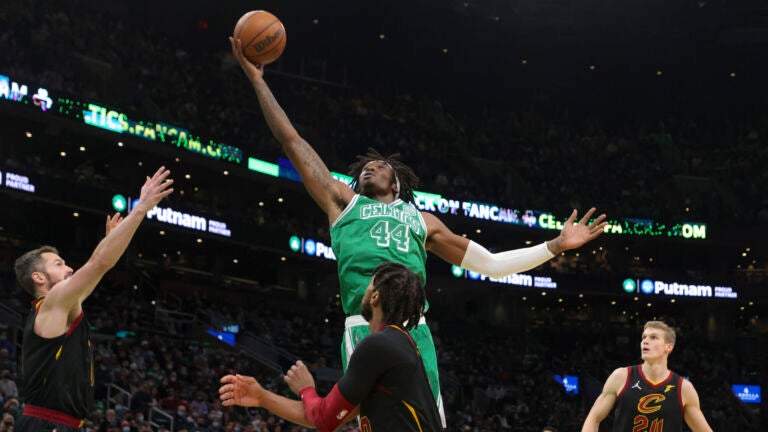 Here are the takeaways as the Celtics defeated the Cavaliers 111-101, boosted by Jaylen Brown and Robert Williams (and, in spirit, a familiar new face in Joe Johnson — the seven-time All-Star and former Celtics lottery pick who rejoined the team at 40 years old).
1. Before the game, Joe Johnson mentioned that he played pick-up games with Jaylen Brown this summer. Brown said the duo played together in Atlanta, and that Johnson still looked great.
"In Atlanta, I got to go to a lot of those games," said Brown, who is from the Atlanta area. "I remember when it went to seven games, the Hawks went to seven games with KG, Paul Pierce, I remember that was a big deal in the city. So definitely a childhood icon, and having him here in the locker room is great. We need some vet leadership, we need some guys that kind of get the energy, the tone, the pace, the maturity level to where it needs to be, so I'm all for it."
Later, Brown clarified that when he said the team needed "vet leadership," he simply meant it can't hurt to have older voices on a team with plenty of youth.
We probably don't need to make too much of Brown's comments, especially when he is plenty capable of providing leadership. On Wednesday, Brown lifted the short-handed Celtics over the short-handed Cavaliers with 34 points on 22 shots, including 5-for-10 from deep. After one 3-pointer that forced a Cavaliers timeout, Brown paused to stare at the crowd, then pantomimed drawing an arrow out of a quiver and fired it into the crowd.
"Today was probably one of the better days I've had since being back," Brown said. "We'll just keep adding those up."
2. Robert Williams finished with 21 points and 11 rebounds, shooting 10-for-12 from the floor. He had a couple of bad games defensively in recent weeks, but after missing a game for personal reasons, he provided crucial minutes against a depleted Cavaliers team that started Tacko Fall with both Evan Mobley and Jarrett Allen out due to COVID protocols.
"[Williams] made probably three or four plays in the fourth quarter that probably saved the lead from declining even more," Ime Udoka said. "… He was huge obviously. The numbers show it, but his impact in other ways as well."
3. Predictably, Fall got a huge ovation when he was announced as the Cavaliers' starting center. While he played real minutes in a couple of Celtics games last season, Wednesday was the first start of his career, and for a surprisingly lengthy stretch, Fall was pretty effective at dissuading the Celtics from driving to the paint and corralling rebounds. The Celtics seemed somewhat flummoxed by the 7-foot-6 big around the rim — Fall finished with four points, 10 rebounds and two blocked shots.
The Celtics, however, solved the problem midway through the second quarter. The answer wasn't complicated — the Cavaliers played Fall in drop coverage defensively, and the Celtics needed to run pick-and-rolls with players who can hit pull-up jumpers.
With 7:22 left in the half, Jayson Tatum took a hand-off from Robert Williams and reversed direction around a Williams screen a second time. Fall backed up into the paint, and Tatum hit an open mid-range jumper. On the next possession, Payton Pritchard ran a similar action and hit a similar shot. A minute later, Tatum ran another pick-and-roll with Williams and drilled a 3-pointer.
Finally, Fall started moving up in the pick-and-rolls, but the horse had already broken down the barn door and was running free. On the next possession, Tatum ran another pick-and-roll and hit another pull-up 3-pointer that put the Celtics up 13. A minute later, Brown ran a pick-and-roll of his own and pulled up on a dime as Fall waved at him ineffectively. Brown's shot put the Celtics up 15.
Basketball can be a remarkably simple game sometimes. The Celtics found a matchup they knew they could beat on Wednesday, and they kept picking at it until they built a lead the Cavaliers ultimately couldn't overcome.
4. We've been harsh on Enes Freedom for his defense recently, so it's only fair to highlight his eye-opening fast-break dunk late in the second quarter.
Mike Gorman, who is truly excellent on the NBC Sports Boston play-by-play, was ready with the call: "Let Freedom ring!"
Freedom's teammates loved it.
5. On Wednesday, Payton Pritchard ate into Dennis Schröder's minutes. He wasn't spectacular — seven points on 3-for-7 shooting — but he hit a 3-pointer and one of the pick-and-roll jumpers that chased Fall off the floor, and importantly he wasn't 1-for-11 from the floor like Schröder.
"Payton was just stuck behind a guy that was playing extremely well, more than anything he did," Udoka said prior to Wednesday's game, in which Pritchard played 21 minutes to Schröder's 18. "Going back to knowing Payton as long as I have, I knew he'd be ready when called upon."
What the Celtics decide to do with Schröder before the trade deadline will be interesting, but Pritchard seems to be in the rotation to stay.
6. Boston mayor Michelle Wu was in attendance, along with Boston city councilor Lydia Edwards, Massachusetts state rep Aaron Michlewitz and Suffolk County Sheriff Steve Tompkins.
"Ready for you," she tweeted at Cleveland's mayor-elect Justin Bibb
"We got this," Bibb tweeted back, with a GIF of Cedi Osman flexing.
The Cavaliers did not got this.
7. Down the stretch, as the Celtics took a 16-point lead, fans at TD Garden started chanting "We want Joe! We want Joe!" in reference to Johnson.
Sure enough, Udoka sent in a unit full of players signed with the hardship exception including Johnson. The Cavaliers forced the ball out of his hands on a couple of plays in a row, but on the penultimate possession, Johnson gave the fans what they wanted.
After Johnson buried his shot, the camera panned to the Celtics' bench which erupted — a bunch of 20-somethings witnessing a player they watched growing up still getting buckets.
"He joked in the locker room, 'If I get them on my hip, it's done. They're dead,'" Udoka said.
Tough to imagine something much more impressive than a 40-year-old entering an NBA game and getting an isolation bucket largely because the crowd wanted him to do so.
"At my age, man, you just try to relish every moment, enjoy the process and live in the moment," Johnson said after the game. "That's kind of what I'm doing right now, just living in the moment. And it's fun."
Get the latest Boston sports news
Receive updates on your favorite Boston teams, straight from our newsroom to your inbox.