Celtics
Celtics reportedly acquire Spurs guard Derrick White for Josh Richardson, Romeo Langford, pick
The Celtics made a big move on Thursday prior to the deadline.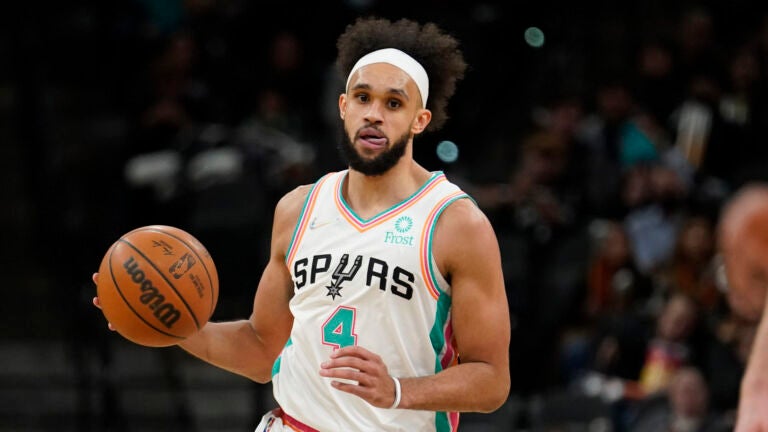 The Celtics acquired Spurs guard Derrick White on Thursday prior to the NBA trade deadline in exchange for Josh Richardson, Romeo Langford, and their 2022 first-round pick.
ESPN's Adrian Wojnarowski first reported the news. The Boston Globe's Adam Himmelsbach reported details, including Langford and the pick, which is protected 1-4.
White is averaging 14.4 points and 5.6 assists per game this season for the Spurs. A staunch defender, he is a career 34.4 percent 3-point shooter. He played on the Celtics-heavy 2019 Team USA squad that included Jayson Tatum, Jaylen Brown, Marcus Smart and Ime Udoka.
White, 27, is in the first year of a four-year deal worth $70 million. The Celtics got themselves under the luxury tax by sending Bol Bol and P.J. Dozier to the Magic earlier on Thursday, opening up a pair of roster spots. The trade for White left them with three open roster spots, which likely opens the door for more deals before the deadline is over.
The Celtics drafted Langford with the No. 14 pick in 2019. Langford played spotty minutes over his first two seasons with the team due to a variety of injuries and illnesses but he showed flashes as a defender, and he was a talented slasher in college.
Meanwhile, the Celtics acquired Richardson from the Mavericks last summer by absorbing his contract into a traded player exception. Richardson averaged 9.7 points, shooting 39.7 percent from 3-point range this season.
Stevens has now traded his first-round pick in back-to-back seasons — he used the Celtics' 2020 pick as part of a package to unload Kemba Walker in exchange for Al Horford.
Get the latest Boston sports news
Receive updates on your favorite Boston teams, straight from our newsroom to your inbox.