Celtics
Jaylen Brown is on a tear: 5 takeaways from Celtics vs. Bulls
The Celtics outclassed the Bulls on Wednesday.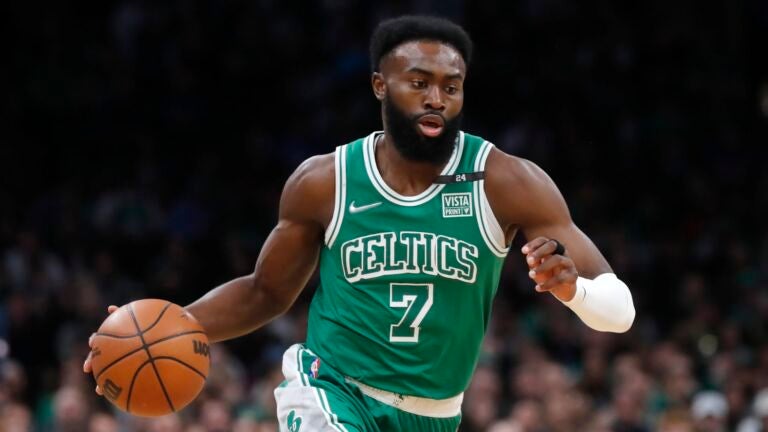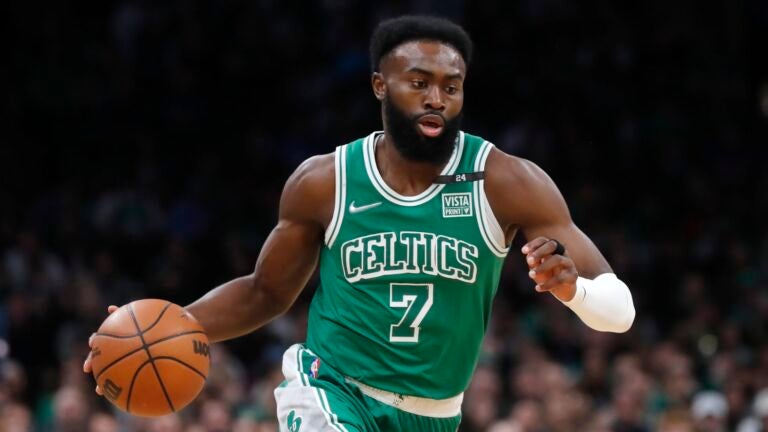 Celtics star Jaylen Brown dropped 25 points as the Celtics routed the Bulls 117-94 on Wednesday.
Brown has had bigger games this season — 29 of them, to be exact — but Wednesday's total was noteworthy because it was the 10th consecutive game in which Brown scored 25 or more. That ridiculous streak has flown a little under the radar, but Brown is now up to 28.5 points per game on 55.7/50.0/77.8 shooting splits during that 10-game stretch.
He has picked up a new move too, presumably from watching James Harden.
When Brown gets in a great rhythm, he becomes a nightmare matchup. In the first quarter, he demolished Ayo Dosunmu, the promising Bulls rookie. Dosunmu couldn't stay in front of him or keep him away from the rim, and at one point, Brown appeared to take Dosunmu into the post intentionally to prove a point to someone on the Bulls' bench.
Tatum and Brown, meanwhile, continued to connect.
At some point, the Celtics will have to show they can win a game in the final minutes. Until then, they seem content to continue mashing opponents into a paste behind their young stars.
Other takeaways
2. Al Horford demolished the Bulls. Defensively, he picked off two steals and put clamps on Nikola Vucevic, and his ability to switch in pick-and-rolls onto Zach LaVine and DeMar DeRozan played a major role in keeping both in check. On the other end, Horford was perfect from the floor — 17 points on 7-for-7 shooting, including 3-for-3 from behind the arc.
The pick that became Alperen Sengun might have been useful in a few years, but Horford is a crucial piece of the puzzle now. The Kemba Walker trade last summer looks like one of Brad Stevens' better moves.
Marcus Smart was so complimentary of Horford that he almost sounded like he was making fun of the oldest player on the team.
"It's inspirational man. Al's been doing this for a very long time," Smart said. "And as a young guy, when you see that, it's kind of hard for you not to go out there and give out that same energy he's giving. Him at his age and how many years he's been doing this, if he can do it, we've got fresher legs than him. Old people like to say we've got the young legs. So we've got more young legs than him, so we should be able to go out there and do it.
"By him doing that and us being able to watch and take from that, it's just tremendous inspiration for us."
If Horford — at the almost unimaginable age of 35 — can get up and down the court, apparently Smart can too.
3. Jayson Tatum finished just 5-for-18 from the floor, and his cold shooting prevented the Celtics from building the kind of lead that could have kept all of the starters on the bench for the entire fourth quarter.
Still, Tatum showed once again how much better he makes the Celtics just by being on the floor — he finished with eight assists, most of which were a direct result of the attention the Bulls felt compelled to send his way. The Celtics make things look easy recently in large part because they are playing 4-on-3 when they run Tatum through a pick-and-roll. Robert Williams sometimes made the offense look like a cheat code, but the Celtics can still be successful in his absence.
"To be honest, we might not be the exact same defensively like we were when Rob was here," Smart said. "But we just need to change a couple things and everybody else has to step up a little bit more to take from his absence, so we're definitely getting closer."
The same can be said on the other side of the court too.
4. In his post-game comments, Udoka — who is unfailingly direct — was asked how the Celtics keep cutting off runs.
"We are defending at a high level and kind of get stops on command when we need to," Udoka said.
Udoka said the words in such a deadpan manner that they almost went unheralded, but the idea that an NBA team can get a stop on command is kind of wild. Runs are a natural part of the game, and the ability to halt them on command would help explain all of the recent blowouts.
"I feel like it takes focus. It really does," Horford said. "When I look at our guys and they call timeouts and I see it in their eyes. Everybody's locked in. We understand that we can't relax — to your point, leads are given up all the time. And not getting rattled, and making sure that we're staying locked in as much as we can. And that also comes with taking good shots at the right times. Just because we're up 20, that doesn't mean we're going to start jacking shots or trying to get mine type of thing. We keep playing the right way, and when you do that, you put yourself in a good position."
DeRozan led all Chicago scorers with 16 on 16 field-goal attempts, while LaVine and Vucevic combined to score 21 points on 22 shots.
5. The nightly standings update: Only the Celtics played in their race, and their win propped them up half a game over the Bucks and the Sixers. On Thursday, the Celtics have a chance to clinch the 2-seed — and home-court advantage in the second round — if they beat the Bucks. The Sixers take on the Raptors.
Sign up for Celtics updates🏀
Get breaking news and analysis delivered to your inbox during basketball season.