Celtics
7 takeaways as Jayson Tatum, Celtics fend off Kyrie Irving, Nets in wild Game 1
Jayson Tatum's layup at the buzzer completed an unbelievable finish.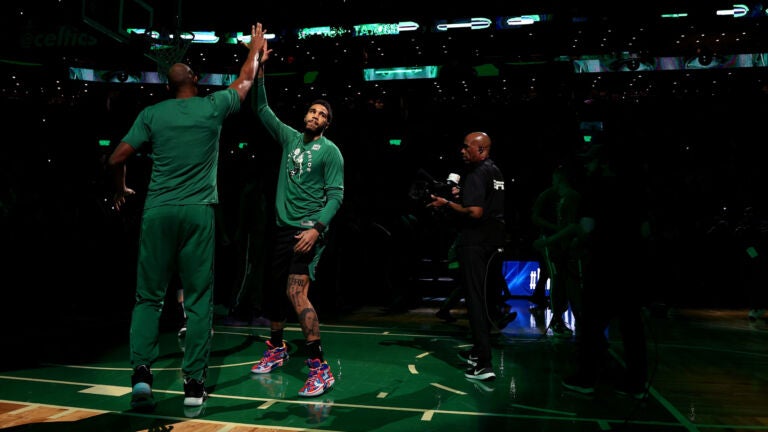 Despite a disastrous fourth quarter and a heroic performance by Kyrie Irving in Game 1, Jayson Tatum and the Celtics pulled out a hard-fought victory against the Nets on Sunday to take a 1-0 series lead.
All it took was as wild a finish as the first round can offer.
The Nets appeared to be on the verge of pulling away in the fourth quarter after starting the period on a 13-0 run. Kyrie Irving was demolishing the Celtics, who fell apart in uncharacteristic ways on both ends of the floor.
But in the closing seconds, the Celtics — who were rarely tested in crunch time over the last few weeks of the season — performed admirably. Down by three after Irving drilled a triple with 45 seconds remaining, the Celtics answered with a layup by Jaylen Brown and one of the toughest defensive possessions of the game.
Ime Udoka opted not to call a timeout when the Celtics got the rebound and pushed up the floor. It was the right decision.
The Celtics didn't play great offense at times on Sunday, but everything on the chaotic final possession was executed perfectly. Jaylen Brown attacked a mismatch. He kicked to Smart when the defense collapsed. Smart pump-faked and drove, creating an advantage at the rim. When the defense stepped up, he shoveled a pass to a spinning Tatum, who laid in his 30th and 31st points of the game.
Just like they drew it up. No one ever questioned, right?
Other takeaways
2. One of the big differences between the 2021 Celtics and the 2022 iteration is the presence of Al Horford, who made a huge difference on Sunday with 20 efficient points and 15 rebounds. Horford spaced the floor with a pair of 3-pointers and hurt the Nets around the rim, particularly after he and the rest of the Celtics got Andre Drummond in early foul trouble.
Horford is enormous for the Celtics for several reasons, but perhaps the biggest is how versatile he makes their defense. With Horford on the floor — as well as Grant Williams, to an extent — switching everything is much more feasible, which matters a lot when guarding Durant.
3. Kyrie Irving simply could not stop giving Celtics fans the middle finger.
First, he did it after a tough deep 2-pointer.
Then he did it with both hands.
"It's not every fan," Irving said after the game. "I don't want to attack every Boston fan, but when people start yelling 'p—,' and 'b—-' and 'f— you' and all this other stuff, there's only but so much you can take as a competitor, and we're the ones expected to be docile and be humble and take a humble approach.
"Nah, f— that. It's the playoffs. This is what it is. I know what to expect in here, and it's the same energy I'm giving back to them. … If somebody's going to call me out of my name, I'm going to look at them straight in the eye and see if they're really about it. Most of the time they're not."
On Sunday, Irving also gave fans the finger with his play on the court. Celtics fans booed him mercilessly from the opening tip, and he came alive in the second half — 39 points overall with a flurry of 3-pointers and paint forays. As Durant was uncharacteristically quiet, Irving very nearly stole a crucial game for the Nets — an impressive performance capped off when he stuck a 3 in the Celtics' eye with 45 seconds remaining.
"He made a couple shots, and got going and was comfortable," Smart said. "And we all know how he can get when he gets in that mode."
The Celtics were somewhat responsible for letting Irving get comfortable — particularly with Daniel Theis, the pick-and-roll strategy appeared to be to drop deep into the paint and let Irving pull up for a lightly contested 3 if he wanted. Note how far back into the paint Theis plays this shot (which Irving hit).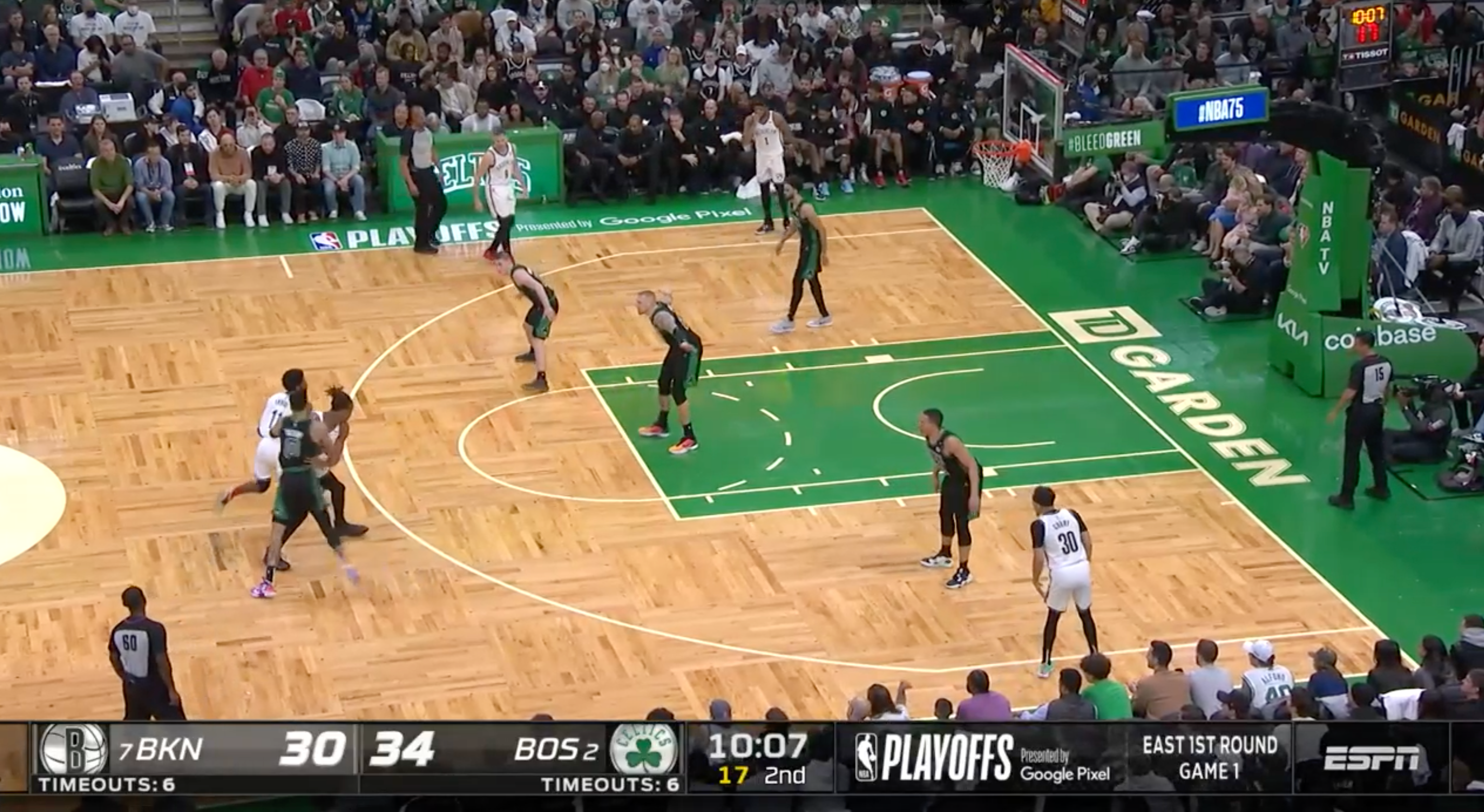 That was a pattern, and again: Irving made the Celtics pay by going 6-for-10 from deep. He dragged the Nets back into the game in the fourth quarter, so something might have to change in Game 2.
4. The Celtics threw several looks at Kevin Durant, but by far the most effective was using one of Tatum, Grant Williams, and Horford as the primary defender and running him off the 3-point line. Essentially, the Celtics seemed focused on preventing Durant from shooting easy 3-pointers, and then they made mid-range shots as difficult as possible. That didn't always work — Durant was 9-for-17 inside the arc excluding the restricted area — but it prevented him from compiling the kind of efficient, high-volume evening that can single-handedly win a game. He also recorded six turnovers, including four in the first half.
"They did a good job of forcing me away and then helping in the paint," Durant said. "I just got to be more fundamental in my moves. I feel like some shots went in and out for me today, but I've still got to be — I played fast and turned the ball over. I mean, I've just got to slow down and play my game. But they did a good job of making me see bodies."
Durant sounded confident, but slowing an unstoppable force is a testament to the Celtics' immovable object.
"He's obviously a great player, but just really trying to stay solid," Horford said. "When you have a guy like that, it's not an individual matchup; it's the team. He can just do too many things on the floor. It's a team awareness when you have a guy as great as he is."
5. Tatum needed a few minutes to get going against a Nets defense that was pretty clearly focused on slowing him down after he dropped 54 against them in the last game. He responded by dishing out seven first-half assists, and eight total. Several were transition assists that opened up the game a bit, but his last two of the second quarter were both to a cutting Horford.
But when Tatum got going in the second, it was a perfect encapsulation of every issue the Nets are going to run into going forward. Nic Claxton can't defend Tatum at all, and Tatum licks his chops every time the Celtics get that switch. None of the smaller players can either. Realistically, the only player who can slow Tatum at all is Durant — and the Nets need Durant focused and fresh on the offensive end. Solving that problem is essential for the Nets to have a shot in this series.
6. Chalk it up to nerves or rust or just bigger stakes, but the Celtics will need more from their role players going forward — Theis, Derrick White, and Grant Williams were 7-for-22 and 1-for-10 from deep.
Jaylen Brown's defensive performance — four steals and two spectacular blocked shots — helped quite a bit, though.
7. The Celtics knew a tough series was possible as soon as they chose to try to win out and grab the 2-seed despite the looming threat of the Nets. Now they have one. Drawing first blood is huge, but the Nets showed every ounce of fight anyone could have expected from a team with a pair of superstar scorers.
Buckle up. If there's one prediction we feel comfortable making here, it's that Sunday's drama was a preview, not a culmination.
Sign up for Celtics updates🏀
Get breaking news and analysis delivered to your inbox during basketball season.