Celtics
Watch: Grant Williams sneaks up on Bucks' huddle before going off for 27 points in Celtics' Game 7 win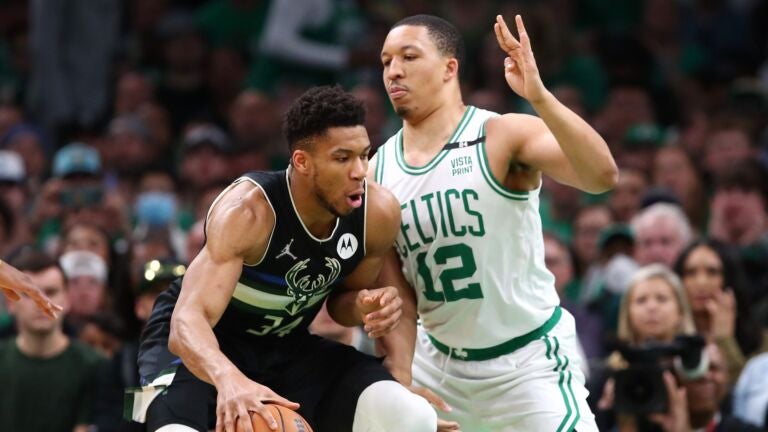 If the Bucks weren't already sick of Grant Williams through playing six games in a matter of weeks, the Celtics forward found new ways to annoy them in Game 7.
In the second quarter, Boston went on an 18-6 run that gave it a 32-30 lead after it trailed by as many as 10 in the first quarter. Following a Bucks timeout, Williams went up to the Bucks' huddle and decided to listen in for a few seconds. He perfectly placed his head between the shoulders of Jrue Holiday and Wes Matthews to get a close listen.
Williams had an interesting first half. Milwaukee seemed to purposely scheme its defense so that Brook Lopez, who was the primary defender on Williams, would leave the Boston forward open at the 3-point line to help guard shots at the basket. Williams willingly obliged to the open looks he was getting, taking eight 3-pointers and making three of them.
The Bucks continued their defensive strategy on Williams into the second half, and it was a big reason for their downfall. Williams took 10 more 3-pointers in the second half, making four of them, in addition to making a pair of 2-pointers to give him 16 second-half points. He finished with 27, which was a game-high in the Celtics' 109-81 win on Sunday.
Half of Williams's second-half points came when Tatum went to the bench for the final six-plus minutes of the third due to foul trouble. Two of the three field goals he made during that stretch came right after the Bucks cut the Celtics' lead down to 10, continuing to Boston some breathing room with its star on the bench.
Williams's 16 3-point field attempts ended up being a record for a Game 7, surpassing a mark previously held by Steph Curry.
Sign up for Celtics updates🏀
Get breaking news and analysis delivered to your inbox during basketball season.