Celtics
Robert Williams made available, but doesn't play in Celtics-Bucks Game 7
Williams missed the previous three games due to a bone bruise.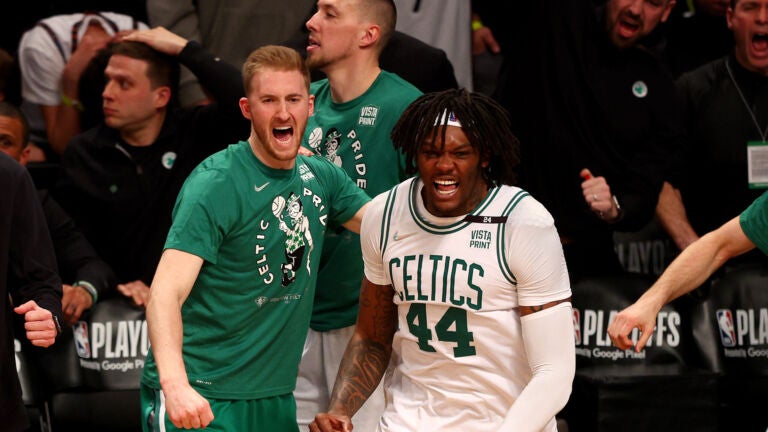 The Celtics had one of their key players available to return from injury for Sunday's Game 7 against the Bucks. It turned out that they didn't need him.
Center Robert Williams was available to play on Sunday after he missed the previous three games due to a bone bruise in his left knee. However, Udoka told reporters prior to the game that the Celtics would only "use him if needed." It turns out they never needed him as they dominated in a 109-81 win on Sunday to advance to the Eastern Conference Finals.
Udoka said his decision to not play Williams on Sunday was both due to wanting to play it safe and not wanting to interrupt the rhythm Boston was in.
"I think, like I said, it was on a need-be basis – foul trouble, needing a defensive rebound at the free-throw line, or some rim protection on a specific play we could use him," Udoka said on situations he might have used Williams in Game 7. "At the same time, we won two of the last three without him and had a chance to win Game 5, obviously. It wasn't like we were desperate to get him back. We understand what it is and wanted to take a cautious approach.
"If we needed to get him in, we would. But we were fine with [Daniel] Theis, Al [Horford], and Grant [Williams] doing what they've done all series."
Boston's bigs played well in Williams's absence. Horford and Theis helped anchor a defense that allowed just 81 points and held Giannis Antetokounmpo to just 25 points on 10-of-26 shooting.
Meanwhile, the Celtics' other Williams, Grant, had the best scoring night of his three-year NBA career. He scored a game-high 27 points, making seven 3-pointers while taking a Game 7 record 18 3-pointers.
Robert Williams missed nearly four weeks in late March and April after tearing the MCL in his left knee. He did return for the final two games of the Celtics' first-round series sweep of the Nets and played in the first three games of the series against the Bucks, averaging 8.7 points and 5.7 rebounds in 23.7 minutes per game against Milwaukee.
Udoka told reporters Friday that Williams suffered the bone bruise injury in the second quarter of Game 3 when Bucks star Giannis Antetokounmpo ran into him. Williams was charged with a blocking foul on the play and laid on the court for a few moments, grabbing his knee.
Boston has fared well in the now 13 games Williams has missed since late March, going 9-4 in such games. The Celtics went 3-1 in the games Williams didn't play in the series against the Bucks.
Forward Sam Hauser was the only Celtic who was inactive for Game 7. Hauser's now missed the last five games due to a right shoulder instability episode. Bucks star guard/forward Khris Middleton also missed Game 7 due to an MCL sprain, which kept him out the entire series.
Sign up for Celtics updates🏀
Get breaking news and analysis delivered to your inbox during basketball season.