Celtics
7 takeaways as Celtics demolish Heat in Game 2 following Marcus Smart's return
The Celtics got hot early and never looked back.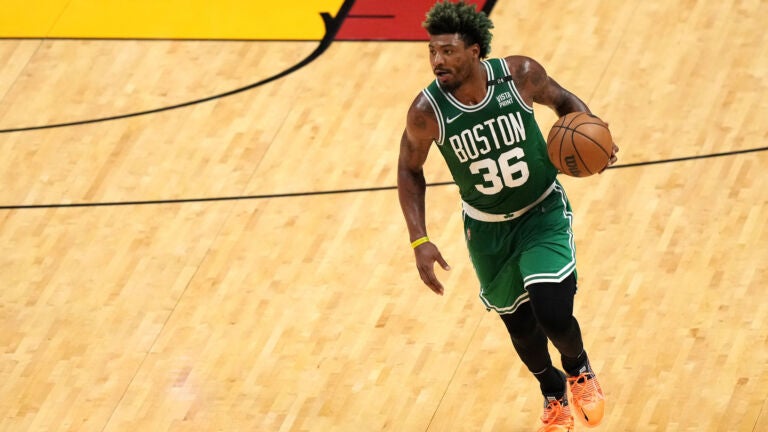 What did Marcus Smart change in a 127-102 Game 2 blowout between the Celtics and Heat?
For one thing, the Defensive Player of the Year makes a defense (surprise) much better. Smart — who returned after missing Game 1 with a mid-foot sprain — made switches more palatable. He forced turnovers. He mucked up a Heat offense that ran through the Celtics like a sharp knife through a tender steak in the second half on Tuesday. He helped keep Heat star Jimmy Butler in check.
Smart also played defense with his offense — the Celtics' primary ball-handler committed just one turnover, which prevented the Heat from getting out in transition. He also dished out 12 assists and scored 24 points (8-for-22, 5-for-12 from 3-point range).
Smart has long pined for an opportunity to be the Celtics' starting point guard, which is his preferred role on the court. In that role, he thrived this season — the Celtics are just under six points per 100 possessions better with Smart on the floor, which is comfortably his career-high.
"That's what I got drafted here to do," Smart said. "I just waited my turn. I'm blessed to be in the situation I am to have the opportunity to go out and show what I can do, and I think everybody in the organization — in the world — is seeing what I can do at that point guard position."
The Celtics were better with Al Horford back in the game too, unquestionably (more on his odd situation in a minute). Horford makes the Celtics a big, switchable unit that can overpower opponents while sticking 3-pointer after 3-pointer in their eye.
But on Thursday, the impact of Smart on a basketball game was on full display. The Celtics have a long way to go against an intelligent, well-coached opponent that knows how to win — an opponent that might get its star point guard back at some point — but Thursday was a reminder that the team that folded so easily on Tuesday was short-handed and exhausted.
With a little rest and a little continuity, the Celtics looked like themselves again.
More takeaways
2. After a slow start the Celtics hit the Heat with a barrage of 3-pointers that sparked a 21-point first-quarter turn around. The Heat ran out to a 10-point lead, but the Celtics reversed that and claimed an 11-point advantage after one quarter by going 9-for-11 from behind the arc in the period. They finished the game a sizzling 20-for-40 from 3-point range.
Expect the Heat to figure out ways to cover the Celtics better from deep, but if they don't, this series won't be particularly long.
3. Another important adjustment: The Celtics stopped playing so deep in drop pick-and-roll coverage against Tyler Herro, who is entirely too good at pull-up jumpers and floaters to allow bigs to sag too far off. Even Robert Williams can't cover the requisite ground to slow Herro in those looks. After several easy buckets by Herro early in the game, the Celtics played significantly higher in the second half and were much better.
"We didn't want them that far back," Udoka noted before the game, which presumably was true in the first quarter as well.
Herro finished with 11 points on 5-for-11 shooting.
4. Not enough will be made of Jaylen Brown's performance, but he hit several big shots. In the first quarter, he started the Celtics' scoring with a three, then crossed Max Strus into a smooth jumper that snapped a run by the Heat that had pushed the lead to 10. He then canned two more triples before the quarter ended, the second of which was very deep and pushed the Celtics' lead to 11. That stretch was critical — Jayson Tatum sat for much of the first quarter after picking up his second foul.
By the time he returned, the Celtics were polishing a double-digit lead.
"J.B. can do it all," Tatum said. "So when he has the ball more often than not great things are going to happen. He was just real decisive, getting to his spots and just making the right play, obviously drawing a lot of attention out there."
5. After the game, Horford said he "felt a little off," which led to his test.
"Tuesday we got the news, and then subsequently got tested again and again and was able to get cleared," he said. "Just definitely a lot of emotions, and through all of it, I just tried to stay locked in, do my part as best I could. I'm happy that I was able to be out there with the guys tonight."
That seems to be the best public explanation we are going to get for Horford's brief absence, and you could be excused for still feeling a little unclear as to what just happened. Steve Bulpett reported for Heavy.com that Horford was considered a close contact after speaking to someone who later tested positive after a game, but we don't know whether Horford tested positive (it sure seems like he must have) and if he did, why he suddenly tested negative the requisite number of times on Thursday.
The Celtics have remained steadfast in their policy of not talking about players who go into health and safety protocols.
"We don't get into specifics with our guys as always," Udoka said. "But he passed the amount of tests he needed to and always was feeling fine."
6. Congratulations to Derrick White and his wife, who welcomed their son on Thursday. Hendrix James White became the second baby Hendrix on the Celtics team (Rob Williams' son is also named Hendrix).
White was spotted flying back to Boston prior to Game 2.
7. Thursday's loss was Miami's first home loss of the postseason. The Celtics stole home-court advantage from the top-seeded Heat and now have a chance to take a 2-1 lead in Boston on Saturday.
Sign up for Celtics updates🏀
Get breaking news and analysis delivered to your inbox during basketball season.