Celtics
Jimmy Butler explained how Dwyane Wade inspired his Game 6 performance
"D-Wade never hits me until his voice is really, really needed. And it was."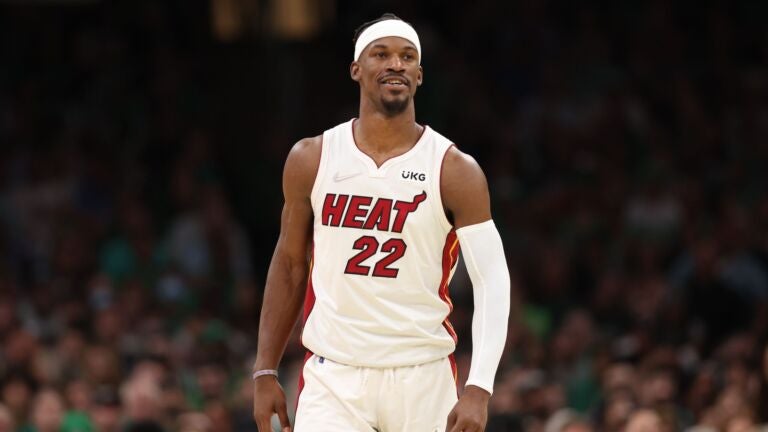 Jimmy Butler doesn't listen much to outside noise.
He does, however, value inspirational messages from people in his circle.
Butler, who erupted for 47 points, 9 rebounds, 8 assists, and 4 blocks in Miami's 111-103 Game 6 triumph over the Celtics on Friday, thanked Dwyane Wade for reaching out and fueling him.
"He was telling me that I could do this," Butler told ESPN's Lisa Salters after the game. "Knee a little banged up, but nobody cares. Go out there, continue to build your legacy. It meant the world to me, so I appreciate you D-Wade."
Of course, Butler already had plenty of motivation, with the season on the line, but he believes that extra nudge paid dividends. Butler finished 16-of-29 from the floor, 4-of-8 from 3-point range, and 11-of-11 from the line, and he hit several clutch buckets in the final minutes to cement the win — a feeling Wade knows well.
"D-Wade never hits me until his voice is really, really needed," Butler said. "And it was. I texted him and told him I appreciate him for it. Just to let me go out there, continue to build on that legacy, and make sure that we win."
Butler scored the most points when facing elimination in Heat postseason history, surpassing both Wade (46) and LeBron James (45).
"Make room @KingJames @JimmyButler has entered the room," Wade tweeted.
Butler has had an up-and-down series as he's dealt with knee inflammation. He poured in 41 points in Game 1 and 29 in Game 2, averaged just 9 a night in games three through five, then turned in arguably the best game of his career when his team needed it most.
Game 7 is Sunday night at 8:30 p.m. in Miami.
Sign up for Celtics updates🏀
Get breaking news and analysis delivered to your inbox during basketball season.