Celtics
Celtics survive Heat in Game 7 to advance to the NBA Finals
The Celtics kept their season alive.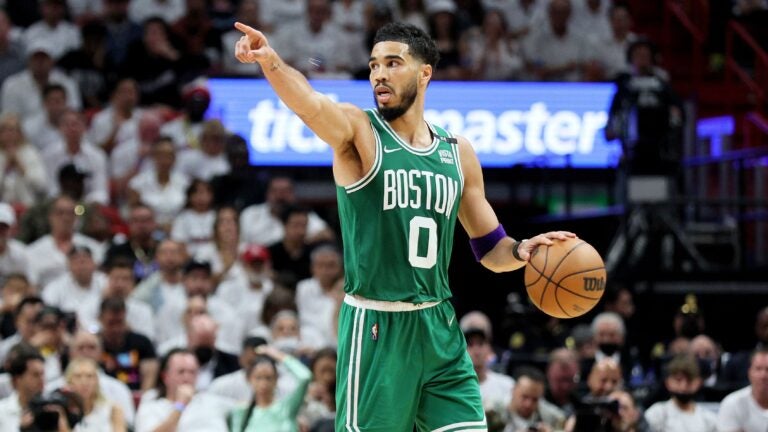 The Celtics needed every minute of Game 7 to punch their ticket to the NBA Finals, but they outlasted the Heat in an absolute thriller, and for the first time since 2010, they are headed to the NBA Finals.
Here's everything that transpired in a wild, wild finish.
Fourth Quarter
0:00 – The Celtics held on. 100-96. For the first time since 2010, the Boston Celtics are headed back to the NBA Finals.
0:11 – Jimmy Butler just tried to bury the Celtics with a 3. Everyone thought it was good. It missed. Marcus Smart was fouled. He made two free throws. At this point I'm just typing things that happened, because how do you analyze any of this?
0:44 – Max Strus buries a 3-pointer. Two-point game.
0:50 – It's a five-point game, and the Heat have the ball.
1:45 – The Celtics are trying to slow the game down, and the Heat are pushing the pace. Nine-point lead.
3:35 – The Celtics have answered the Heat run to start the fourth masterfully. Marcus Smart draws a pair of free throws that pushes the lead to 13 as the defense continues to punish the Heat on the other end.
4:28 – And another one — this time a tough jumper spinning away from Jimmy Butler, who simply didn't look like he had the legs to get back and contest.
5:51 – Jayson Tatum just hit the biggest shot of the game so far, turning a busted play into a 3-pointer and a 12-point lead. The Heat answered with a layup at the other end, but the clock is ticking.
7:19 – The Celtics' offense hasn't exactly covered itself in glory, but the defense just suffocated the Heat on several possessions. The lead is up to nine.
10:56 – And just like that, the Celtics are in hot water. The Heat scored quickly, then stopped Robert Williams at the rim, then got a 3-point play from Jimmy Butler. Udoka called timeout less than a minute into the period, after which Butler has a chance to make it a two-point game.
Third Quarter
0:00 – The Celtics and Heat exchanged four truly abysmal possessions to end the period, and the Celtics lead by seven going into the fourth quarter (in other words, they won the third quarter by a point).
Celtics 82, Heat 75. After all that sound and fury, the Celtics spotted themselves a seven-point lead, with 12 minutes to keep their season alive.
3:22 – Another stop-and-go drive by Brown leads to another layup, and Tatum gets an easy one cutting to the basket to push the lead back to 11, and the Heat call a timeout.
3:22 – While we wait during a timeout, Jimmy Butler somehow has been much tougher against the Celtics than Kevin Durant. What a series for Butler, who has 29 points on 16 shots.
5:15 – Every time the Celtics look like they might pull away, the Heat make sure it doesn't happen. This time, the officials missed a bad charge call against Jaylen Brown, and the Tatum missed a pair of layups. The Heat, meanwhile, scored seven straight and cut the lead from 14 to seven.
Neither team can put together a real run, but both teams feel like they might be lurking.
6:45 – Marcus Smart seems to have snapped his cold stretch — two 3-pointers in the third quarter, and he's up to nine points since half time. The Celtics' lead is up to 14 points.
8:28 – Another big break for the Celtics – a 3-pointer by Max Strus was wiped away retroactively because a replay showed he stepped out of bounds as he shot. The Celtics' 10-point lead became 13 seemingly out of nowhere — like finding money you forgot about in your Venmo account.
9:35 – Huge stretch for the Celtics offensively: The Heat pulled to within four on a 3-pointer by Max Strus, but free throws by Smart and Tatum followed by Smart's second triple pushed the lead back to nine. They weathered a mini-storm.
Second Quarter
0:00 – Celtics 55, Heat 49 at halftime.
The Celtics had a 17-point lead, but the Heat trimmed it down significantly at the end of the second quarter.
The Heat have a 22-8 advantage in free-throws attempted, including 19-5 in the second quarter alone.
Jimmy Butler has 24 points on 8-for-11 shooting.
The Celtics have a six-point lead and a whole lot of work ahead of them.
0:30 – Both Al Horford and Grant Williams have three fouls now.
0:35 – The Celtics can thank the Heat for their 10-point lead in one way: The Heat are 10-for-18 from the free-throw line.
1:26 – The Celtics have had a lot of opportunities to go up 18-20. Instead, we've seen sequences like the last one: Tatum lost his dribble against Strus (!) and gets tied up, Strus wins the jump ball (!!), Strus hits a 3-pointer, Tatum misses a bad 3-point attempt, and Jimmy Butler hits a three. The Celtics are up nine, but they really have had a lot of opportunities to be up by more.
4:54 – On cue, here comes Max Strus.
5:04 – Tyler Herro just badly missed a mid-range jumper. He is 0-for-2, and it's probably time to wonder whether he is actually helping anything for the Heat.
5:18 – Tatum is up to four assists after a beautiful pick-and-roll dime to Smart. When the Celtics run pick-and-roll with Tatum and one of their guards — most notably Derrick White, who is elite at floaters — they often get great looks when the Heat trap aggressively. Smart was the latest to cash in.
7:00 – Marcus Smart is 1-for-4 from 3-point range, and I'm not sure any of his 3-point attempts could be classified as "advisable."
7:44 – The Celtics are scoring well … but they are foul-happy in the second quarter, and the Heat are finishing their opportunities. The Heat have hung around and trail by just 12 after three 3-point play opportunities this quarter.
11:15 – Tyler Herro is back. We'll see if Herro's offense counteracts how obvious he is as a target defensively.
First Quarter
0:00 – A perfect start for the Celtics, who look as engaged as you could ask for defensively. A nightmare start for the Heat, who haven't been able to slow Celtics scorers in the half-court or in transition.
32-17 Celtics. Still a very long way to go.
0:10 – Interesting adjustment by Jaylen Brown, who stripped roughly 1,000 times in the first few games — rather than putting his head down and going straight to the rim, he pulled back on a drive, then attacked again. The result: He didn't get stripped and he got an easy layup.
3:30 – The Celtics built their lead as high as 15 by racing out in transition and getting easy baskets at the rim. The Heat seem to be getting their act together, however — trimming the lead down to nine after Gabe Vincent canned a four-point play.
7:00 – Phenomenal start by the Celtics, who took a big lead … and then came out of a timeout by the Heat with a wide open 3-pointer by Tatum.
10:19 – The first few minutes rarely decide a game, but the Celtics' defense looks suffocating. They are forcing P.J. Tucker to do a lot of things offensively that P.J. Tucker simply is not qualified to do
Pregame
– Something interesting to monitor.
– Heat Culture seems to be real, but so are any criticisms of Heat fans.
– Everyone (with the exception of Sam Hauser) is available, including Tyler Herro.
– The Celtics got some news worthy of an eye-roll on Saturday evening — the Last Two Minutes report showed four calls that went against them that should not have gone against them, including two bad foul calls as the Heat pulled away.
Ime Udoka said the Celtics are looking to put everything about Game 6 away.
"We felt those weren't fouls during the game," Udoka said. "We weren't trying to foul, obviously, up three with a minute and change left. It happened in the Milwaukee series, and we put it behind us and did the same after this game.
"Game 6 is over. It's time to face this one."
– A reporter asked Udoka about the ebbs and flows of the series, and how the Celtics can maintain and sustain their energy.
"With our guys, I think we try to wear on other teams and wear them down throughout the game, so those end-of-game shots are a little bit tougher," Udoka said. "The looks aren't always there and they are rushed at times. With our guys, I feel they can play adequate minutes if we need to increase them like they have throughout the playoffs, they would still be fresh. That was just more geared toward longer minutes possibly and being fresh tonight."
Game 7 tips off at 8:30 p.m.
Sign up for Celtics updates🏀
Get breaking news and analysis delivered to your inbox during basketball season.