Celtics
Celtics weather the Warriors' storm, pull away in Game 3 to take a 2-1 series lead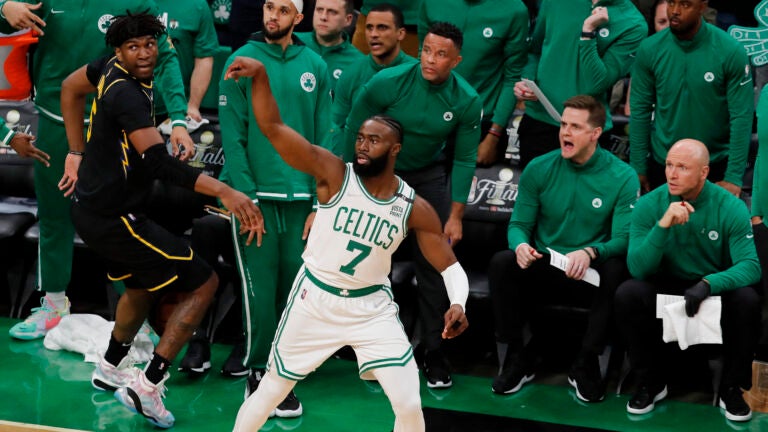 Spurred by stars Jayson Tatum and Jaylen Brown, the Celtics pulled away from the Warriors in Game 3 of the NBA Finals to secure a 2-1 series lead.
See how the game unfolded below:
Fourth Quarter
0:00 – Celtics 116, Warriors 100.
We'll have takeaways soon. Thanks for reading.
2:02 – The Warriors have pulled their guys. The Celtics are in the process of doing the same. They will go up 2-1.
2:19 – Steph Curry looks a little banged up after Horford inadvertently landed on his leg diving for a loose ball. The Celtics just ran the clock down intentionally, then had Smart go at him. Smart scored easily (the Celtics lead by 14) and Curry doubled over wincing.
4:00 – Draymond Green fouls out. "F— you, Draymond" chants ensue. He finishes 1-for-4 from the field with four rebounds and three assists.
5:05 – Sometimes basketball is simple: The Warriors couldn't stay in front of Tatum, so he drove, drew a corner defender, and kicked to Marcus Smart. Smart swished the 3-pointer.
6:00 – Fascinating move by Ime Udoka going back to his double-big lineup with Williams playing so well. Tatum, meanwhile, just finished a brutally difficult layup and the Celtics lead by double digits again.
8:52 – Williams swatted away a Curry floater at the absolute peak of its trajectory. He has looked a little healthier and the difference for the Celtics is enormous.
9:07 – Also, Robert Williams drops back against Curry in the pick-and-roll as well, but his length and athleticism makes it a (slightly) more viable strategy.
He will need to be careful though — as Curry proved in the third, jumping out at him can lead to a 7-point possession.
9:07 – Grant Williams has had a tough Finals so far, but he's putting together a nice Game 3 with a 3-pointer and several tough finishes around the rim. His latest pushed the lead back to 11.
9:30 – CHAOS.
10:52 – Curry missed a 3-pointer, and Marcus Smart banked in a 3-pointer, so that's how you know the third quarter is over.
Third Quarter
0:00 – Celtics 93, Warriors 89
Okay, everyone can exhale for a minute.
The Celtics built their lead back as high as seven when Curry went to the bench before a Klay Thompson three trimmed it back to four.
As an aside, the Celtics are so bad at 2-for-1s. Tonight, Tatum attempted a tough, off-balance 3-pointer that missed badly, and only left the Celtics with three seconds on the shot clock after the Warriors ran it all the way down. Was a doomed Grant Williams heave really worth blowing up an offensive possession?
2:53 – Marcus Smart hit a 3 and gave the Celtics the lead again. The best the Celtics can hope to do right now is weather the storm (and maybe get up a little higher on Curry's pick-and-rolls).
4:00 – Horford drops too low on the pick-and-roll yet again, and Curry hits a 3 yet again. The Warriors lead.
4:45 – And Otto Porter makes it a seven-point possession. The Celtics are reeling and up just two.
5:06 – Al Horford has struggled mightily with Curry in the pick-and-roll, and tonight is no exception. Curry just made a four-point play and Horford picked up an obvious flagrant foul trying to close out. The Warriors are closing the gap in the third quarter once again.
6:02 – The Celtics have held so far, but Green and Brown are starting to get very chippy.
9:00 – Real roller coaster so far: After Curry and the Warriors cut the lead to eight, Smart made all three free throws, then forced a turnover. As the Warriors discussed the turnover, Brown leaked out in transition and got a dunk on the touchdown pass by Al Horford. The lead is back up to 13.
9:11 – Bad continuation: Two easy 3-pointers for Curry that cut the lead to eight.
The plus side: Four fouls for Curry, who poked his hand in where he shouldn't have, trying to defend a Smart 3-pointer.
11:30 – Nice start for the Celtics — Rob Williams overpowers Draymond Green and gets a layup.
Second Quarter
0:00 – At the half: Celtics 58, Warriors 46
Really nice stretch by Marcus Smart at the end of the half, getting a pair of buckets to help stave off a Warriors offense that is threatening like a thunderstorm on the horizon. Crucially, the Celtics have had an answer for every run and mini-run the Warriors put together in the first 24 minutes.
Still, the Celtics need to prepare for a barrage — the Warriors have dominated third quarters, and with Klay Thompson cooking and Steph Curry unleashed after playing with three fouls in the first half, they could really use a good stretch.
Limiting turnovers will be the key. One play encapsulated that perfectly in the second quarter — the Celtics nearly turned the ball over late, but Brown dove on the floor and punched it away from a diving Green. The Celtics maintained possession, then found Brown for an open 3 (he buried it) and got back to force a stop with a set defense.
Avoid turnovers, and the Celtics will give themselves a great chance to win.
2:27 – After the Warriors trimmed the lead as low as seven, a steal by Horford led to a transition dunk by Brown, which capped a timely little run to push the advantage back to 12. The Celtics badly needed that.
4:27 – Concerning stretch for the Celtics: The Warriors go on a nearly instant 8-0 run, which included a pair of bad defensive decisions by Tatum. The Celtics can't afford turnovers (eight turnovers, 14 points so far), and they can't afford lapses.
5:52 – The Warriors have a lot of defensive targets on the floor in their current lineup, including both Steph Curry (who is much improved but trying to avoid his third foul), Jordan Poole and Kevon Looney. That won't work against the Celtics, who have a chance to go up by 19 with Al Horford going to the line after a timeout.
UPDATE: He made neither.
8:02 – Rob Williams sat down with his second foul after a very nice stint as a rim protector, but he looked great as the lone big. Importantly, he also bought some time on the bench for Horford — keeping Daniel Theis, who has struggled immensely to defend the Warriors, on the bench.
8:49 – The good news for the Celtics: They have maintained a double-digit lead throughout the first few minutes of the second quarter and are moving the ball beautifully, demolishing the Warriors' attempt at a zone.
The bad news: Klay Thompson is white hot suddenly.
First Quarter
0:00 – Celtics 33, Warriors 22 after one quarter.
Brown finishes the first quarter with 17 points, five rebounds and three assists. He and the Celtics look ready on both ends.
One area of concern: Klay Thompson, who has been shooting poorly throughout the series, hit a 3-pointer and a pair of free throws before the end of the quarter. Thompson sometimes gets hot when the Warriors need it most, and he is due to regress back to his mean at some point.
4:00 – Jaylen Brown is going right at Draymond Green.
5:44 – Curry is staying in the game after a timeout. The Celtics have to attack him hard.
5:44 – Two huge plays in succession by the Celtics: Jaylen Brown went right at Draymond Green after waving off a screen by Derrick White and scored a floater over the Warriors' star defender, then Marcus Smart gave Steph Curry a savvy pump fake and drew Curry's second foul in the first quarter. The Celtics lead by nine.
8:45 – Quick sub for Robert Williams, as Derrick White comes in. It will be interesting to see how much Rob Williams we actually see tonight.
9:22 – Fantastic offensive start by the Celtics, who are moving the ball nicely against the Warriors' aggressive defense. One concerning thing: Jayson Tatum is grabbing his balky right shoulder already.
11:30 – Jaylen Brown has started the last two games with a 3-pointer above the break from the same spot.
Pregame
– Paul Pierce is in the building for Game 3.
– The Celtics will start the same lineup, according to Ime Udoka. Robert Williams, who has been struggling with knee soreness, is available.
– Gamesmanship or human error? You decide. (Almost certainly human error).
Warriors coach Steve Kerr took the odd moment in stride.
"It's a good thing the game starts at midnight," Kerr quipped. "We'll have plenty of time to fix it. … It happens every once in a while. Players have a really sharp eye for that. Players can tell. I imagine somebody went out there, looked at it, didn't look right. So as long as they take care of it, then everything is good."
The player who caught it, for what it's worth, was Warriors guard Gary Payton II.
– The Celtics still haven't lost two games in a row in the postseason — a statistic Udoka credited to their ability to put losses behind them quickly.
"I'm looking for more of that tonight," Udoka said. "We looked at the areas where we could have done much better obviously in the game, but to your guys' point, the third quarter got away from us and have to have great starts like we have, have solid starts and then carry that over into second half. More or less it's a not-care attitude that we just move on to the next game pretty quickly."
– The Celtics struggled to hang on to the ball in Game 2, coughing up 18 costly turnovers, many of which helped the Warriors go on their massive third-quarter run.
"Majority is over-penetrating, playing in the crowd as I talk about quite often," Udoka said at practice on Tuesday. "Just not keeping it simple. You look at Game 1 where we had 33 assists on 43 baskets, crisp and sharp with our ball movements, not in the crowd. Led to a lot of wide-open threes against a team that packs the paint.
"To have 19 for 33 and 11 in the first half last game, 15 of those 19 were steals. That's directly playing in the crowd. Unforced at times, but also over-penetrating. Have to have carryover and consistency in that area."
– If you were hoping to see a game in person, here's an opportunity to support Marcus Smart's YounGameChanger Foundation and have a good time at Game 4.
– Game 3 tips off at 9 p.m.
Sign up for Celtics updates🏀
Get breaking news and analysis delivered to your inbox during basketball season.