Celtics
Celtics collapse in Game 4, Warriors even up NBA Finals
The series is 2-2 with Game 5 taking place on Monday in San Francisco.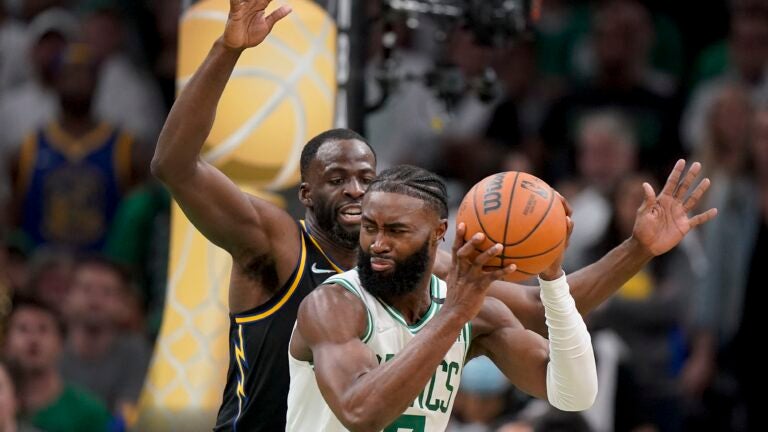 The Celtics had another bad third quarter in Game 4. But it was the fourth quarter that did them in on Friday night.
After taking a five-point lead into halftime, Steph Curry scored 14 points in the third quarter to help give the Warriors a one-point lead entering the fourth. The Celtics appeared to have another strong fourth quarter in them, going up 91-86 within five minutes of the frame.
But Boston's offense went cold after that. It made just two shots in the final 7:32 of the game, getting a tase of what it gave to Golden State in Game 1. Behind Curry, the Warriors took advantage, outscoring the Celtics 21-6 to give them a 107-97 win to even the series at 2-2.
Curry was the star throughout, scoring 43 points to help save his team from a 3-1 deficit.
As for the Celtics, they struggled with turnovers again, committing 16 of them on Friday night. Jayson Tatum got off to a good start, but finished with just 23 points on 23 shots, dishing out six assists to six turnovers in the loss.
The pivotal Game 5 takes place on Monday in San Francisco, where one team will move one win away from an NBA championship.
Final: Warriors 107, Celtics 97
46.8: Udoka's challenge is unsuccessful and Steph will have a chance to ice this game and make it a 2-2 series.
46.8: Curry drives to the rim and gets a foul called. But Ime Udoka's challenging it. There appears to be questionable contact at best from Al Horford while Curry stuck his non-shooting arm out on the play. We'll see.
56.1: The Celtics played tough defense, but Draymond Green got an offensive rebound and found Kevon Looney later to put the Warriors up five. Jaylen Brown lost control of the ball on the next possession to give the Warriors the ball back.
1:32: Horford makes the 3 this time and it's a one-possession game again.
1:42: Al Horford went for the tie this time around. It didn't go. Steph Curry's 3-pointer did, though. He just gave Golden State a 100-94 lead and the Celtics enter desperation mode in Game 4.
2:11: Marcus Smart went for the tie twice in one possession. Neither shot fell, but he forced a jump ball with one second left on the shot clock.
3:41: The Splash Brothers are saving the Warriors. Klay Thompson made a 3-pointer to give the Warriors a 95-94 lead. Then, Curry extended the lead by dribbling past Smart and Robert Williams, tossing a floater to give Golden State a 97-94 lead.
We're in for a thrilling finish.
5:18: Marcus Smart might have had the most on-brand play of his career. His layup was stuffed by Looney. But Tatum got the rebound, kicked it back out to Smart at the 3-point line. Smart made an off-balance shot right before the shot clock expired.
7:20: Interesting development, Draymond Green was just sent to the bench and it appears it could stick for the remainder of the game.
7:32: Brown is having his moment. With the game tied, he drove to the cup to get an easy layup. After a bad Steph Curry pass landed in his hands, Brown drove 1-on-2, tossing a shot as he fell in the basket to give the Celtics a 90-86 lead. Jordan Poole was also whistled for a loose ball foul on the shot.
8:46: Some incredible shotmaking to start the quarter. Tatum found White in the corner for a 3-pointer. Tatum created separation off the dribble for his own 3-pointer. Klay Thompson made a deep 3 along the wing. Brown made a spinning jumper with Green on him.
We're tied at 86.
End of the third quarter: Warriors 79, Celtics 78
Curry made another 3-pointer before the quarter ended, giving him 14 points on 5-of-7 shooting in the frame.
While Boston lost the third quarter (again), it wasn't as ad as the other third quarters this series. It trails by just one point going into the fourth.
1:57: Jaylen Brown just picked up his fourth foul while being way too aggressive trying to deny an entry pass to Gary Payton II. Just not needed.
2:31: Seriously, though. Steph is unreal!
2:55: Steph Curry is going crazy again. He's scored 11 points in the third, giving him 30 on that night. His last 3-pointer was off-balance and helped tie the game up at 73-73.
6:14: The Celtics have been sloppy again with the ball, committing three turnovers to start the second half. But Golden State hasn't been able to take advantage. Marcus Smart has seven points already in the quarter and has been everywhere. His latest bucket just gave the Celtics a 68-63 lead, causing Kerr to call timeout.
7:47: The opening minutes have been a breeze. After Golden State tied it at 54, Boston went on a 9-2 run with Marcus Smart being the catalyst. He made a 3-pointer and on the next defensive possession, he stripped the ball from Green for an easy two points.
11:15: It didn't even take a minute for the Warriors to get off to their great third quarter. Curry and Thompson each made tough shots to tie the game at 54.
Halftime notes and observations
Robert Williams has certainly been the Celtics' biggest X-factor so far this series. When the Warriors decided to go with a small starting lineup in Game 4, he punished them, scoring three points, grabbing three rebounds, and getting a block in the first four-plus minutes of the game. He's sustained that effort through the first half, scoring five points, grabbing 10 boards (four offensive), blocking two shots, and dishing out two assists.
Jayson Tatum's had a perplexing first half. He had moments where he was the Celtics' best player, making 3-of-4 3-pointers to help give him a team-high 16 points, but he's made sloppy turnovers (four) and missed four of his six shots in the paint.
Tatum's sloppiness played a role in the Celtics' 10 first-half turnovers. The magic number is 16, in which the Celtics haven't won a game yet this postseason in which they've recorded at least that many turnovers.
Jordan Poole had his best first half of the series, scoring 10 points off the bench to help the Warriors when Steph Curry was on the bench. He has three fouls, though.
Jaylen Brown also has three fouls. He's had a good night to start, scoring 12 points on 5-of-8 shooting.
Draymond Green has looked terrible in the first half. He hasn't scored yet tonight, missing all four shots he's taken. He got into foul trouble early, picking up two fouls in the first quarter. But he hasn't picked up a foul since.
Halftime: Celtics 54, Warriors 49
The Celtics take a lead going into the break for the third time this series. Some key plays from White, who drew a charge and made a 3-pointer, plus some stops gave the Celtics a little cushion going into the break.
2:42: Jaylen Brown just picked up two fouls on one possession. His second one came while Steph Curry made a layup, giving him a 3-point play. Brown has three fouls now and is probably on the bench until the second half.
2:58: Derrick White just made as flashy of a layup you'll see. He drove into the paint, and as he spun, he was fouled by Klay Thompson. White tossed as shot in the air as he was falling and got the lucky bounce for a 3-point play. Boston's on a 10-0 run to take a 49-42 lead.
4:49: Poole just picked up his third foul and is probably done for the first half. He has 10 points already.
5:50: Two highlight plays from the Celtics' star players has TD Garden rocking.
Brown made a tough, scoop layup to tie the game at 39. On the next possession, Tatum poked the ball away from Wiggins. As the ball rolled toward the Celtics' bench, Tatum made a diving effort to try and save it from going out of bounds. He wasn't successful, but the sequence was enough for Kerr to call timeout.
6:56: The first technical foul of the game goes to…Steve Kerr! The Warriors got hit with a T after complaining about a non-travel call on Payton Pritchard, which turned into a shooting foul on Poole.
The Celtics weren't able to take advantage of the ref mistake and Kerr's technical, making just two of the three free-throws. Golden State leads, 39-35.
9:27: Tatum has two bad turnovers already this quarter, the last one led to Jordan Poole's second-straight 3-pointer. Boston calls timeout, trailing 33-28.
9:52: No one's scored in the first two-plus minutes of the quarter. But Grant Williams just picked up his third foul, leading to Ime Udoka bringing Jaylen Brown back into the game.
End of the first quarter: Celtics 28, Warriors 27
The return of Tatum and Robert Williams into the game was major for the Celtics. They outscored the Warriors 10-4 in the final two minutes of the quarter. Tatum made a 3-pointer. Robert Williams got a putback on one of Tatum's misses. And, to close off the quarter, Williams found Grant Williams wide open in the corner for 3 to give the Celtics a one-point lead after one.
2:01: After the Warriors' poor offensive start, Andrew Wiggins already has eight points. A Celtics turnover led to a Steph Curry 3-pointer. Another bad Celtics offensive possession led to another Curry 3-pointer. Golden State holds a 23-18 lead.
Golden State's on an 11-2 run with Tatum on the bench.
4:18: Draymond Green, who fouled out in two of the first three games, is in foul trouble already. Marcus Smart drew a charge call on Green, his second foul of the game.
5:30: Jaylen Brown is grabbing his right shoulder after receiving a hard screen from Draymond Green.
6:41: Jayson Tatum picks up his first foul, getting called for a charge. His elbow whacked Andrew Wiggins in the face. We've got our first timeout of the game and the Celtics lead, 12-6.
7:23: Robert Williams against the Warriors' small starting lineup: Three points, three rebounds, and a block. Steve Kerr calls for Kevon Looney to come in for Porter.
9:10: Celtics are executing on both ends. Tatum's made two 3-pointers. Marcus Smart stripped Steph Curry and Robert Williams blocked a Curry layup. Boston's up 11-4.
10:56: The Celtics were able to already get Steph Curry to pick up his first foul. Jayson Tatum got him while shooting in isolation. Tatum only made one of the two free throws.
11:20: Klay Thompson scores on Golden State's first possession. He'll have to get going offensively if the Warriors want to win.
12:00: The Celtics win the tip and Marcus Smart makes a wide-open layup to kick off Game 4.
Pregame news and notes
9:03 p.m.: The pregame festivities are all over and tip-off is right around the corner!
8:55 p.m.:
ESPN's pregame set is 50/50 on who'll win between the Celtics and Warriors tonight. Boston is a 4.5-point favorite.
8:37 p.m.:
Golden State is making an interesting switch to its starting lineup. Starting center Kevon Looney is being replaced by forward Otto Porter Jr., who'll start alongside Steph Curry, Klay Thompson, Andrew Wiggins, and Draymond Green.
Marcus Smart, Jaylen Brown, Jayson Tatum, Al Horford, and Robert Williams will all start, as usual, for the Celtics.
8:35 p.m.:
For those curious, the list of celebrities attending Game 4 doesn't contain A-listers. But several top local athletes, such as Matthew Judon and Damien Harris, plus Olympic gold medalist Aly Raisman, and NBA All-Star Bradley Beal will be in attendance.
8:30 p.m.:
The Celtics are wearing their usual home white uniforms tonight. Golden State's rocking the black alternates again.
8:25 p.m.: A local fisherman is to thank for all the lobster in the media room tonight…
8:15 p.m.: And now Draymond Green's getting his turn to get booed during warmups…
8:10 p.m.:
Steph Curry, meanwhile, finds the TD Garden's antics funny.
8 p.m.:
Warriors guard Klay Thompson didn't receive the warmest welcome when he came out for warmups ahead of Game 4.
Thompson took exception to Celtics fans chanting "[expletive] Draymond!" in Game 3, jokingly say "real classy Boston."
7:35 p.m.:
Everyone is available for both teams tonight, including Celtics center Robert Williams. The Celtics' starting center played a pivotal role in their Game 3 win, scoring eight points and grabbing 10 rebounds. He also looked like his pre-meniscus surgery self, blocking four shots and recording three steals.
Warriors star point guard Steph Curry is also good to go. He suffered an injury at the end of Game 3 that he described as a similar injury to the one he suffered against the Celtics in March. The sprain ligament Curry suffered in that game kept him out for a month.
How important is Friday's Game 4? Teams that go up 3-1 in the NBA Finals have gone on to win the series 35 of the 36 times. The 2016 Warriors were the only team to not win the series after going up 3-1.
The Celtics are giving fans at the TD Garden for Friday's game a neat shirt:
Sign up for Celtics updates🏀
Get breaking news and analysis delivered to your inbox during basketball season.