Celtics
Celtics lose Game 6 and fall to the Warriors in the NBA Finals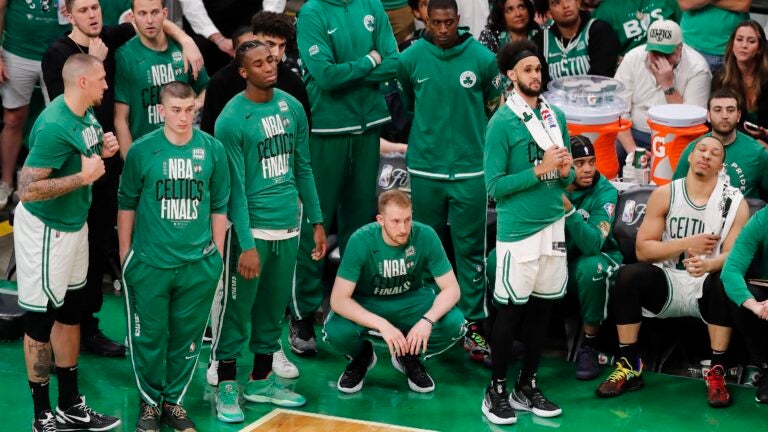 The Celtics won't be celebrating their 18th title in franchise history this season.
The Golden State Warriors sealed the deal on Thursday, winning Game 6 103-90 to win the NBA Finals and win their fourth title in the last eight years.
Boston actually got off to a good start in Game 6, jumping out to a 12-2 lead. But the Warriors went on a 21-0 run at the end of the first quarter that carried into the second quarter, giving them a 15-point lead. Golden State's lead ballooned to 21 in the first half, but Boston cut it down to 15 before the break.
Steph Curry made three 3-pointers in the opening minutes of the second half to give the Warriors a 22-point lead, their largest of the night. Al Horford though had a spectacular shooting quarter, making three 3-pointers and scored 12 points in the quarter to bring the Celtics just 10 points behind entering the fourth.
Boston did cut it down to eight at one pint in the fourth, but turnovers continued to kill the Celtics. They had 23 on the night, tied for their second-most on the season.
Curry finished with 34 points. On the other end, Jayson Tatum struggled mightily, scoring just 13 points on 6-of-18 shooting.
Here's everything that happened in the Celtics' season-ending loss:
Fourth quarter
3:32: The Celtics keep going back-and-forth with the Warriors, and that's just not going to cut it. Jaylen Brown made a 3-pointer to cut the lead to eight, but Andrew Wiggins fired back on the next Warriors' possession. Horford made another 3-pointer, but Curry drove to the bucket and made a tough layup to put Golden State up by double digits.
An already rough night for Jayson Tatum got worse when he traveled after getting an open look in the corner. Warriors lead, 93-81.
5:37: Jaylen Brown's in some pain, grabbing his left ankle area after sliding down while running in transition.
6:47: Robert Williams had a put-back dunk opportunity in which the ball literally went in and out. That kind of night for the Celtics. They trail 84-72.
8:15: Celtics unable to cut more into the Warriors' lead with Curry on the bench. Warriors' lead is 82-70.
End of the third quarter: Warriors 76, Celtics 66
The Celtics finally showed some spark to end the third. They allowed just four points in the back half of the quarter and Al Horford scored 12 points in the quarter to spark the offense.
Still, they trail by double-digits and need another run in order to keep their season alive.
2:06: It's starting to get a little interesting. Brown makes a 3-pointer and after getting a stop, gets a bounce on a floater in transition as part of a 12-2 run for the Celtics. Steve Kerr calls time as the Celtics make it a 74-62 game.
3:36: The Celtics finally force Curry to miss from 3, but Wiggins comes in for the tip to end the Celtics' 7-0 run.
4:52: Celtics get five straight points, two coming from Robert Williams on a put-back and Smart nailed a 3-pointer. Steve Kerr calls time as his team still leads, 72-55.
6:12: Steph Curry makes a loud 3-pointer in transition to put the Warriors up 22, their largest lead of the night. He starts to point at his hand signaling for his fourth ring and the Celtics call timeout.
6:47: Horford's made three 3-pointers this quarter. The problem? The Warriors have answered with 3-pointers of their own each time and lead 69-50.
8:50: Al Horford made his first 3-pointer of the game, but an offensive rebound for the Warriors gave Golden State three points back as Curry made a 3-pointer. Warriors lead 60-44.
11:33: The Celtics played a tough opening possession defensively to start, only for Green to hit a 3-pointer right before the shot clock expired.
Halftime thoughts:
Turnovers, turnovers, turnovers. The Celtics already have 12 of them, with eight of them coming in the second quarter in which they were outscored 27-17. Warriors got 13 points off of them.
As the Warriors went on a 21-0 run and a 14-2 run, Ime Udoka called three timeouts to help stop the bleeding. The Celtics only have three timeouts left entering the second half, something to keep in mind if they want to challenge a play.
The Celtics might find themselves wanting to challenge a play earlier than usual in the second half because Jayson Tatum and Marcus Smart each have three fouls. Udoka put both players on the bench when they reached picked up their third foul in the second quarter, which hurt them even more.
Boston's three bench players have a comically statline tonight. They're a combined -67 over 28 minutes, shooting a combined 1-for-9 with just two points.
Steph Curry checked out with a little under a minute left after he started to wince a bit. Something to monitor in the second half.
Halftime: Warriors 54, Celtics 39
The Celtics recovered a bit in the final few possessions of the first half after the Warriors took a 21-point lead. However, they still trail by a lot going into the break of a must-win game.
2:25: Celtics picked up their eighth turnover of the quarter with a Smart double dribble.
2:39: The Warriors are on another run. Their latest is a 14-2 run over the last four-plus minutes with the Celtics continuing to turn the ball over.
4:22: Tatum just picked up his third foul as he hooked his arm around Wiggins. Him and Smart are both in early foul trouble and Tatum goes to the bench.
5:42: Celtics commit turnovers on two straight possessions and have eight now in the game. Curry makes a layup to put the Warriors up 44-31.
8:02: Celtics continue their run. Robert Williams made a thunderous block on Curry in transition, which led to an easy two for Tatum on the other end.
Warriors call time as they lead, 37-29.
8:54: Jaylen Brown made a pair of buckets to go on a 5-0 run by himself. But Gary Payton drew a foul on Smart, which is his third and he goes to the bench.
10:13: 21-0 run for the Warriors now. Even after Udoka re-inserts Brown and Smart, the Celtics still look lost. A Poole miss led to a Green offensive rebound, allowing Poole to make another 3-pointer. Brown fumbled the ball which led to an easy dunk for Wiggins.
This is getting bad.
11:10: Warriors go up by 10 now. Tatum gets whistled for his second foul on a questionable call while defending Green. Green batted an offensive rebound back out to Poole for a 3-pointer and after a missed layup, Andrew Wiggins made a layup in transition.
Udoka calls timeout, and the Celtics have to regroup quick.
Boston's got nothing from its bench to start. Derrick White is 1-for-5 with an assist and a -20 over 10 minutes. Grant Williams has logged a block but is a -14 in three minutes. Payton Pritchard is 0-for-2 and a -16 in six minutes. Yikes.
End of the first quarter: Warriors 27, Celtics 22
Just a nightmare ending to the first quarter for the Celtics. The Warriors went on an 11-0, with Green finally making a 3-pointer and Jordan Poole banking a 3-pointer in.
After going up 12-2, the Celtics scored just 10 points in the final 9:27 of the quarter.
0:55: The Warriors take the lead. Draymond Green made his first 3-pointer of the series to make it a one-point game, then Curry made a wild 3-pointer to go up by two.
2:09: The turnovers are starting to rack up for the Celtics. The latest was a bad pass from Brown that led to a back-court violation. They've got four turnovers already in the quarter.
Brown's turnover came after Robert Williams over contested a Gary Payton 3-pointer, allowing the Warriors' guard to get his own miss and score an easy layup. Celtics lead, 22-18.
3:06: The Warriors are starting to push back. Tatum's early rest led to an 8-4 spurt for the Warriors, in which Smart picked up his second foul. Tatum becks back in and the Celtics lead, 20-16.
5:24: Payton Pritchard just checked into the game for the first time. He's typically checked in very late into the first quarter or early in the second, so this is unusual. Ime Udoka said yesterday that he did want to get his top players some more rest.
8:57: Smart just drew two fouls on an offensive possession. One of them was on Thompson, which is his second foul.
9:25: Jayson Tatum gets on the board now with a 3-pointer of his own off a Smart feed. The bucket gives the Celtics a 12-2 lead and the Warriors call for time.
9:50: Celtics off to a hot start behind Marcus Smart and Jaylen Brown. Boston's been using Smart out of the post to start, leading to him scoring four points. Brown has five.
11:46: Al Horford draws a shooting foul on Klay Thompson on the game's opening possession. He makes both free throws to get the Celtics on the board first.
12:00: Robert Williams wins the tip and Game 6 is underway!
Pregame news and notes
8:55 p.m.: The notable celebrities at TD Garden tonight includes a lot of local athletes and golfers participating at the U.S. Open.
8:45 p.m.: The Warriors are going with the same starting lineup they've had the last two games, starting Otto Porter Jr. instead of Kevon Looney and opting to go small. The Celtics will have their usual starting five tonight.
8:35 p.m.: The big stat to look out for tonight is how many turnovers the Celtics commit. Boston is 0-6 when it's committed 16 or more turnovers so far in the postseason, including 0-3 in the Finals.
8:30 p.m.: Draymond Green is vibing in pregame workouts despite all the boos.
8:20 p.m.: NBA Commissioner Adam Silver is in COVID protocols and will miss a second straight game. The NBA commissioner typically conducts the award ceremony for the winning team of the Finals. If the Warriors win tonight, Deputy Commissioner Mark Tatum will hand the Warriors the Larry O'Brien Trophy.
8:10 p.m.: Zach Zarba, David Guthrie, and John Goble are the officials for tonight's game. There were rumors that Scott Foster, who is nicknamed "The Extender" by NBA fans, would officiate Game 6, but that doesn't appear to be the case. Foster did officiate Game 3, which means he could be an official for Game 7, if there is one.
8 p.m.: It looks like some old Celtics who won the team's last title will be in the TD Garden crowd to support the younger Celtics tonight.
7:50 p.m.: Now here is a fun fact. Over their 22 NBA Finals appearances, the Celtics haven't lost three straight games, per the Associated Press' Tim Reynolds.
7:40 p.m.: With the U.S. Open in town, we're sure to get some cross-sport references tonight. Some can be funny, like this one fan at Thursday's opening round.
7:30 p.m.: Self-proclaimed "fashionable" guy Jayson Tatum ditched wearing clothes to honor sports icons for his Game 6 fit. He's wearing a leopard jacket tonight.
7:15 p.m.: Robert Williams is available and will start in Game 6. The Celtics' center revealed to Yahoo Sports' Chris Haynes on Wednesday that he's had to get his knee drained on multiple occasions during the playoffs.
On Thursday, The Athletic's Shams Charania said on the "Pat McAfee Show" that Williams is "close to 100 percent healthy and I would expect him to play big minutes tonight."
6:30 p.m.:
The trends from both teams this postseason favor the Celtics. Boston is already 3-0 in elimination games in their run to the Finals, beating Milwaukee twice and Miami once when facing elimination. Golden State, on the other hand, is 0-3 in road closeout games, losing to Denver, Memphis, and Dallas.
The Celtics are 3.5-point favorites at most sportsbooks for Game 6. The home team has been favored for every game so far in the Finals.
Boston lost two games for the first time since March when it lost Games 4 and 5. However, the Celtics didn't have Jayson Tatum and Jaylen Brown in one of those March losses. The last time the Celtics lost two games with their star duo prior to Games 4 and 5 was in January. The last time they lost three games in a row came in December, when the team was dealing with COVID-related absences.
Sign up for Celtics updates🏀
Get breaking news and analysis delivered to your inbox during basketball season.