Celtics
8 takeaways as Celtics fall to Nikola Jokic, Nuggets in bizarre game
A brutal shooting night doomed the Celtics on Sunday.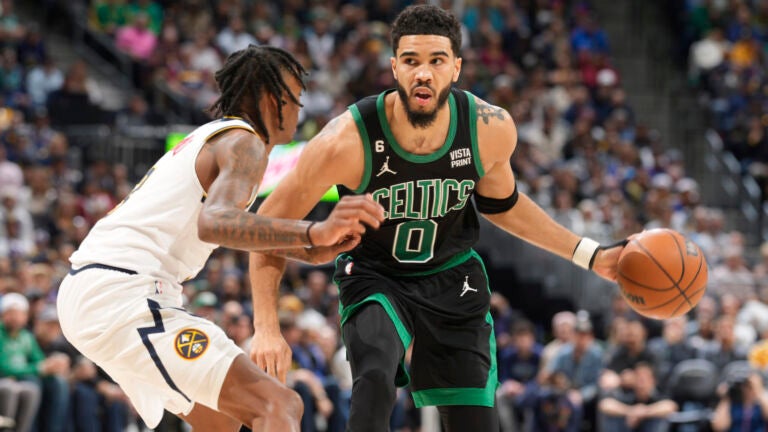 The Celtics fell to the Nuggets in a bizarre game on Sunday, starting their road trip with a 123-111 loss.
Here are the takeaways.
1. The Nuggets soundly beat the Celtics, and we'll get to the why and how in a minute, but the biggest story from a game that featured the No. 1 teams in both conferences and the top two MVP candidates revolved around two arena employees and a number of basic tools you probably have lying around your house.
With just over six minutes remaining in the fourth quarter, Robert Williams skied for a huge dunk. Apparently, the force of his two-hand slam bent the rim.
That jumpstarted one of the strangest sequences of the year. Celtics players noted that the rim wasn't level. Officials called timeout, and a pair of arena workers came out to check the rim, which confirmed what Celtics players said. The duo of workers tried a number of things but couldn't get the rim level. NBC Sports Boston had several close-up shots of the level, and watching the bubble hover steadfastly away from the middle line despite the arena workers' best efforts was high drama.
Eventually, the workers were forced to get another rim. When they switched the rims out and the new one finally showed it was (mostly) level, the two teams needed to warm up again. In all, the delay was nearly 40 minutes.
The takeaways here: Get every arena a more complete set of tools, and make sure someone at every arena is trained to quickly take off and put on a basketball rim.
Still, credit to the workers in Denver. Trying to perform tasks with 18,000 fans watching — and countless more watching on TV and commenting on Twitter — presumably is not part of the job description.
2. The two biggest reasons the Celtics lost: Nikola Jokic and 3-point shooting variance.
The Celtics didn't have answers for the Nuggets superstar, who carved the Celtics' defense to pieces (or simply scored over it). He made both of his 3-point attempts and shot 10-for-13 from the floor en route to a 30-point, 12-rebound, 12-assist triple double with zero turnovers. Grant Williams defended him well in Boston but was no match for him in Denver. Neither was Al Horford.
Jokic, like Steph Curry, is scheme-proof against the Celtics. In a Finals series, the Celtics would probably try to put him in more high pick-and-rolls to wear him down, but that would require the Celtics to make 3-pointers. On Sunday, the Celtics shot 9-for-33 (27.3 percent) from behind the arc and they were worse than that for most of the night — they shot 3-for-7 in the broken fourth quarter.
The Nuggets, meanwhile, shot 17-for-30 from 3-point range. Those shooting numbers on both sides combined with Jokic's dominance added up to an obvious result.
Statistically, the Celtics' shooting slump should come to an end at some point, but their streaky tendencies — and their heavy reliance on 3-point shooting — are concerning.
3. We should note that the game was messy long before the lengthy break.
Overall, Sunday's game was one of the odder ones you'll see.
4. The MVP race made free throws for both Jokic and Tatum an adventure throughout the game. Celtics fans tend to pack Ball Arena when they visit Denver, so Tatum earned early "M-V-P" chants. Nuggets fans didn't appreciate that, so they booed Tatum particularly hard and chanted for Jokic when he was at the line.
Both fanbases can make a very valid MVP case — Jokic and Tatum have both been excellent, and both have incredible on/off stats this season. As for the free throws, Jokic shot 8-for-8 through the noise, while Tatum went 11-for-14.
The Celtics are now 11-3 when Tatum shoots 10 or more free throws. All three losses have occurred since Dec. 16.
5. Robert Williams was whistled for a baffling goaltending call in the first half. In semi-transition, Grant Williams found Robert Williams with a nice pass at the rim, and Williams threw down a dunk absorbing a lot of contact.
Referee Bill Kennedy blew his whistle, but rather than calling a foul, he waved off the dunk, presumably claiming Williams held onto the rim a little too long (which is a little ironic given what happened when Williams held on later).
We have no further analysis. Just a bizarre call.
6. Bones Hyland didn't play when the Nuggets traveled to Boston, but he hurt the Celtics off the bench on Sunday with 17 points and helped keep the Nuggets out in front by cooking Sam Hauser repeatedly.
He and Jaylen Brown also got in each other's faces after the two got their feet tangled in the fourth quarter. Brown had just clapped his hands at Hyland after getting switched onto him.
Brown and Hyland were each given a technical, but they dapped each other up after the play. Hyland later told reporters it was a basketball play and he has "love and respect for Jaylen Brown."
7. Brown was the only Celtics player who played particularly well — 30 points on 12-for-20 shooting. He started hot, pouring in 14 points in the first quarter and finished with seven in the fourth quarter after the lengthy break.
Brown is averaging 32.6 points on 52.1 percent shooting over his last five games.
8. Al Horford, Marcus Smart and Malcolm Brogdon shot a combined 6-for-28 from the floor (21.4 percent). Sunday was simply not the Celtics' night.
The Celtics take on the Thunder at 8 p.m. on Tuesday.
Sign up for Celtics updates🏀
Get breaking news and analysis delivered to your inbox during basketball season.