Celtics
'We probably had it coming to us': 5 takeaways as Celtics drop historic loss to Thunder
"We have to go through it and we'll be judged by how we handle it."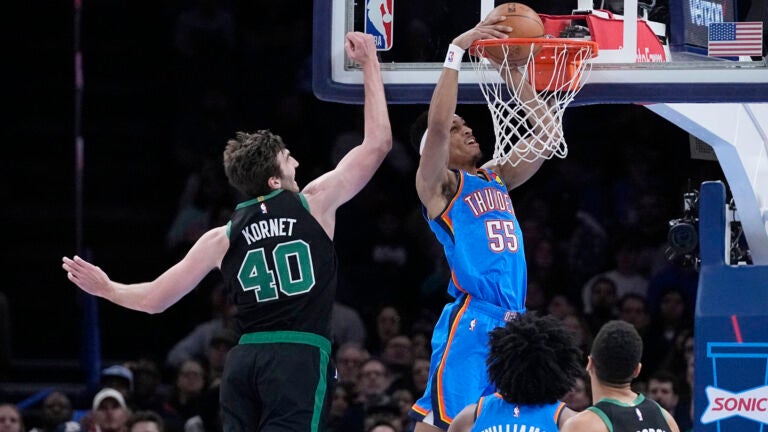 The Celtics lost to the Thunder 150-117 on Tuesday, even though the Thunder were without star point guard Shai Gilgeous-Alexander.
Here are the takeaways.
1. So. How do you sum that one up?
Most of the Celtics' players were available, with the exceptions of Rob Williams and Danilo Gallinari. The Thunder didn't have Gilgeous-Alexander, who accounts for more than a quarter of their points per game, and they were also without Aleksej Pokusevski, who started 25 of the 31 games he appeared in this season.
And yet, the Thunder scored 150 points in regulation — tied for the second-most the Celtics have given up in franchise history. Five players (five!) scored 20 points or more. At no point in the fourth quarter was the game competitive. The Celtics, if you ask Joe Mazzulla and also anyone else who watched, gave up.
The spiral began in the second quarter. With 3:58 remaining, the Celtics were playing in an eye-rolling manner but remained within striking distance down just 10. Over the next two minutes, the Thunder went on a 12-1 run and led by 20 headed into halftime.
A 20-point deficit in a half is doable, especially given that the Celtics rallied back from 15 against the Thunder once this season. Instead of coming out strong, however, the Celtics continued hemorrhaging points in the paint which bled into rhythm 3-pointers. Despite being notably zone averse, they dropped into one at one point trying to slow the tide of Thunder baskets at the rim, but that didn't work either. In a third quarter the Celtics really needed to win, they allowed the Thunder to knock down 8-of-11 3-pointers and score 48 points.
The rest of the game was extended garbage time. The Thunder shot 20-for-40 from 3-point range and 59.2 percent overall.
"This may not be the most popular thing to say but you've got to go through some s*** if you want to get to where we want to get to, whether it's good or bad," Joe Mazzulla told reporters after the game. "So we have to go through it and we'll be judged by how we handle it."
Mazzulla also referenced the Celtics' win over the Suns, which was a nearly perfect inverse to Tuesday's game — a 125-97 victory that probably said more about the state of the Suns in that moment than the Celtics' dominance. On Tuesday, Malcolm Brogdon told reporters after the game that the Celtics didn't take the Thunder as seriously when they learned Gilgeous-Alexander was out.
"Win or lose, there's a level of humility that you have to have in the NBA," Mazzulla recalled telling the team after the Suns' win.
Tuesday's result was well-earned.
"You come out and you take it for granted, that's what happens," Jaylen Brown said. "We probably had it coming to us. We pick and choose when we want to play. We weren't connected, we didn't have each other's back out there. No help-side defense. We didn't guard our yard.
"And those young boys over there came out, and they made us look bad. They embarrassed us. They kicked our ass, and that's what happened."
2. The Celtics were outscored 70-46 in the paint and 21-9 in transition. Robert Williams's presence might have helped around the rim, but he was ruled out for "injury management."
Mazzulla said Williams hasn't had any setbacks and that periodic rest days will continue throughout the year.
3. Marcus Smart was ejected in the third quarter as the game slid out of reach. After picking up a technical in the first half, Smart felt he should have earned a trip to the free-throw line with 2:46 remaining in the third. As he walked toward the bench, he directed what must have been a pointed complaint to referee Lauren Holtkamp, who gave him his second technical.
Smart's absence had little effect on the game — the Celtics were far behind and showing no signs of life with roughly 15 minutes to make up 28 points. The ejection, however, did not light a fire under the Celtics, who tried and failed to spark wet timber all evening.
4. Subtracting Payton Pritchard, who shot 3-for-4 from deep when the game was far out of reach, the Celtics were 9-for-36 from behind the arc — just 25 percent. Over their last 15 games, they are 28th in 3-point shooting percentage at 32.2, despite hoisting 42.2 3-pointers per game (3rd most in the NBA).
Celtics shooters have been regressing to the mean after an unsustainable start for weeks now, but the sample size suggests something other than just the law of averages might be going on.
5. The Celtics need to pull themselves together quickly. On Thursday, they travel to Dallas to face Luka Doncic and the Mavericks. Doncic is pulling closer to Jayson Tatum in the MVP conversation as his numbers balloon to an absurd 34.3 points, 8.8 rebounds and 8.9 assists per game, leading the Mavericks on a seven-game winning streak.
Even accounting for Tuesday's loss and their recent shooting slump, the Celtics still have the NBA's best record, net rating, and offensive rating, as well as the 9th-best defense. A win on Thursday would go a long way toward making Tuesday feel like a blip rather than a blinking warning light.
Sign up for Celtics updates🏀
Get breaking news and analysis delivered to your inbox during basketball season.