Celtics
Celtics' Justin Jackson prepares meals for people suffering from chronic illness
The Celtics forward volunteered at Community Servings in Jamaica Plain on Tuesday.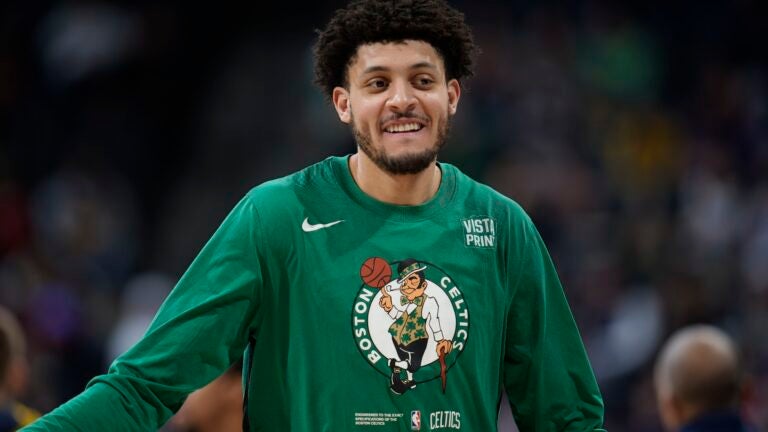 As he ladled scoops of braised beef into black plastic containers, Justin Jackson was careful to make sure he was using the right amount.
The Celtics forward spent time volunteering at Community Servings in Jamaica Plain on Tuesday night. Jackson, along with Lucky the Leprechaun and dozens of volunteers, packaged meals that will be delivered to sick people across the state.
"I know for me my whole goal in life is just to make this world a better place," Jackson said. "You don't have to be an NBA player, you don't have to be a celebrity to do that. Sometimes you just have to serve some people, love on some people, and care about them."
Community Servings started in 1990 during the AIDS epidemic with the goal of feeding patients who were too sick to feed themselves. According to its website began by serving hot meals to 30 individuals struggling with HIV/AIDS.
It has since expanded its mission to feed people who have suffer from all kinds of chronic illnesses in Massachusetts and Rhode Island.
David Waters, who began as a volunteer 1990, is now CEO of the organization.
He said that Community Servings delivers around 23,000 meals per week and gets help from about 100 volunteers every day.
"We go to our clients home once a week and bring them lunch, dinner, and a snack for five days delivered once a week. Tomorrow, 16 trucks will go out delivering all across the state," said Waters.
Waters said that Jackson's appearance will help raise awareness of the organization.
"One of the things that we're always challenged with is that not enough people know of the work that we do here in Jamaica Plain," Waters said. "So, to have a member of the Celtics come today is a great way to reinforce to the community that we're here and we need their help to make sure that no one goes hungry."

The volunteers, including Jackson, wore white t-shirts with green letters on the front and a quote from Dr. Martin Luther King Jr. on the back.
"Everybody can be great, because anybody can serve," the quote read.
The event was part of Jackson's way of honoring Dr. King ahead of MLK day, which is next Monday. The Celtics will be in Charlotte playing against the Hornets then.
"How can you put into words what MLK did?" Jackson said. "He brought so much awareness and started so much change that we're still seeing today. Hopefully me and the rest of the guys on the team and in the city and in the world can keep that going."
Sign up for Celtics updates🏀
Get breaking news and analysis delivered to your inbox during basketball season.