Celtics
What Malcolm Brogdon said about the Celtics' double-big lineup
Brogdon explained what it's like for opponents to deal with Robert Williams III and Al Horford at the same time.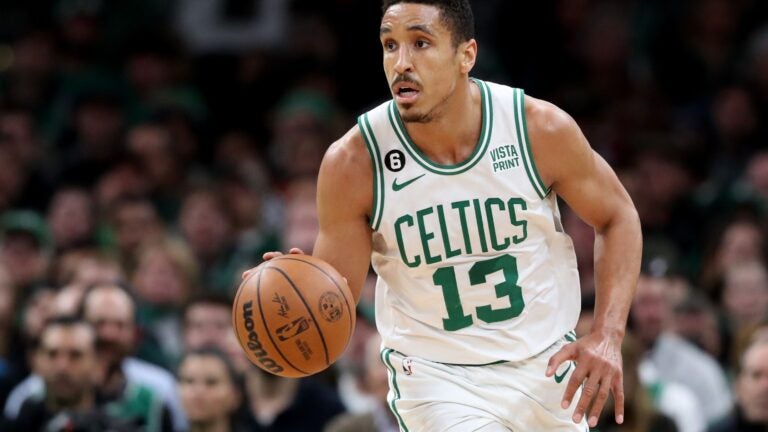 Robert Williams III made his first start of the season during Tuesday night's win against the Chicago Bulls.
He started alongside fellow big man Al Horford and played 23 minutes, which is the most he's played since returning from his knee injury. So far he's averaging 21.3 minutes per game in January, up from 18.8 in December.
Celtics guard Malcolm Brogdon, who joined the team via trade in the offseason, shared his early impressions of seeing Williams III and Horford start together in a game.
"Having both of them on the floor, your defense is probably going to be at its best," Brogdon said. "And then offensively they have such different skill sets. To have someone that can put pressure under the rim but also someone who can spread the floor and both guard the way they do is definitely a blessing for this team."
The Celtics are seventh in the NBA in defensive rating and have won seven of their last nine games.
Brogdon said he has no clue if the Celtics will continue to start Williams III and Horford together with Marcus Smart nursing a knee contusion that caused Smart to miss the Chicago game.
When asked about the challenges of switching between the double-big lineup and smaller lineups, Brogdon said, "I think it's just knowing your personnel, knowing how teams are going to guard you. Just really how the other team is guarding you, whether they're going to drop back, whether they're switching or not 1-5, that's the challenge of having a 4-man like Al that can pop and a 5-man like Rob that rolls to the rim. It puts pressure and the defense has to constantly adjust."
Part of Brodgon's role is knowing how to get his teammates the ball in the right spots. He offered a brief explanation of the kind of timing he is looking to create with Williams III back on the floor.
"A lot of the time, the rim isn't going to be there with Rob because that's what they expect," Brogdon said. "It's hitting him early – Rob's an underrated passer – and allowing him to make a play."
Brogdon said he's still adjusting to his role as the Celtics navigate Smart's injury but feels comfortable in the point guard role so far.
"It's going well," Brogdon said. "I feel like everybody right now is in rhythm, everybody is playing well, we've gotten back sort of our groove, and we're playing at a high level altogether."
Sign up for Celtics updates🏀
Get breaking news and analysis delivered to your inbox during basketball season.