Celtics
'Comfort will kill you': The Celtics are showing they're hungry for more than the NBA's best record
Halfway through the season, Boston's record is the NBA's best. But how much does it really mean?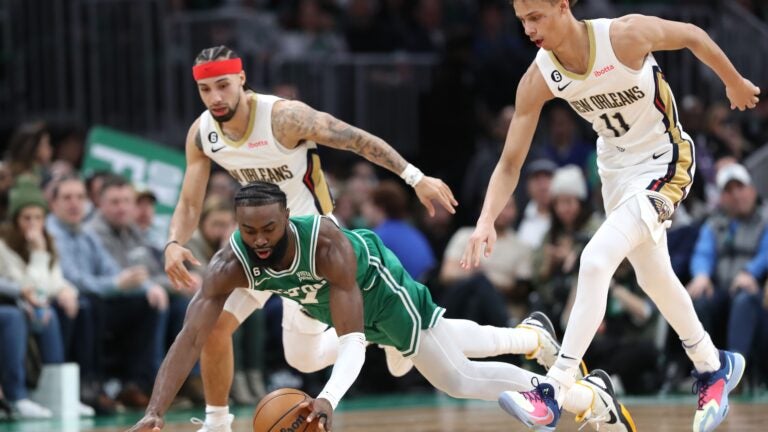 Comfort is something that many people strive for. It's a freeing feeling that makes pain and struggle seem to melt away.
But, this year's Celtics team isn't like most. They're uncommon, in the sense that they're one of the few teams that has a legitimate shot at winning the NBA Finals.
Just past the halfway point of the season, at 30-12, Boston's record is the NBA's best.
They're the first team to reach 30 wins. Jaylen Brown and Jayson Tatum became the first Celtics teammates since Paul Pierce and Antoine Walker in 2001 to have at least 30 points and 10 rebounds each in a single game.
There's plenty of reasons for the Celtics to be comfortable in their perch atop the league. But this team, which knows the sting of letting last year's Finals slip away, is far from satisfied.
"As we progress, I think the message is that comfort will kill you," Brown said after scoring a team-high 41 points. "These other teams are not waiting around for us to let us win the game. You've got to go out and prove it every single night. Success is earned every single night. You've got to show up, play basketball, give your maximum effort and get out of the mindset of being comfortable."
Opposing teams have taken notice of that mindset, which was on display during the Celtics' 125-114 win over the Pelicans on Wednesday night at TD Garden.
Thanks to three consecutive made 3-pointers from Al Horford, the Celtics jumped out to a first quarter lead and held it for most of the game.
"[Celtics interim coach Joe Mazzulla] has done a phenomenal job," Pelicans coach Willie Green said pregame, as transcribed by NESN. "You look at their team and you can tell they're fighting for something big. They go out every game and they play hard, and they compete. It's not a lot that they don't do well."
Pelicans guard CJ McCollum had a very good showing Wednesday night, with 38 points on 15-of-24 shooting and making six of his 12 three-point attempts.
The issue for New Orleans was that Brown and Tatum were on another level. They combined for 72 points. Brown had a double-double by halftime. Tatum drew MVP chants in the fourth quarter.
Things just feel different this year between Tatum and Brown as the Celtics stars continue to build their chemistry, Brown said.
"I don't think this is the best you will see," Brown said. "But so far I think this is the best in terms of individually that we have come out and played and led our team this season. But, I definitely think we've got other limits to reach in the future and in our career. This is just part of the process, trying to still learn and figure things out.
"I'm interested to see how he continues to grow, how I continue to grow over the years and things like that, but right now we've got to focus on things in front of us, and that's taking care of business and the things in front of us and that's trying to get back to the Finals."
Sign up for Celtics updates🏀
Get breaking news and analysis delivered to your inbox during basketball season.