Celtics
7 takeaways from Celtics' win over Pelicans, as Jaylen Brown pours in 41 points
The short-handed Pelicans had no answer for Brown or Jayson Tatum in the fourth quarter.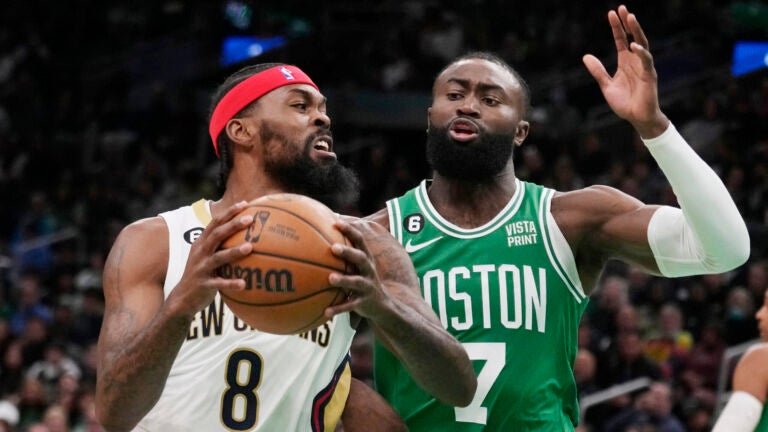 The Celtics handled the short-handed Pelicans on Wednesday, claiming a 125-114 victory.
Here are the takeaways.
1. What a luxury it must be for Joe Mazzulla to coach a team that employs both Jaylen Brown and Jayson Tatum. On Wednesday, Brown carried the Celtics to victory with 41 points on absurdly efficient 15-for-21 shooting — a season-high performance that held the Pelicans at arm's length for nearly the entire evening.
Then in the fourth quarter, Tatum — who seems to meander his way to 30 points even on his off nights — poured in 14 to finish off the Pelicans in style.
Much is made of the Celtics' dynamic duo, but we should make sure the combined excellence of Tatum and Brown on the floor doesn't overshadow their individual brilliance. After all, the journey to this point for Brown and Tatum — both individually and as a duo — hasn't always been smooth.
"They know how to play very well together," Joe Mazzulla said. "I think they've both grown in the area. I think we've all been, for lack of a better term, humbled by what we've gone through in the NBA since we've been together. The ups and downs, the playoff wins and the playoff losses.
"So when you get to that point in your career, you know you need each other and you know you need your teammates and it's a very powerful thing. I think both those guys know that, and I think they do a great job of doing both – of being great players and also knowing that they need each other and they're teammates."
Brown admitted he and Tatum might be different this year. A reporter asked how much tougher the duo is this year.
"I don't think this is the best you will see," Brown said. "But so far, I think this is the best, in terms of individually, that we both have come out and played and led our team this season.
"But I definitely think we got other limits to reach in the future, in our career."
2. As skilled as both Brown and Tatum are, perhaps no other attribute has grown more over the last few years than their sheer strength. Both have grown adept at bodying opponents out of the way when they get to the rim, which helps their efficiency but also leads to more and-ones.
On Wednesday, Brown in particular shed defenders with apparent ease.
Al Horford smiled when a reporter asked him about how Brown gets to the rim.
"When he drives, I feel like people feel it," Horford said. "When he's hitting you when he's driving, that's real. So it's good to see him play at that level and have his mind made up that he's going to attack the paint."
Brown said he feels stronger and believes he added muscle this offseason.
"I guess Al's got some wisdom on him, so I'll take that as a compliment," Brown said. "But for the most part just try to be aggressive.
3. C.J. McCollum kept the Pelicans alive for several quarters. He made his first six shots and scored 22 of his 38 points in the first half.
McCollum, who is averaging 20.8 points but more importantly has played 36 games for an injury-ravaged Pelicans team, was asked about potentially making an All-Star roster this season.
"I get paid like an All-Star," McCollum quipped to reporters.
McCollum is in the second year of a three-year, $100 million contract. He is not wrong.
4. Robert Williams sat out Wednesday's game as part of an ongoing strategy to rest him on one night when the Celtics have a back-to-back.
"Just manage him as much as we can," Mazzulla said. "He's coming back good every single day, so it's really good."
The Celtics were also without Marcus Smart, who suffered a knee contusion on Monday. Mazzulla said he expects Smart to travel with the team on their upcoming three-game road trip.
5. With Smart out, the Celtics spread their playmaking out among several players. Derrick White finished with a team-high six assists, while Tatum, Malcolm Brogdon, Grant Williams, and Horford all added four apiece. The Celtics can often play lineups full of playmakers from 1-5, especially as Williams develops his game as an oddball off-the-dribble threat. When the defense collapses into the paint and the ball whips out to the perimeter, the Celtics often look unstoppable.
6. Brogdon has seen a slight dip in his shooting numbers recently after his absurd start, but he scored efficiently in a variety of ways against the Pelicans and finished with 20 points on 7-for-11 shooting.
Mazzulla praised Brogdon for how he runs the pick-and-roll with Tatum this season, in addition to the dynamic scoring presence he brings to the bench.
"I think when he plays at a certain pace with that second unit, it gives us that spark where we can go even faster with that unit," Mazzulla said. "I think he's done a great job of recognizing 2-on-1s and he does a great job of recognizing angles."
7. Rafael Devers was in attendance, wearing a jacket with a "34" stitched onto it. Predictably, the remaining Red Sox superstar got a big ovation.
The Celtics now embark on a three-game road trip that only includes two cities — a game in Brooklyn and two in Charlotte. They take on the Nets on Thursday in the second night of a back-to-back.
Sign up for Celtics updates🏀
Get breaking news and analysis delivered to your inbox during basketball season.