Celtics
8 takeaways as Celtics beat Hornets behind Jayson Tatum's 51 points
Tatum was dominant as the Celtics claimed their seventh straight win.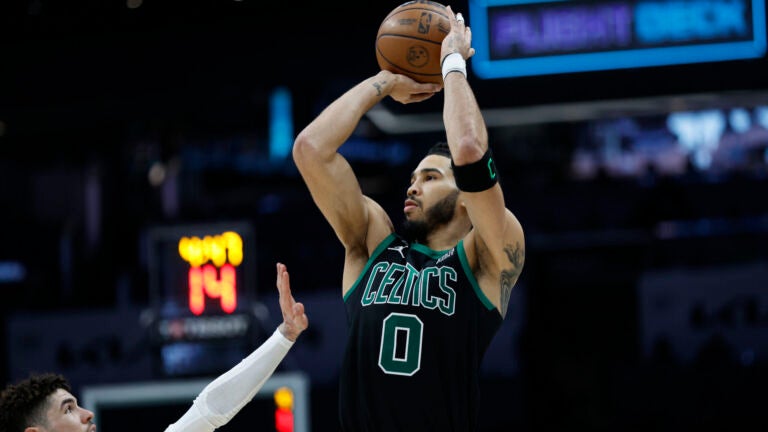 The Celtics won their seventh straight game Monday, beating the Hornets for the second time in three days.
Here are the takeaways.
1. Jayson Tatum scored 51 points. He has topped the 50-point mark seven times if you count the playoffs and five if you don't. In either case, he has done it more than any other Celtic in team history. Assuming Tatum continues to play in Boston, he is on track to become a very noteworthy member in a pantheon crowded with noteworthy members.
On Monday, the Celtics needed 48 of Tatum's 51, as the Hornets surged back in the fourth quarter. But thanks to Tatum, the lead never really felt like it was in jeopardy. He hit a flurry of triples in the second half, including the clincher — a stepback dipping around a pair of Hornets defenders who knew very well what Tatum was up to. The game was decided by then, but Tatum — who came up just a point short of 50 against the Heat earlier this season — was well aware of how close he was to a milestone.
"Jamal Crawford texted me and said, 'if you're ever that close to 50, nobody is going to remember the time and score,'" Tatum told reporters. "… So when Al got that rebound and I was dribbling up the court, that was going through my mind."
"He makes me look like a better coach, that's the luxury," Joe Mazzulla added.
2. After the game, NBC Sports Boston reporter Abby Chin asked Tatum when he knew he could get any shot he wanted. He appeared to balk initially at the question, but Chin was inarguably correct.
"Honestly, probably not till probably like the fourth quarter," Tatum said. "Maybe in the middle of the third."
Signs surfaced earlier. For instance, late in the first, the Hornets lost Tatum briefly in transition. Tatum waited for Bryce McGowens to catch up, casually passing the ball between his legs to let Robert Williams evacuate the rim. Then Tatum muscled past McGowens for a two-hand slam.
"He's just on a different level right now," NBC Sports Boston's Brian Scalabrine said, somewhat incredulously.
The Hornets started the game trying to slow Tatum by blitzing him, but he passed out of the double teams, racking up three assists in the first quarter. Throwing two players at Tatum wasn't going to work.
"It wasn't like I was getting points in isolation, right?" Tatum said. "We were beating them as a team, I was drawing two, finding my teammates, and from the first quarter, we were passing up good shots to get great shots, everybody was playing extremely unselfish, and the ball was just finding guys. And if I had space and a shot, I would take it."
But the Hornets couldn't cover Tatum individually either. Jalen McDaniels was best-suited for the job, but Tatum dispatched him easily. On one play, Tatum drew four jumps out of McDaniels with two pump fakes before burying a 3-pointer.
"That one was different," Tatum told reporters afterward. "Pump fake, threw it to Rob, come back off a down screen, pump fake again. That was a lot of movement for a 6'9 guy right there."
Still, to Tatum's point postgame, he had 33 through three quarters – an excellent game, but far from 50.
Then:
A drive to the rim. "Stud," notoriously enthusiastic Hornets announcer Eric Collins enthused.
A driving floater which missed but drew every Hornets defender, allowing a well-positioned Luke Kornet to tip it back.
A 3-pointer over Dennis Smith Jr., which prompted another yelp from Eric Collins.
A stepback 3 with two minutes remaining, which was essentially the dagger.
An opportunistic 3 in transition.
And finally, a very intentional 3-pointer which gave Tatum a 51-point game that felt oddly sudden.
"A lot of our actions go through him, so I remember I looked up, and I was like, 'You've got 45? Okay,'" Derrick White said. "I knew he had a lot, but I didn't know he had that much. He's a special player and does a lot of things throughout the offense that makes it special."
3. White was back in the lineup after suffering a neck injury against the Hornets on Saturday, colliding with Marcus Smart.
"I felt good," White told reporters. "I felt good yesterday, so I was pretty comfortable today. No hesitation or nothing like that."
White was part of an intriguing starting group with Tatum, Smart, Al Horford and Robert Williams that had only played 14 possessions together prior to Monday's game. Tatum, Smart, and White (23 points) combined to score more than the Hornets (22) in the first quarter.
4. Robert Williams clearly needs to be in the starting lineup. His lineups outscore opponents by 11.0 points per 100 possessions, and the Celtics outperform their offensive and defensive ratings when he is on the floor.
Against the Hornets, Williams and Al Horford continued to make the case that they should start together. This season, they have outscored opponents by 14 points per 100 possessions, which is an extension of last year's numbers. The Hornets particularly struggled to deal with the pressure Williams puts on the rim, combined with Horford's floor spacing (combined with the Celtics' guards, combined with Tatum, etc. etc.).
If Williams and Horford start when the Celtics are fully healthy, White would presumably be the odd man out with Tatum, Smart, and Jaylen Brown in the lineup, but even that isn't an easy decision – White maintains the Celtics' best on/off numbers.
5. After scoring 30 points off the bench in the Celtics' win over the Hornets on Saturday, Malcolm Brogdon scored 16 points on 6-for-8 shooting in the first half on Monday. He went scoreless the rest of the way and missed all five of his field-goal attempts in the second half, but his 3-point shot continues to round back into form and teams are having a very hard time staying in front of him. The Hornets were no exception.
6. This nine-second possession summed the game up neatly.
Derrick White brought the ball up the floor. Because the Celtics have guard depth like White and Smart – even when Brown is sidelined with an injury – Brogdon comes off the bench, which means he gets to attack players like Dennis Smith Jr. off the bounce. Brogdon got by Smith easily, which forced the Hornets to try to close him down defensively. Brogdon kicked to Horford in the corner. Horford is the NBA's best corner 3-point shooter, and corner threes are the most efficient shot that isn't a dunk. Understandably, the Hornets rotated to guard him which left Tatum wide open for a 3-pointer.
What could the Hornets have done differently, besides having better defensive personnel? Very little.
"When you feel the way we feel right now, you have to make a decision to try to be that all the time," Mazzulla said. "Tonight, I thought our guys did a great job just making each other better."
7. The Celtics haven't been perfect during their seven-game winning streak, which is almost more encouraging than their 3-point barrage to start the season. After all, a 3-point firestorm eventually cools. What the Celtics have done more recently is win games sustainably, with good defense and better ball movement.
"Finding different ways to win games," Mazzulla said, when asked what he has liked most over this stretch. "Really understanding the level of mentality that it takes to face different opponents, and just fighting for details and execution on both ends of the floor."
8. There might not be an announcer in the NBA who enjoys his job more than Eric Collins, who handles play-by-play for Hornets broadcasts. He has become a minor national celebrity for his deeply enthusiastic calls, which are also relatively unbiased for a local broadcaster.
As Tatum brought the ball up the floor very clearly looking for a 50-point game, Collins was in his element.
"The Hornets need to put all their eggs on Tatum," Collins said, as Tatum pulled up for a three.
Tatum, of course, buried it, and Collins' voice cracked with enthusiasm as he bellowed "Oh my gahh!"
"Everybody in the building knew it was coming, and he still hit the three!" Collins enthused. "Good golly!"
With two days off this season, the Celtics are a bizarre 1-6 – a record they will look to improve on Thursday against the Warriors in Boston.
Sign up for Celtics updates🏀
Get breaking news and analysis delivered to your inbox during basketball season.