Celtics
Payton Pritchard proves worth to Celtics amid trade rumors in win vs. Raptors
Pritchard's struggled to crack the rotation at times this season, but proved he can help the Celtics in a big way on Saturday.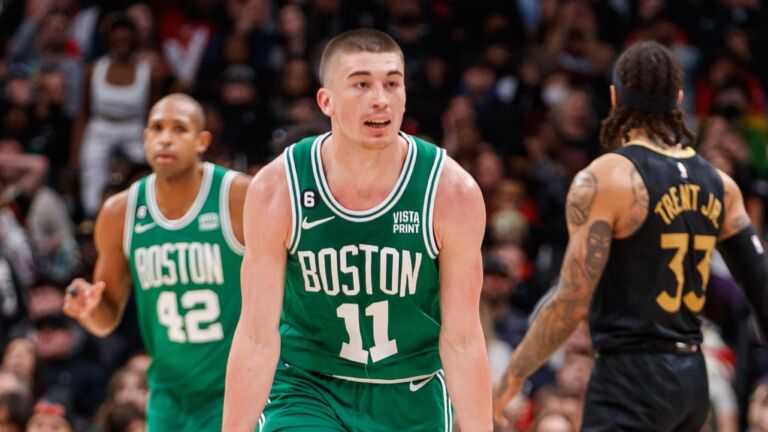 When the 2022 NBA Finals concluded, Celtics guard Payton Pritchard said his goal for this season was to crack the regular rotation.
That became difficult in the first week of the offseason when the Celtics traded for guard Malcolm Brogdon, bolstering their guard depth even more. As a result, Pritchard hasn't played in 15 games this season due to a coach's decision and has played in garbage time in several other games.
Now, in the second half of the season, some opportunities have opened for Pritchard. Saturday against the Raptors was one of them.
With Jayson Tatum resting and guards Marcus Smart and Derrick While, along with center Robert Williams, departing the game early, Pritchard made the most of his 26 minutes off the bench. He scored 12 points on 4-of-7 shooting with two assists, two rebounds, and a steal while also finishing with a game-high plus-19 to help the Celtics steal a 106-104 victory in Toronto.
Three of those 12 points ended up deciding the game. With 1:30 remaining and the game tied at 103-103, Pritchard slipped open at the top of the key after setting a screen for Jaylen Brown. Catching the ball a few feet behind the 3-point line, Pritchard uncorked a shot that went in as Raptors guard Gary Trent Jr. contested hard.
Pritchard credited the "mindset" that he and his Celtics teammates have in helping pull off an undermanned win, which improved their record to a league-best 35-12.
"We're a bunch of tough dudes and, for me, I wouldn't be in the position I am today without having a tough mindset," Pritchard said. "A lot of people look at me and I'm [a] 6-foot-1 white American guard, a lot of us aren't there. So we got to be tough and bring it every day."
Pritchard's performance on Saturday has come as his name swirls in recent trade rumors with the Feb. 9 deadline approaching. Multiple teams, including the Golden State Warriors, have reportedly shown interest in Pritchard.
Longtime Celtics and Heavy.com NBA insider Steve Bulpett shared that a Western Conference executive reached out to him prior to Saturday's game wanting to talk about Pritchard.
"[I] told him he has a tremendous capacity for confidence, even with limited opportunity,'" Bulpett wrote in a tweet. "Joked, 'It's the kind of confidence you usually only see in psychopaths.'"
Despite their depth at guard, that confidence might be why the Celtics still want Pritchard in Boston, as they've been "unmoved" by teams inquiring about him, MassLive's Brian Robb reported. Smart and White aren't expected to miss much time after the injuries they suffered on Saturday, but having Pritchard allows the Celtics to let them rest in the dog days of the season.
In the second half of last season, Boston shrunk its rotation to eight players and while it helped the Celtics climb the standings, it hurt them in the NBA Finals as they showed signs of fatigue. This season, the Celtics will have the luxury to rest guys in the latter half of the season as they hold the No. 1 seed in the Eastern Conference by 4.5 games.
It also looks like Pritchard's replaced forward Sam Hauser in the rotation. After shooting 51.4 percent from the field and 47.9 percent from 3-point range in October and November, Hauser cooled off in December, shooting 33.3 percent from the field and 28.3 percent from 3-point range. He's shooting 39.3 percent from the field and 30 percent from deep in January as his playing time has been reduced. Hauser hasn't played in the Celtics' last two games and hasn't played 10 minutes in a game since Jan. 9.
On the flip side, Pritchard is having his best month of the season. He's scoring 6.2 points per game while shooting 44.9 percent from the field and 37.9 percent from deep, helping the Celtics go on a nine-game winning streak.
Celtics interim coach Joe Mazzulla said he still has confidence in Pritchard, even if he doesn't play every night.
"I'm happy for Payton," Mazzulla said. "This league can be unforgiving at times. You have to be strong-minded, you got to work hard, you got to be patient. Payton's all of those things. I've always told him: Whenever it's his time, I trust him completely. He was great tonight."
Sign up for Celtics updates🏀
Get breaking news and analysis delivered to your inbox during basketball season.