Celtics
Celtics' Jayson Tatum on potential offseason wrist surgery: 'I don't want to say yes and I don't want to say no'
"It's something we've got to look at once the season's over."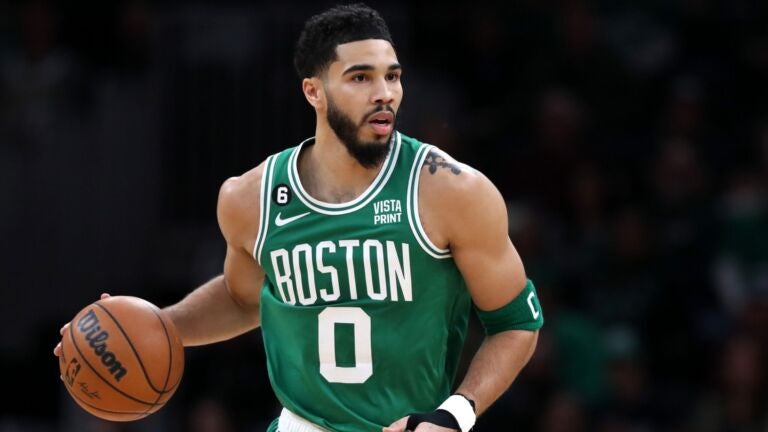 Jayson Tatum will be back in the lineup for the Celtics' road game against the Magic on Monday.
But the wrist injury that has plagued him this season isn't subsiding any time soon.
For now, scheduled rest and proper maintenance is the course that both Tatum and the Celtics are taking to manage the nagging ailment.
As for long-term solutions? Tatum didn't push back against the possibility of surgery this offseason.
"Maybe. I don't want to say yes and I don't want to say no," Tatum told reporters in Florida on Monday. "It's something we've got to look at once the season's over. But nothing that's going to cause me to miss significant time the rest of the season. Just making sure I'm alright."
Tatum sat out Saturday's road victory over the Raptors due to soreness in his left wrist, a precautionary measure just days after the star forward logged 48 of a possible 53 minutes against the Warriors.
"It's kind of just talking with [trainer] Nick [Sang] about how my body was feeling," Tatum said of his conversations with Boston's training staff. "Those 50 minutes the other night didn't necessarily help, and a couple of falls on my wrist, but I think the extra day off helped me out a lot."
Tatum's injury hasn't hindered his production on the court. The 24-year-old forward is averaging 31.2 points, 8.5 rebounds, and 4.3 assists per game this season. He has appeared in 44 out of a possible 47 games, averaging 37.0 minutes a night.
This is far from the first time that Tatum has dealt with wrist issues. Back in August, Tatum revealed that he played with a fractured wrist for two months during Boston's run to the NBA Finals.
"It was small, but it was still like a nondisplaced chip," Tatum said of the injury in an interview with Bleacher Report. "I chipped a bone but it didn't leave the surface. But it showed that I had a non-displaced fracture in my wrist.
Earlier this month, Tatum hinted at his continued wrist issues following a 7-for-22 shooting night against the Brooklyn Nets.
"If you looked at my hand, I had tape on my wrist, tape on my thumb, I had to tape my middle finger and ring finger together, I got a lot of s— going on," Tatum said. "It was uncomfortable tonight, but I love to play too much to sit out."
The Celtics managed to both give Tatum some rest and secure a win against Toronto on Saturday. Still, Tatum doesn't expect his absence to be a regular occurrence, even during regular-season action.
"It's tough. I don't miss too many games, so watching it, it feels weird," Tatum said of Saturday's game. "It was a big win. Obviously, with myself and Rob [Williams] and [Marcus] Smart being out for most of the game, just figuring it out. Grant [Williams] played big. Malcolm [Brogdon] played big. Payton [Pritchard] made some big shots late. We've had two really big wins these last two games in terms of figuring it out, and those are pretty satisfying."
A shorthanded Celtics roster will welcome Tatum's return against the Magic. Boston ruled out Robert Williams (left knee injury management), Marcus Smart (right ankle sprain), and Malcolm Brogdon (personal reasons) ahead of tip-off at Amway Center.
Newsletter Signup
Stay up to date on all the latest news from Boston.com