Celtics
7 takeaways as Celtics rally but stumble in OT in loss to Knicks
Jaylen Brown missed a pair of free throws that doomed the Celtics down the stretch.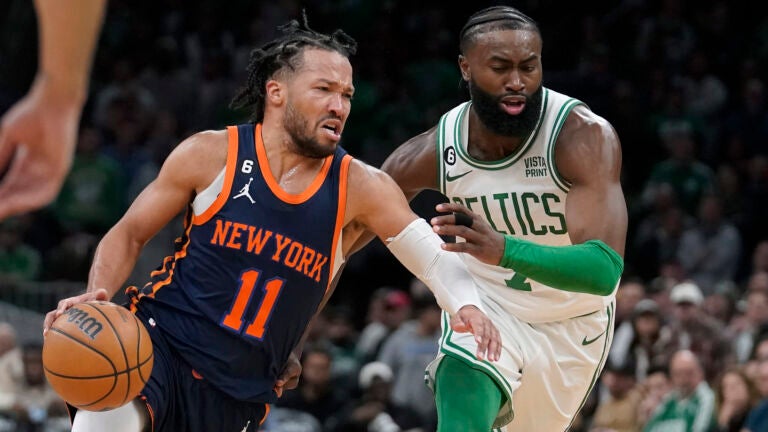 The Celtics lost their third straight game on Thursday, falling to the Knicks in overtime 120-117.
Here are the takeaways.
1. Before you get too angry at Jaylen Brown for missing two crucial free throws down the stretch — free throws which would have given the Celtics a 119-118 lead with just seconds remaining — remember that the Celtics probably would not have been in a position to win without him.
After all, it was Brown who made a layup to give the Celtics a 117-116 lead on the possession prior. It was also Brown who defended Knicks guard Jalen Brunson so well late in regulation as the Celtics rallied back from a double-digit deficit in the final minutes to force overtime.
Still, the free throws were brutal, as was Julius Randle's wide grin at Brown after he missed them. Brown missed both short, and he looked very shaky on the second one. He's shooting a career high in free-throw percentage and attempts, but he still isn't the steadiest free-throw shooter on the team. Brown was also inefficient from the field — 8-for-22, 1-for-8 from 3-point range with three turnovers.
"Those two missed free throws kind of embodied the whole game," Brown told reporters. "I didn't get it going, didn't give my teammates enough energy to get the win, and that's what happens when you don't come out and give your best. I'll be better."
Brown is a much better basketball player than Thursday's game would suggest, but as the Celtics continue to scuffle, they could really use a bigger boost from one half of their dynamic duo.
Still, the other half of that duo believes in Brown quite a bit.
"We've got the utmost confidence in him," Jayson Tatum said. "I can't bet on NBA games, but I would bet everything I got he's in that situation again he'd knock them both down."
2. Tatum finished with 35 points and led the offensive charge down the stretch as the Celtics roared back from a 12-point deficit with 4:48 remaining. The Knicks didn't really have much for him, particularly when he got into the paint. Quentin Grimes did his best, which wasn't close. Julius Randle couldn't do much with him late either.
Against Grimes, Tatum went to the post often. While he didn't always convert down the stretch, Tatum's post-ups are one of the more deadly iso options in the NBA. Per the NBA's tracking stats, Tatum is averaging 1.31 points per possession in the post — 96.8th percentile among all qualifying players. His length, footwork and touch around the rim make him a nightmare (and those stats don't take into account the times when he gets fouled).
3. Randle and Jalen Brunson gave the Celtics fits offensively. Randle poured in a game-high 37 points on 13-for-25 shooting, while Brunson added 29 on 12-for-25 shooting.
The Celtics defended them both significantly better down the stretch, particularly Brunson, who shot just 1-for-5 in the fourth quarter. The Celtics slowed down every Knicks possession and forced them into high-pressure shots late in the shot clock.
Randle, however, buried several big buckets in the fourth and overtime to lead the Knicks.
In his postgame interview with TNT, Randle downplayed the look cameras captured him giving Brown, calling Brown a "great player."
A reporter asked Brown if Randle said anything to him.
"I'm not sure. I'm not sure what Julius said," Brown said. "I'm sure he was happy to get a win."
4. Robert Williams played a season-high 35:59 and was +21 in his minutes — an enormous plus/minus given that his team lost the game by three. Williams was on the floor in the first quarter when the Celtics took a 15-point lead, and he was on the floor while the Celtics clawed back from a 12-point deficit.
That helped counteract Grant Williams and Derrick White at -18 and -10 respectively. In between their strong start and finish, the Celtics' bench in particular struggled mightily.
"I didn't think we played consistently the entire game, physical, detailed, connected basketball," Mazzulla said. "When we turned it on, we really did. And so we just have to do that all the time."
5. Thursday's loss marked the second time this season that the Celtics lost three games in a row. Mazzulla noted that while two of the losses were aided by injuries, Thursday's was a little different (although Marcus Smart was out again).
"Just not getting bored with the simple plays, just doing the little things that work all the time," Mazzulla said, when asked what the Celtics need to do to build consistency. "Sometimes that can be really hard over the long course of a season, and you just can't get bored doing those things. They are very, very simple, and the simplest things breed the most reward on both ends. So you just can't get bored with doing simple things."
So are the Celtics just getting a little bored?
"At times, yeah," Brown said. "That's part of a season, and that also reflects leadership. As one of the leaders of this team, I've got to do better in making sure my energy is contagious to the rest of our group, and tonight was an example of that."
6. Before the game, the NBA announced that Tatum will be an All-Star starter for the third time — the first time he has been voted in, rather than being an injury replacement.
"It's nothing I ever want to in a sense, get used to or take for granted," Tatum said. "While I may have expected to make the team, I never want to take it for granted. It's an honor. It's just something I dreamed about as a kid, so to be named an All-Star starter, it meant a lot. I was very excited. It's pretty cool."
Brown, meanwhile, is a lock for the reserves, but he couldn't overcome Kyrie Irving in the fan or player vote, which ultimately cost him the spot (he was second in media votes behind Donovan Mitchell).
Is Brown disappointed?
"No. None whatsoever," Brown said. "Obviously it's an honor to represent your organization, your family, and the people who have supported you through the highs and the lows like moments like these. So to be able to participate and stuff like that, it's really for that community and that's really all I have to say about it."
7. At one point in the first half, TNT color analyst (and Hall of Famer) Reggie Miller called the rivalry between the Celtics and Knicks "the greatest, maybe, in our game in terms of history."
The Celtics and Knicks? The greatest rivalry in NBA history? In the 1970s, an argument could have been made, but now — in 2023 — Celtics-Lakers (and a great number of other rivalries around the league) would like a word.
The Celtics face a real rival at 8:30 p.m. on Saturday.
Sign up for Celtics updates🏀
Get breaking news and analysis delivered to your inbox during basketball season.