Celtics
Brad Stevens explained what kind of moves he anticipates the Celtics will make at the trade deadline, if any
Stevens also defended interim coach Joe Mazzulla amid the team's recent three-game losing streak in an interview on 98.5 The Sports Hub.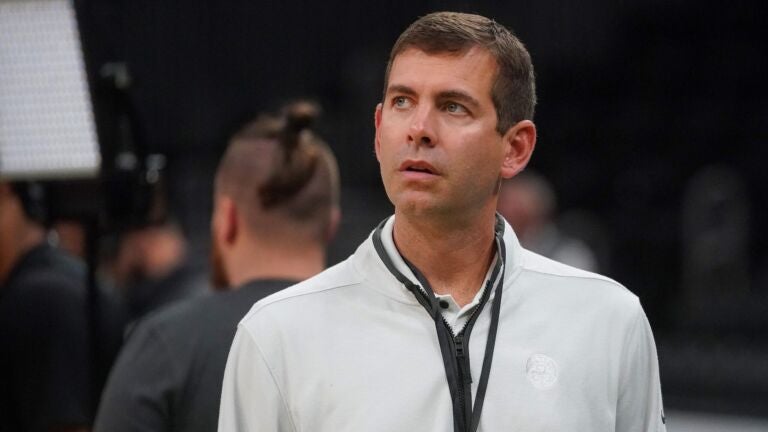 The NBA trade deadline is a little less than two weeks away and while the Celtics don't have major needs, that isn't stopping them from taking a look at improving the team.
In an interview on 98.5 The Sports Hub on Saturday, Celtics president of basketball operations Brad Stevens said he and the team "always have to be looking at how you can improve."
"I go back to it – I think we're good and I think we're in the mix and hard to beat," Stevens said. "But there are other teams that are like that, too. So, anything you can do to improve your opportunities you have to really vet and look at."
Stevens laid out two possible scenarios a team looking to win could take at the deadline. One of those is to add different rotational players, which Boston did at last season's trade deadline, adding Derrick White and Daniel Theis while shipping out Josh Richardson, Dennis Schroder, Romeo Langford, and two first-round picks on deadline day.
Stevens doesn't envision that the Celtics will make those kinds of moves again, but left the door open for additions.
"You can reshuffle the deck and add totally different guys that are significant minutes players for you," Stevens said. "That's probably a lot less likely here because we've got a really good core that's played together in big moments, that understands what those moments are like, that knows where we want to go.
"What's probably more likely is evaluating how to fortify your depth, how to make sure you're as foolproof as possible. But hey, there are other teams out there too and there's good players all around the league. You're probably looking at those as your opportunities that you're stewing over."
Stevens mentioned that the recent introduction of the play-in tournament prevents more teams from being sellers at the deadline, potentially making it difficult to find the right deal ahead of the Feb. 9 trade deadline.
Stevens also defended interim coach Joe Mazzulla in the interview. The 34-year-old coach's strategy has been questioned this past week as the Celtics have lost three in a row, including a three-point loss to the Heat on Tuesday that saw them blow a 10-point fourth-quarter lead and an overtime loss to the Knicks on Thursday.
"If he doesn't have an answer or if he goes through and objectively assesses himself after the game in conversations with any of us, he is the first one that's going to dive in, learn, grow, and try to correct," Stevens said. "I think that's a really great quality. Obviously, the Miami game didn't go the way we wanted. I thought we played great for the first 40 minutes and then we just hit the skids in the last eight minutes and there were some things late that we didn't do well.
"When we looked at the end of the New York game, even though some of the shots didn't go in, I thought we handled those situations excellently. So, there's just a lot of willingness to continue to grow, to continue to improve. There's a great connection with the team."
At 35-15, the Celtics hold the best record in the NBA entering Saturday's game against the Lakers despite their recent skid. Stevens believes that the Celtics are a "really good team" that will be "really, really hard to beat" moving forward, but also thinks that they have room for improvement, too.
"I think they've done a lot of good things," Stevens said of his team. "When I look at it from the big picture assessment, I would say that if we stay relatively healthy, focus on some areas to improve on both ends of the floor, and iron some very small things out that are very manageable, we can be in the mix.
"I don't think we're rolling like the Bruins are rolling."
Sign up for Celtics updates🏀
Get breaking news and analysis delivered to your inbox during basketball season.