Celtics
76ers top exec claims 'shameless Boston media' is why Joel Embiid wasn't named an All-Star starter while Jayson Tatum was
"Joel Embiid completely hosed once again."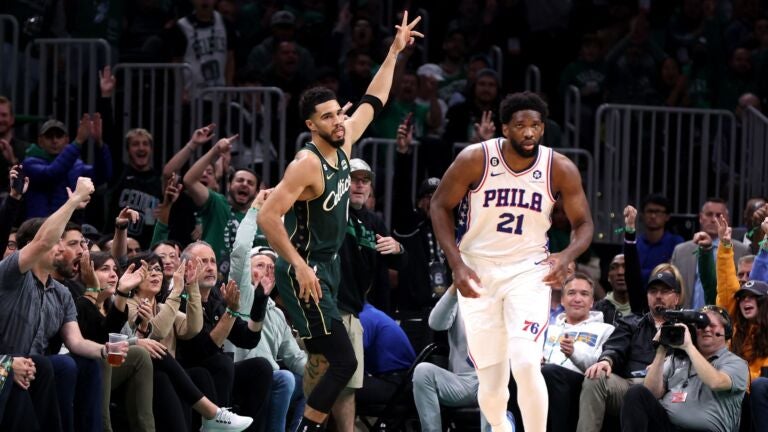 In the weeks leading up to Thursday's announcement for the 2023 NBA All-Star Game starters, it was known that one of Jayson Tatum, Kevin Durant, Giannis Antentokounmpo, and Joel Embiid was going to be a tough snub.
Embiid ended up being the odd man out as Tatum, Durant, and Antentokounmpo were all named starters Thursday. The top executive for the 76ers center didn't seem to take his player being left out too well, claiming Embiid was screwed in the voting process.
"Joel Embiid completely hosed once again," 76ers president of basketball operations Daryl Morey said in an interview on 97.5 The Fanatic's "The Anthony Gargano Show." "This time, to your point, the perpetrators of the crime were the shameless media, who most of them have recused themselves because they don't want to vote on something that affects players' paychecks.
"But the shameless Boston media is way overrepresented. They haven't recused themselves, and they shoved Joel low enough so that he's not an All-Star starter. It's crazy."
Embiid actually finished third in the media vote (while Tatum finished first and Antetokounmpo finished second) to be an All-Star starter, which would've made him a starter if it was just the media voting. However, the media's vote only makes up for 25 percent of the final calculation with the fan vote taking 50 percent of it and the players' vote accounting for the final 25 percent. Embiid did well in the players' vote too, finishing third. But Tatum received roughly 320,000 more votes from the fans than Embiid did, giving the Celtics star third place among the East frontcourt players and Embiid fourth. As a result, Tatum finished third with a weighted score of 2.75 while Embiid had a weighted score of 3.5.
Of course, both Embiid and Tatum have résumés that are worthy of being named an All-Star starter. Embiid leads the league in scoring (33.4 points per game) while adding 9.8 rebounds and 4.1 assists per game, helping the 76ers to the second-best record in the Eastern Conference at 31-16.
Tatum is fourth in the league in scoring (31.1 points per game) while averaging 8.8 rebounds and 4.4 assists per game, proving to be the best player on the team that's been the best in the league for much of the season as the Celtics are 35-15.
As for Morey, he's been known to campaign for his players to receive certain accolades in the past. When he was with the Rockets, Morey claimed that the MVP voters came up with a "new criteria/narrative" to "rob" James Harden of the award each season even after he won it in 2018.
Morey actually has Boston connections. He attended MIT, where he received an MBA from the Sloan School of Management. He worked at Boston-based EY-Parthenon as an principal consultant. In 2002, he joined the Celtics as their senior vice president of operations, holding that position for four years before heading to the Rockets. He also is a co-chairperson for the annual MIT Sloan Sports Analytics Conference, which is held at MIT's campus every March.
Sign up for Celtics updates🏀
Get breaking news and analysis delivered to your inbox during basketball season.