Celtics
8 takeaways as Jaylen Brown, Celtics claim controversial win over Lakers
"The last two minutes and overtime was a blur. I don't really know what happened."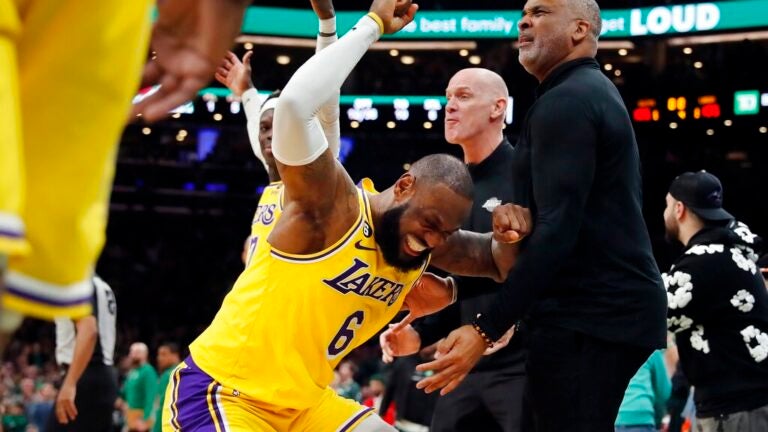 The Celtics stole a game from the Lakers on Saturday, both figuratively and literally, snapping a three-game losing streak.
Here are the takeaways.
1. There's so much to sort out here.
Let's start where the national media will start: With the very obvious foul that Jayson Tatum committed against LeBron James in the closing seconds of the game. If the referees had an opportunity to re-do the final play of regulation, the game almost certainly would not have gone to overtime — James should have had two free throws with roughly 1.5 seconds remaining. The Celtics might have had time to get a decent shot in the air, but the Lakers' likelihood of pulling out a win would have spiked exponentially.
"The last two minutes and overtime was a blur," Tatum said with a grin, throwing his hands in the air. "I don't really know what happened. Think I have to watch the game, watch the film. Everything happened so fast. Gotta move on and we got the win. That's all I got to say about that."
James and the Lakers were, of course, less jovial.
"It's challenging," James said. 'I don't get it. I'm attacking the paint just as much as any of the other guys in this league that's shooting double-digit free throws per night. I just don't get it. I don't understand."
"It's unacceptable, and I guarantee nothing is going to happen to the refs," Anthony Davis added. "We got cheated tonight, honestly."
The Lakers didn't need to wait for the Last Two Minute report like most teams when they believe a call was missed. With a big audience watching on ABC, the NBA moved swiftly — one referee admitted in a pool report that a foul should have been called, while the league reportedly told the Lakers they missed the call.
It's not often that we can say with certainty that the officials cost a team a win, but the Lakers have a legitimate gripe (and a loss) while the Celtics get to sheepishly smile about the result (and enjoy the win). There's definitely a preferable side here.
2. Let's also make sure we give Patrick Beverley his due for one of the funniest technical fouls we can remember. After the referees missed the foul that should have sent James to the line, Beverley produced a camera — who knows from where — which apparently had photographic evidence that James was fouled. Beverley brought it to the nearest official, Eric Lewis, who was not amused and immediately hit him with a technical.
Beverley looks like he would be tough for referees to deal with, but credit where it's due: He was unquestionably correct about the foul call, and he brought the receipts to prove it.
3. One game removed from perhaps the worst free-throw debacle of his career, Jaylen Brown made it right. With the Celtics trailing by three late in regulation, Al Horford missed a corner 3-pointer, but Brown grabbed the offensive rebound and laid it back in, absorbing a blow to the head by Patrick Beverley. Once again, Brown needed to make a free throw to tie the game.
This time, he delivered.
"Last game, had an opportunity at the line to push us into overtime or potentially win and smoked it," Brown said. "But you come back, and you find a way to win. Tonight, had the same opportunity. It's funny how life works, just one game later. I knew I would get that opportunity again, but I didn't think it would be the very next game. You step up to the line and you trust yourself and do what you've got to do. Don't let one game define you, don't let one moment define you. Life is about how you respond, so I look at it as a challenge."
Brown had a huge game, scoring 37 points, including 11 in the overtime period as the Celtics pulled away. He played the entire overtime period with five fouls.
"Just his resiliency to continue to not allow the circumstances to affect his mindset and his execution," Joe Mazzulla said. "I thought he was tremendous — assisted or scoring on 25 of the 44 points in the fourth quarter and overtime. I'm just happy for him. The league gives you opportunities to constantly bounce back and he's really got a great mindset, and I'm really happy for him."
4. For his part, Jayson Tatum had a rough night and was buoyed by both Brown and Malcolm Brogdon. He still finished with 30 points, but he turned the ball over six times and shot 8-for-25 and needed 11-for-12 shooting at the free-throw line to crack the 30-point mark.
Of course, it speaks to where Tatum is now that he shot so poorly and still topped 30.
"Guys on both ends made big shots, big rebounds, big plays," he said. "Swings, momentum changes. Obviously we won in overtime. I'm tired. I am exhausted. Obviously, some big-time players made plays on both sides. Obviously, the history between both sides. But 47 minutes tonight, I'm ready to go to sleep."
5. With Marcus Smart still sidelined due to an ankle sprain and Tatum struggling, Malcolm Brogdon was enormous for the Celtics — pouring in 26 points on 8-for-15 shooting in 39 minutes off the bench. He hit several big shots in the third quarter as the Celtics rallied back from a nine-point deficit and punished smaller Laker guards, including Beverley.
"Trying to be aggressive where I can be and try to get these other guys shot," Brogdon said, when asked about his mentality. "But also try to get second-chance points whether it's offensive rebounds, whether it's pushing the break, getting out, playing with pace. I think those things help us."
6. Anthony Davis finished 6-for-15 from the floor, but he was 1-for-8 in the second half. Al Horford in particular seemed to give him fits — Horford blocked him twice and bothered him at least twice.
Add Davis to the lengthy list of NBA big men who struggle enormously against Horford's rock-solid brand of defense.
"Al is only geared towards winning," Jaylen Brown said. "Anytime he does bring up or say something, you know that's the angle he's coming from. Not from a place of malice or place of disbelief or a place of anger or whatever, frustration. It's all towards winning. When Al speaks, you listen."
7. The Celtics only played seven players in the second half, cutting Sam Hauser and Payton Pritchard out of Saturday's rotation after their initial stint. Getting Marcus Smart and Robert Williams back on the floor should make a big difference not only because Smart and Williams are talented, but also because these overtime games are taxing for everyone involved.
8. And finally, Brown was asked about the video released on Friday of Memphis police officers viciously beating local man Tyre Nichols, who later died from his injuries. Brown gave a typically thoughtful answer.
"It's tough to come out and play a game in the midst of a viral video that's floating around and creates that sort of trauma," Brown said. "I would be lying if I said something like that hasn't happened before or potentially can happen again. I think it's a systemic issue. I think we can continue to use the words like reform and until we look at the foundation and how things have been initiated and created and designed, I think we're going to continue to run into the same issue. I break it down as like, there's certain people that want the world to change and continue to move forward, and there's certain people that's OK with where the world is at. I'm going to continue to challenge those people, because it doesn't matter if it benefits your pockets or benefits your financial opportunities. We have to push our society forward and we gotta do better in a lot of regards.
So in terms of what happened in Memphis, I send my condolences to the family. I couldn't really make it through the video, but as we've said many times, and we're going to continue to say, our society needs to be better."
The Celtics have three days off before they face the Nets on Wednesday.
Newsletter Signup
Stay up to date on all the latest news from Boston.com