Celtics
'The crew missed the play': Celtics caught a break with non-call against LeBron James, referee says
"At the time, during the game, we did not see a foul. The crew missed the play."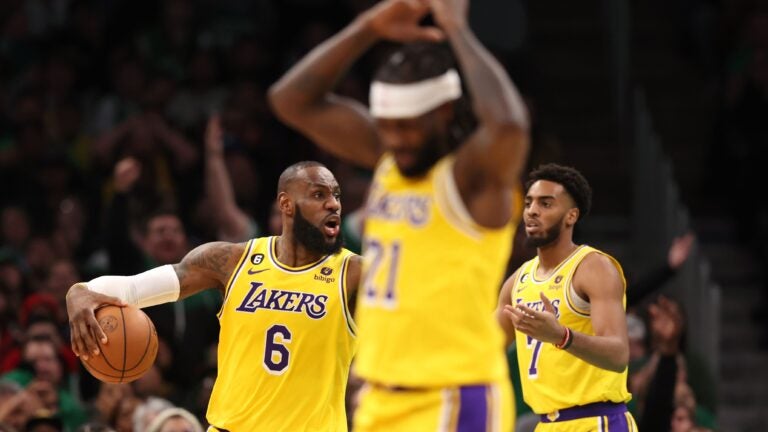 When Jayson Tatum hit his arm and his final layup attempt of regulation fell short, LeBron James was enraged.
He jumped up and down, grabbed the arm, and dropped to his hands and knees pausing for dramatic effect.
He believed he was fouled, and his concerns were validated after the game.
"There was contact," referee Eric Lewis told Adam Himmelsbach of the Boston Globe during a pool report. "At the time, during the game, we did not see a foul. The crew missed the play."
If the foul was called, James would have had a chance to win the game at the free-throw line. Instead, the game went to overtime and the Lakers folded, resulting in a 125-121 win for Boston at TD Garden.
"The best player on Earth can't get a call, it's amazing," said Lakers coach Darvin Ham after the game.
"We were robbed," Lakers forward Anthony Davis added.
"That one hurt BIG TIME!!! I don't understand," James later tweeted.
According to Dan Woike of the Los Angeles Times, NBA officials "quickly informed" the Lakers that the call was botched.
"I don't want to see another two-minute report," Ham said. "They can save that. It does no one any good and we just have to focus on how we can get better in different stretches of the game, how we make sure we're doing what we can control."
Lakers guard Patrick Beverley literally brought a camera out on the floor, directly to a referee, imploring him to reconsider the call. Instead, he gave Beverley a technical foul.
"His actions were inappropriate in addressing resentment to a non-call," wrote Lewis.
Jaylen Brown, who scored 37 points and sent the game to overtime with a made free-throw, didn't have much sympathy for James and the Lakers.
"Looked like they might have missed a call on their end towards the end of the game," Brown said. "But that's life. They'll be all right."
Sign up for Celtics updates🏀
Get breaking news and analysis delivered to your inbox during basketball season.